Page 6 of 8
Should You Upgrade?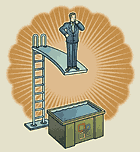 Is it time to redecorate your Office? If you're still using either Office 97 or 2000, an upgrade to Office 2003 is well worth the price for its revamped Outlook and for such improvements as Word's new Task Panes, which debuted in Office XP. If you already use Office XP, however, your upgrade decision will depend more on your individual work situation.
The one-person office: Upgrade Outlook only. The changes in Word, Excel, and PowerPoint aren't worth the money.
Corporate workgroups: Upgrade to Office 2003 if your company will use the XML and group features. Otherwise, consider upgrading just Outlook. Remember, the people in your organization who create the XML forms and set up the data links will need the Professional or Professional Enterprise version; the other Editions permit users only to read and save XML-enabled documents.
Small businesses: The new version of Outlook, the Business Contact Manager, and Publisher 2003's enhanced New Publication Task Pane may justify your upgrading to the Small Business Edition. But if you're already hooked on Act--or if you use only Word, Excel, and Outlook--upgrade Outlook alone.
L.M.
Shop Tech Products at Amazon