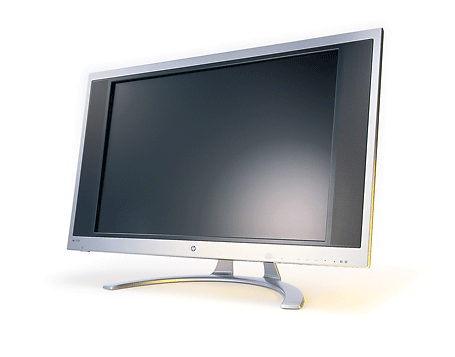 My recent switch to a high-quality 17-inch LCD monitor at work dimmed my affection for the aging 19-inch CRT I use at home. Now I'm testing HP's 23-inch, wide-screen, high-definition F2304 LCD. Boy, is my CRT toast.
HP's $2199 model is a sleek stunner that has more extras than a loaded Escalade and offers enough screen space to hold a Pop Warner football game. What do you do with all that real estate (and a mind-boggling 1920-by-1200 screen resolution)? You open a huge spreadsheet, and you watch a movie--at the same time.
In my informal tests, the shipping unit produced sharp text plus vibrant photos and graphics. Thanks to its speedy 16-millisecond refresh rate, it nimbly displayed standard DVDs, too. But the F2304 really shone with high-definition content, where it offered some of the most remarkably crisp and colorful images I've seen.
This monitor's capabilities don't stop there. Aside from standard analog and digital PC inputs, you'll find television inputs that let you plug in external devices such as DVD players or HDTV tuners.
I didn't like everything about the F2304. The integrated speakers are good but not great (few are), and I wanted a more adjustable stand.
But these issues are minor. The F2304 is a spectacular monitor, with a long list of features and a big ole price tag to match. If you're a multitasking monster who enjoys a little play with your work, and you have the budget for the best, this supersize LCD may well be the monitor for you.
HP F2304
Truly massive high-definition display makes work and play fun.
Street: $2199
Current Price (if available)
At a Glance
This sleek model show its age; other excellent products have proven its image quality merely average. Read the full review

Cons

Other large displays have better screens
Shop Tech Products at Amazon