capsule review
Canon Pixma iP1500
At a Glance
Canon PIXMA Photo iP1500 Inkjet Printer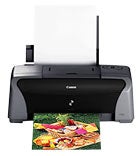 There's no output tray on Canon's Pixma iP1500--the printer kicks your pages straight out onto the desk. But if you're on a tight budget, this no-frills printer could be for you: $50 fetches respectable quality and acceptable print speeds in a neat little package.
The gray-and-black iP1500 has a tiny footprint, taking a bit more than 16 by 8 inches of desk space. Paper (up to legal-size sheets) feeds from an upright support at the rear. The ink cartridges have relatively low capacities, negating to some extent the printer's low purchase price.
The iP1500's 6.3 pages per minute for printing text is very good for such a low-cost printer, but graphics were closer to average, at 1.2 ppm.
Text looked more than respectable, even at small font sizes. Though we could see some slight, narrow banding on plain-paper graphics, they had very good color and contrast. On photo paper, our color and monochrome images showed a slight magenta cast, but they generally looked nice and sharp, with only a few dithering artifacts.
On our line art test, designed to expose resolution problems, the iP1500 merged the most closely spaced lines, but in less-dense blocks of lines we didn't see the banding so many other printers produce. Some blocks had obvious steps every 5mm or so, however, indicating that the print heads weren't positioned accurately on each sweep across the paper. Worse, a thin white line ran across the page in one place. Because of these flaws, we gave the iP1500 a score of Fair for line art.
Despite its billing as a photo printer, the iP1500 has no memory card slots or PictBridge-compatible USB port for digital cameras. Like many similarly priced printers, the iP1500 lacks a parallel port, but we hooked it up easily to our test PC using its rear USB port. The easy-to-install driver supplies all the settings we would expect to find, including a check box for borderless prints.
The iP1500 comes with a setup poster and a printed quick-start guide that covers basic information. The user's guide for this uncomplicated printer is supplied in HTML format and is installed along with the software package. Some of the guide's screenshots are so small that they're hard to read, but it provides plenty of troubleshooting information and a separate FAQ. Canon supplies its capable Easy-PhotoPrint software to guide you through printing photos, its PhotoRecord app for printing photo albums, and its Easy-WebPrint app to work around Internet Explorer's printing limitations. Canon provides no photo-editing software, though.
This compact, simple home printer serves well for everyday printing tasks, and does a nice job on photos too.
Paul Jasper
At a Glance
Canon PIXMA Photo iP1500 Inkjet Printer
Shop Tech Products at Amazon