capsule review
Envision EN7410
At a Glance
Envision EN7410

PCWorld Rating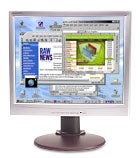 Priced at a very attractive $299 at the time we reviewed it, the Envision EN7410 produced better screen quality than most monitors in its price range. It displayed particularly sharp diagonal lines, which contributed to its receiving a text quality score of Very Good. The EN7410's graphics test scores fell in the middle of the pack--but in a strong class of 17-inch contenders, that was sufficient to earn this model a rating of Very Good for graphics as well.
The lightweight (8.8 pounds) EN7410 could use a heavier base or better balance. The monitor tipped a little when we pressed screen adjustment buttons, so we resorted to steadying the monitor with one hand while tweaking the settings with the other. Tilting the screen--the only physical adjustment it permits--requires the same cautious treatment. Attractive as the satiny, matte-silver bezel looks, it feels disconcertingly flimsy. We missed the flexibility of having a digital input as well as an analog input. The EN7410's controls are average, and it offers no remarkable extra features.
The bare-bones EN7410 turned in fine image quality at an enticing price, but had few additional useful features. And its less-than-rock-solid stand can be a bit unnerving.
Envision EN7410
17-inch screen, 1280 by 1024 native resolution, 8.8 pounds, one 15-pin analog input, 15ms pixel response time. Three-year warranty (one year on the backlight); 24-hour weekday toll-free tech support.
$299
888/838-6388
www.envisiondisplay.com
Lara Blackwell
At a Glance
Envision EN7410

PCWorld Rating

Low price and surprisingly good image quality draw attention to this analog-only unit--but so does its flimsy feel.

Pros

Clean text at a low price

Cons

Flimsy-feeling; no digital input
Shop Tech Products at Amazon