Page 2 of 9
Apps in a Browser

If you're used to the click-wait-click-wait browser routine, you'll be surprised by the speed of today's Web-based applications. Ajax and other technologies give browser apps the features and responsiveness of their desktop counterparts.
Next-Generation Web Mail
Outlook goes Live, almost: Wherever you go, there's your Outlook data. Microsoft's flagship program for e-mail, contacts, and calendars has never traveled well...until now. For $45 a year, you can bring all of Outlook's features with you anywhere, via your MSN or Hotmail account. Like the deskbound version, Outlook Live lets you view and manage multiple e-mail accounts, calendars, contacts, and tasks. Unlike its desktop counterpart, it limits you to 2GB of mail storage, and outgoing messages can be no larger than 20MB each.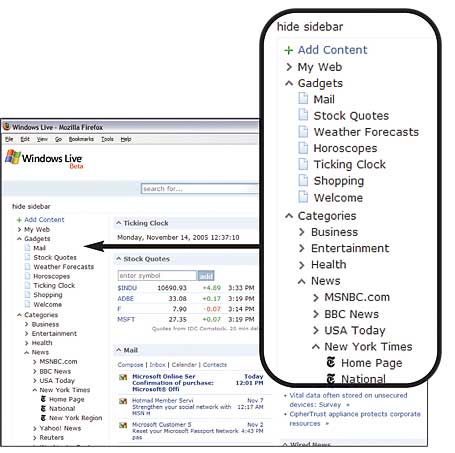 Windows visits the Web: Microsoft has hopped on the New Web train in the nick of time with the beta of its free Windows Live service. You can connect to your Hotmail account, get news feeds, and store IE and Firefox bookmarks online. Features that weren't available when we looked at the beta include a Gmail-style mail service, a Web-hosted Messenger IM client, and various Windows security and performance utilities.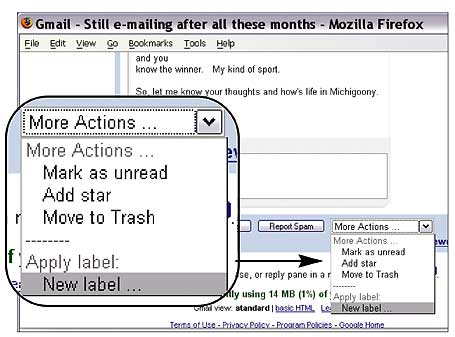 Gmail sets the pace: Web e-mail had been around for years when Google debuted its free Gmail service in 2004. What made Gmail different, and also ushered in a new Web age, was its slick, quick interface, as well as its spam filter and abundant storage, currently creeping toward 3GB per account. Need to back up some key files? Just send them to your Gmail account, where you can organize and search messages using tag-like labels. Both Hotmail and Yahoo are working on Gmail-like versions of their offerings. (See last month's story for more on these new Web mail services.)
Web Work Sites
Brainstorm on JotSpot: Wikis make it easy for groups to add text, images, and even files to a single Web page. JotSpot is a wiki that lets workers in far-flung locations get on the same page, as it were. People can create, edit, and read a wiki page, all without having to know HTML. The page can be a blog, company intranet, database, group task manager, or anything else team members would need to organize online. The service is free for up to five users and 20 Web pages (registration required), and from $9 to $49 per month for more users and pages. A related service, JotSpot Live, permits groups to enter meeting notes in real time on the same Web page.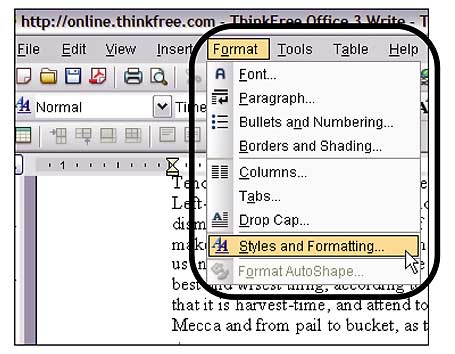 ThinkFree puts office apps online: With this Java-based, ad-supported service's browser knockoffs of Microsoft Word, Excel, and PowerPoint, you can do almost anything you would want to do in the originals. The browser equivalents read and write .doc, .xls, .ppt, and other native Office file formats. The free service (registration required) lets you save up to 30MB of documents, either online or to your local PC. You can post files to a blog with a single click. Best of all, ThinkFree Office Online can save files in Adobe's Portable Document Format--something Office applications can't do yet. (Note: The initial applet download can take several minutes on a broadband link, so on a dial-up line it might seem interminable. The applets open faster subsequently.)
Share your musings with Writeboard: Behold the power of text. Writeboard, a free service from 37signals, lets you create and store any number of text documents online. You can even invite collaborators to view and edit the files. Just give the document a name, enter your e-mail address, add a password, and you're ready to create your first shared file. The clean interface highlights your edits, and e-mailing invitations to collaborators is quick and simple. The service also retains previous versions, so you can roll back unwanted changes. (Read about 37signals' Backpack personal organizer in the following section.)
Blog in an instant with Writely: Like Writeboard, Writely is a free Web-based word processor that supports collaboration, tracks revisions, and stores and displays your documents online. Files are limited to 500KB in size, but Writely distinguishes itself from other such services by allowing you to publish to a blog, and to upload existing documents by e-mail.
Online Organizers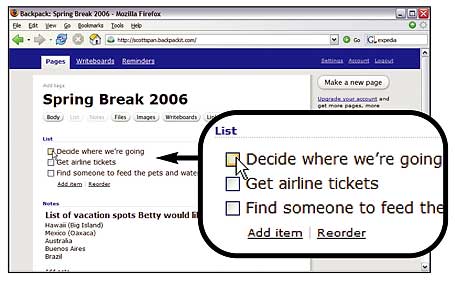 Stuff your data in your Backpack: Before, whenever you wanted to travel with a laptop, you would have to load all the files you'd need onto the machine in advance. Now you can put your to-do lists, notes, and other essential files and photos onto one clean, clear Web page. 37signals' Backpack, a Web-based personal organizer, will even send e-mail and mobile phone reminders when tasks are due. Backpack isn't just a personal organizer--you can share pages, and group items by using tags. The service lets you save up to five pages and send as many as ten reminders for free, but adding files and images to the pages costs from $5 to $19 a month. Paying customers receive from 25 to 1000 pages, 80MB to 500MB of storage, and 100 to 300 reminders. If Backpack is more organization than you need, its lightweight cousin, Ta-Da Lists, is an alternative.
Gather your team at Basecamp: Basecamp, also by 37signals, is Backpack's heavy-hitting big sibling--a full-blown Web-based project manager that permits you to track team members' responsibilities, the time they spend on various tasks, and the group's messages related to the project. The service is free for one project, with some limitations. Fee-based plans are priced from $12 per month for up to three projects to $99 a month for an unlimited number of projects.
HipCal puts your days in order: If you think online calendars are too slow and have too few of the features you need, this free calendar service may change your mind. HipCal will hook you with its snappy interface, address book, group calendaring, and content tagging. The service can even send a text message to your cell phone when an appointment draws near. Now even squares can get hip.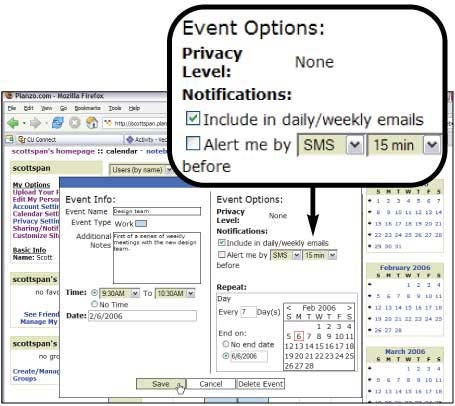 Planzo keeps you up-to-date: Rising Concepts' Planzo: The Online Planning Community has a cutesy name, but it also has some nifty features that HipCal and other online calendars lack, such as the ability to e-mail alerts for an impending appointment. The service's interface is easy to customize, and you can sync your calendars with those of friends who have also signed up for the free service. Two other nice features let you attach files and photos to your notes, as well as create sharable to-do lists.
Note to self--Remember the Milk: More than just a to-do list manager, Remember the Milk acts like a full-blown calendar, but without the row-and-column display. Separating your life into Personal, Study, and Work tasks (categories you can change), you enter task reminders as you would in any other calendar; you can even create shared calendars for your group projects. Remember the Milk stands apart from other free online calendar/scheduling services in its support for the iCalendar format for importing and exporting calendars, as well as in its ability to publish your various tasks as a news feed.
Shop Tech Products at Amazon