Page 3 of 9
Collaboration & Community

Whether it's to fuel your passion for Hungarian cinema or to find new pomegranate recipes, the Web is a great place to meet kindred spirits. (Note that all of these sites require registration.)
Thinking in Groups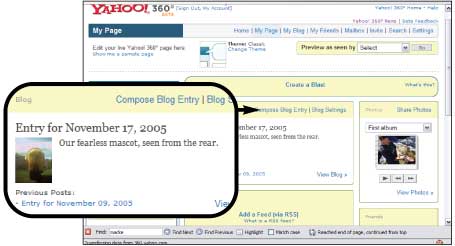 Yahoo 360 offers the Web from A to Z: Yahoo's free personal Web site, Yahoo 360, gives you unlimited online space to publish a blog and share photos, and lets you subscribe to and share RSS feeds. You can access your Yahoo Mail, Messenger, Groups, and other services as well. After uploading your content, just invite friends to view your handiwork, even if they don't have a Yahoo account.
Form a chorus in the Opera Community: Much like Yahoo 360, the free Opera Community offers up to 300MB of online storage for photos, blog posts, and feed subscriptions, or for creating your own topic-based community. You don't even have to use the Opera browser.
Put your best Facebook forward: According to TechCrunch.com, 85 percent of college students in the United States have accounts with this online student directory, and 70 percent of them log in to the site daily. Facebook lets you post photos and send messages to other members, but most of its popularity is due to a single feature: You can browse mug shots of the people in, say, your 2 p.m. Social Psychology lecture, find out all about them, and maybe even ask one out on a date (or at least ask for last week's lecture notes). College alumni can join to reminisce about the good old days (you need a university e-mail address). Students at some high schools are also eligible for Facebook accounts.
Get all chummy at Friendster: Like Facebook (see above) but without the student-only limitation, this free online social directory allows you to put your personal profile, blog, and photo album on the Web, and then see if anyone out there wants to be your buddy. Friendster lets you chat with one person or a whole group. The service recently added peer-to-peer file sharing.
Picture Places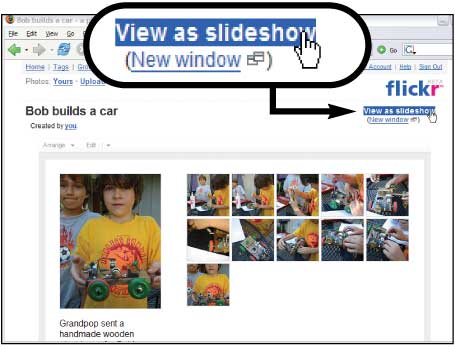 Flickr makes sharing fun: Use Flickr, a free Yahoo-owned service, to share your digital photos with everyone else in the world, or just the people to whom you grant access. After you upload your shots to the site, you can tag them, create albums, view slide shows, and post pictures to external blogs. Moving your images to the site is easier if you download and use Flickr's handy batch-upload utility, which also adds a 'Send to Flickr' command to IE's context menu. Uploading as much as 20MB of photos per month is free; a Pro Account ($25 per year) increases the limit to 2GB per month.
Picaboo polishes your photos: Picaboo is a photo-sharing site with a twist. Instead of uploading individual pictures to Picaboo's server, you download the free Picaboo photo-album software, make slick-looking digital albums on your PC, and then upload a copy of each album to Picaboo's server for sharing with the people you specify. You can use one of the free service's many album wizards, or use a layout of your own devising. Picaboo makes money by selling prints of the albums (though the software allows you to print your own using standard photo sleeves and album covers), as well as individual prints and slide-show DVDs. Photo-album prints cost $25 for up to 20 pages, and photo DVDs cost $10.
Bookmarks to Share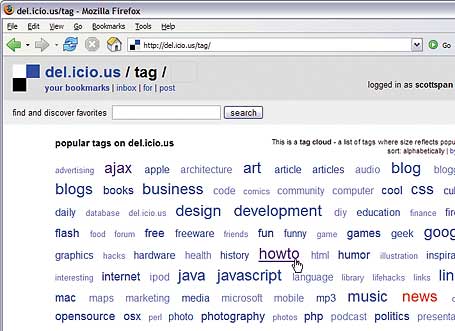 Del.icio.us takes the Web's pulse: Want to find out what people are interested in these days? Just look at their bookmarks. While you're at it, let them look at yours. The name of this free site--just bought by Yahoo--may be awkward, but using it is simple: Register, log in, add two buttons to your browser's Links (IE) or Bookmarks (Firefox) toolbar (the site shows you how), and click a button to bookmark the current page (you can't upload all your browser's current bookmarks in a batch). For the full New Web effect, tag your bookmarks and share them with the universe, or with a small group of friends, family, or coworkers. One of the site's new main features: You can now access your Del.icio.us bookmarks from any Web-connected computer.
Digg deeper for tech news: The free Digg technology news site is similar to the popular Slashdot, with one giant difference: Rather than having editors decide which stories are most important, subscribers rate articles by "digging" them, a process much like tagging. As a result, breaking news tends to appear on Digg a tad sooner than it does on Slashdot. Simply read the postings on Digg as you would on any news site (or subscribe to the service's news feed), or delve deeper into the community by registering and creating your own news Diggs. Alternatively, you could simply bask in Digg's reflected brilliance by posting its stories to your own blog with a single click.
Flock makes browsing a group experience: This new free browser (based on the Mozilla Foundation's Firefox) has a decidedly social twist. Flock uses Del.icio.us's shared bookmarks by default, and it allows you to tag Web pages, grab news feeds, and link to major blogging services. The browser even displays photo thumbnails in its Flickr toolbar (just in case you find yourself getting too much work done). Though not yet in beta testing when we looked at it, Flock may be ready for regular duty by the time you read this.
For book lovers, it's a LibraryThing: This site is similar to Del.icio.us, but for the tweed set. If you love books, and love people who love books, LibraryThing is for you. Start by using the service to catalog your book collection: Tag your books by topic, share your catalog with others, and then endlessly browse the titles that they have on their shelves. The utterly book obsessed can add the LibraryThing widget to a blog to show visitors what they have been reading lately. Listing up to 200 books is free; listing any number of books beyond that costs either $10 per year or a one-time $25 fee.
Sharing is a snap with My Web 2.0: This free personal bookmarking and tagging site from Yahoo (in beta when we looked at it) bears the familiar plain-jane look, but don't let that fool you. Unlike Del.icio.us, My Web 2.0 uploads all your browser bookmarks smoothly, and it lets you share your bookmarks via a news feed. The service also allows you to share your tags with a group of friends or associates.
Video Sharing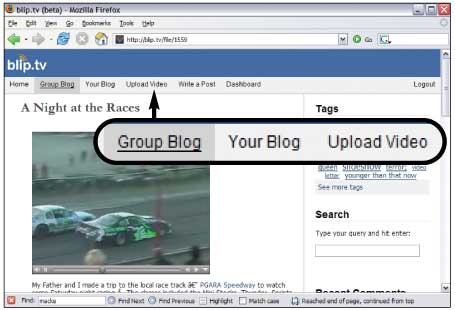 Check your radar for Blip.tv:The Swiss army knife of online video, Blip.tv offers free video blogging, podcasting, searching, and sharing. Create your video blog on the site, or simply post links to clips from your own blog. Most of the site's videos are tagged, and Blip.tv generates a news feed of the latest video uploads for your convenience. Better yet, Blip.tv automatically posts videos to the Internet Archive or to your blog. It also sends tagged video links to the Del.icio.us bookmark directory, and thumbnail images to Flickr.
ClipShack converts videos in a Flash: It may not offer all the bells and whistles of other video sites, but this free service makes posting your videos quick and easy. Unlike other sites, ClipShack converts your uploads to Flash animations, ensuring that most people will be able to see them without having to download a plug-in. Linking to a clip requires copying and pasting some HTML code into your blog. Inveterate voyeurs can subscribe to an RSS feed of new clips. Uploads are limited to 50MB (the site plans to offer paid services with higher storage limits in the future).
Google gets the video bug: Most video-sharing sites want to be the "Flickr of video," making it easy for you to see other people's creations and for them to see yours. Not Google Video. While you can upload your own video clips to the site, don't expect them to appear online just like that--the company must decide if they meet Google Video standards first. Nevertheless, this free service knows a few neat tricks. For example, you can use keywords to search for videos, as well as sample random clips that Google deigns to serve up (usually interesting, sometimes long).
Ourmedia.org is your media repository: Billing itself as a global home for grassroots media, Ourmedia.org is a free video, audio, photo, and text upload site that acts as an interface to the Internet Archive--you have to register on both sites before you can upload. You can receive the media contributions of others via RSS, or just browse around patiently (the site is a little slow).
Vimeo makes Web video easy: Vimeo looks lightweight at first, but the more you use it, the more features crop up. You can upload as much as 20MB of video per week for free in any format you like. You can also tag clips for easier searching, and post tagged links to Del.icio.us to attract viewers. Vimeo lets you post thumbnails of your clips to your Flickr account, and transmit the clips via an RSS feed. (Note that some of the site's content isn't suitable for children.)
Everybody's a star at YouTube: YouTube doesn't have the video sharing and sorting tools that Blip.tv and Vimeo do, but posting your clips to the free service is a breeze. Videos are limited to 100MB each, and you have to give each clip at least three tags before YouTube will accept it. Linking to clips from your blog requires copying and pasting HTML code. YouTube offers only one news feed of the site's most recently uploaded videos; and like Vimeo, some of the videos on the site are R-rated.
Shop Tech Products at Amazon