Page 4 of 9
Search & Maps

Whether you swear by Google or use an army of Web search tools and services, there's always more to discover online, and more ways to discover it. Some of the most innovative new Web services combine search results with maps to provide a fresh perspective on places a continent away, or just around the corner.
New-Look Search
Odeo hooks you up with podcasts: Odeo is a free service that could do for podcasts what Blip.tv and other sites are doing for video. Though the site's podcast-upload capabilities were still under construction as we went to press, it nevertheless provides a great way to search for audio files on the Web without having to install iTunes on your system. Casual visitors can browse podcasts by the tags assigned to them. Registering lets you do some tagging of your own (a feature iTunes doesn't support); it also allows you to subscribe to topic-oriented channels and to download audio to your iPod.
You make the rules at Rollyo: Rollyo is short for "roll your own search engine," which means you can create a custom collection of search engines and topics and then share the resulting "roll" with others. The free site provides logged-in users some starter search rolls of its own, as well as lists of topic-targeted rolls created by celebrities and other "high rollers." You can add your Rollyo search rolls to Firefox's search engine toolbar with a click, and post your roll to your own blog or Web site just by copying and pasting some HTML code.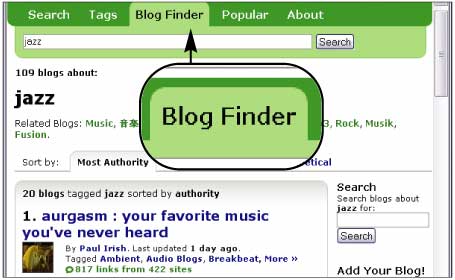 Technorati keeps its ear to the Web: Google Blog Search does a good job of exploring blogs, but Technorati's free blog portal takes tracking blog buzz to the next level. You don't have to register to search blogs, browse its cloud of tags or Top 100 list, or use the site's Blog Finder to locate blogs on a particular subject. But signing in lets you promote your own blog and set up watch lists of topics you want Technorati to track for you.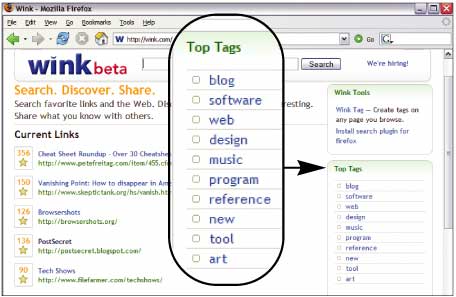 Search the smart way with Wink: Search engines are only as good as their underlying algorithm. Finding the nuggets of gold among the results typically requires a human (you) to read through and discard the many links that are only tangentially related to whatever you're looking for. The free Wink search engine incorporates the human element, crawling tagged sites such as De.licio.us, Digg, and Flickr and drawing on Wink users' tagged searches to separate wheat from chaff. Set up Rollyo-like search sets based on tags, and sync with Del.icio.us and Yahoo's My Web 2.0.
Maps and Mashups
Freesound Project lets you hear the world: Close your eyes, and Freesound Project puts you at a sidewalk cafe in Oagadougou in the West African nation of Burkina Faso, or relaxing to the sound of waves lapping on Spanish Banks Beach in Vancouver, British Columbia. These and other audio field recordings (mostly of animal and environmental sounds) are linked to Google Maps on this very cool free site.
Leave your mark on the planet with Google Earth: More than just a Web site, the free Google Earth is an application that runs on your PC, allowing you to "fly" over a virtual globe constructed of satellite imagery. Search for businesses and people, view 3D images of cities, and get driving directions and distances. More important, the app's public programming interface has spawned a new generation of mashup sites (several of which are described in this section) that piggyback search specifics, databases, or other "geocode" onto Google's virtual planet. Have a GPS unit? Get Google Earth Plus ($20) to import your own map coordinates.
Rise above it all with Windows Live Local: Windows Live Local (formerly MSN Virtual Earth) combines Microsoft's MapPoint mapping service with its TerraServer satellite images (see below). Whereas Google Earth relies on a downloadable component, Windows Live Local lets you soar over terrain in your browser. Zooming beyond the U.S. border reveals one of the site's limitations, however: Outside of this country, most images are high-altitude satellite views that aren't much clearer than their counterparts in a standard atlas. As with Google Maps, the service's published APIs allow anyone to create their own apps, including maps of eBay seller locations and MSN Messenger chat partners.
Google Maps Web Cam Locator looks ahead: Get a pretravel peek at the weather at your destination, or do virtual sightseeing at this site. Google Maps Web Cam Locator plots Webcams on a Google Map. Click a pushpin on the map to see that camera's view in a pop-up window. Click again to see the view in a larger window, plus weather and other info. You can even add your own Webcam to the map.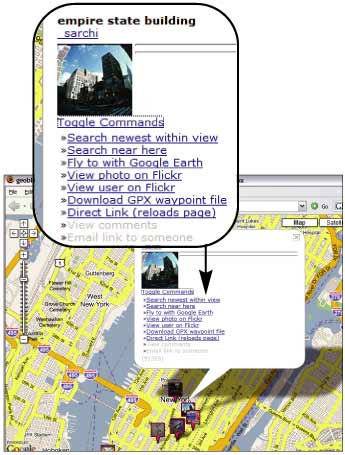 Put a place with that face via GeoBloggers: Ever wonder where the beautiful tropical-vacation shots you found on the Web were located? Want to show friends where you spent your summer? The free GeoBloggers site uses the geotagging of your images on Flickr to plot them on a Google Map. Visitors can fly to your photo's map point and conduct searches in the area using Google Earth. They can also jump to your Flickr page or--very cool--download a GPX waypoint file (which encodes the site's map coordinates) for upload to their own GPS device.
Maplandia.com brings the world into view: This free service puts a regional interface on Google Maps, organizing the site's maps and satellite images by continent and by country. Want to see a map of Colombia? Just two clicks, and you're there. Maplandia creates HTML links you can paste into your blog so that your visitors can view the same map with just one click.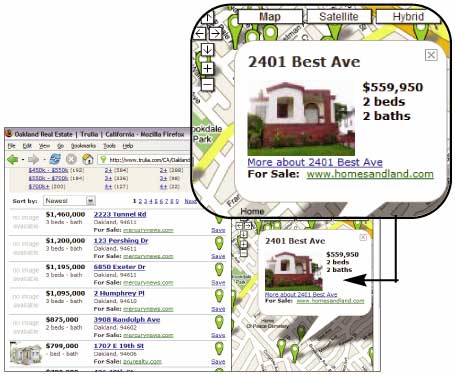 Trulia is a house hunter's best friend: Location, location, location. What could make a better mashup than maps and real-estate listings? This free site started small, mapping homes for sale in a few cities in the San Francisco Bay Area, but its goal is to show listings nationwide. Type a city or zip code into Trulia's search field to see listings pinpointed on a map. Using Google Maps' Hybrid setting, you can see at a glance which homes are close enough to the beach, and far enough from the freeway.
Get a choice of views at TerraServer: Not only can you search TerraServer, an industrial-strength satellite-image database, by city, state, and country, but you also get your choice of images from various providers, and you can purchase prints of the maps at prices ranging from $7 to $150. The service sells prints of satellite images from hundreds of famous locations, such as the Notre Dame Cathedral in Paris, Lambeau Field in Green Bay, Wisconsin, and other hallowed shrines. APIs let you write applications that grab images from TerraServer (&#224 la Google Maps).
Yahoo Maps joins the mashup: Brand new and still in beta as we went to press, the free Yahoo Maps is a response to Google Maps and Windows Live Local, although it differs in one giant way--no satellite imagery. Nevertheless, Yahoo's public APIs let you create your own mashups (view a gallery), and its smart navigational widget makes jumping around a map easy.
Shop Tech Products at Amazon