Online Photo Services Shootout
Page 3 of 3
Pricing the Prints
pricing made up 20 percent of each service's PCW Rating. We calculated the costs of our three prints together with the charge for the least-expensive method of shipping (we excluded taxes, however, since they can vary by state). On this measure, Wal-Mart was the clear winner, with a total cost of $3.74, followed by Yahoo at $4.22 and Snapfish at $4.89. Kodak's EasyShare Gallery was significantly more expensive, at $6.62, but Shutterfly was the most expensive at $6.89.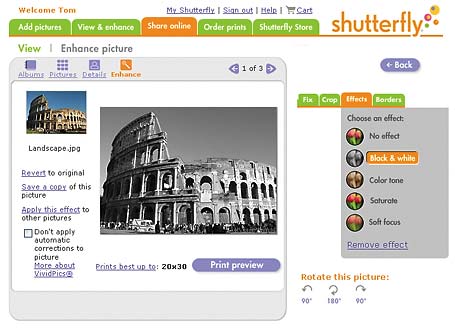 For the 4-by-6 prints, both Wal-Mart and Snapfish charged only 12 cents per print, while Shutterfly was highest at 19 cents each. Wal-Mart and Yahoo offered the lowest-priced 5-by-7 prints, at 58 and 59 cents each, respectively, while Kodak and Shutterfly charged the most at 99 cents. The 8-by-10 pricing ranged from $1.96 per print at Wal-Mart to $3.99 each at Kodak and Shutterfly.
The final two components of the services' PCW Ratings, with a weight of 15 percent each, related to specifications (print size selection, shopping features, and delivery options) and design and usability (ease of use, quality of online image-editing tools, multiple-browser support, and photo-sharing features).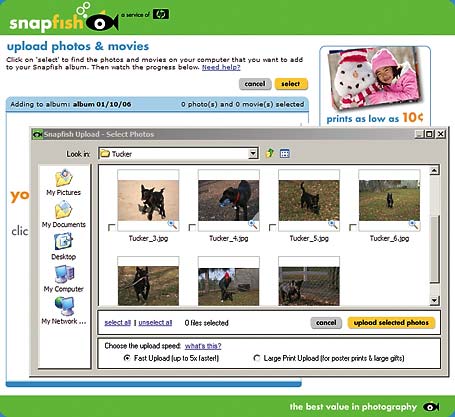 All five sites have developed fairly easy-to-use interfaces, though Kodak's and Shutterfly's seemed the most intuitive. Nevertheless, we ran into various issues using the Mozilla Firefox browser on each service. For example, Snapfish (which was the only service besides Yahoo Photos to allow batch uploads using the browser) didn't display its image-editing tools when we used Firefox. Yahoo Photos similarly failed to support image-editing in Firefox, but under Internet Explorer its tools were among the best.
Online photo sharing is a major draw for digital camera users, and all five services let you send e-mail invitations to multiple recipients to view your photos; Yahoo also permits you to share digital images through its instant-messenger service). Wal-Mart lets you store and share your digital photos online for only 60 days; to keep them up longer, you can rent 10MB to 100MB of storage for 74 cents to $7.40 per year.
Yahoo's service offered the greatest number of print sizes (11), including multiple poster-size print options, while Wal-Mart offered the fewest. All five sites scored well for nonprint products such as mugs and T-shirts; there are very few items that these sites won't let you slap a photo on.
Each offers shipping options ranging from standard postal service to pricey next-day delivery. Yahoo also offers in-store pickup at Target, Snapfish at Walgreens, and Kodak at CVS Pharmacy. And of course, you can elect to get your Wal-Mart pictures from your Wal-Mart. Each service charges a slightly different fee for pickup; Shutterfly doesn't offer the option.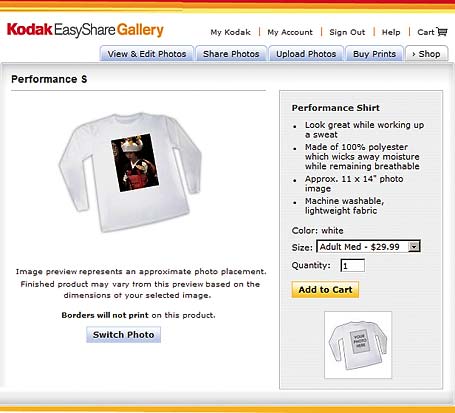 An online photo service must offer excellent print quality, which Kodak's EasyShare Gallery does. Add to that a well-designed Web site, plenty of online tools, and a plethora of print and delivery options, and Kodak is hard to beat, despite higher prices than most of its competitors.
Kodak's strongest print-quality rival turned out to be not a service but the $200 Canon Pixma iP6600D photo printer, an excellent choice for photographers who want a print of their masterpieces sooner rather than later.
Tom Mainelli
Shop Tech Products at Amazon