First Look: Personal Finance Software--The 2007 Lineup
At a Glance
Microsoft Money Essentials

PCWorld Rating

Microsoft Money Premium 2007

PCWorld Rating

Intuit Quicken Premier 2007

PCWorld Rating
The 2007 versions of the two big packages in personal finance software, Intuit Quicken and Microsoft Money, will be on retail shelves this month, but don't feel obligated to race to the computer store (online or otherwise) to buy a copy of either one. I tried out a late beta version of Quicken Premier 2007 and shipping copies of Money 2007 Premium and the new Money Essentials; and though some features looked good, I saw nothing that made me wildly enthusiastic.
Don't get me wrong--I use personal finance software and wouldn't do without it. But it's pretty underwhelming when the main reason you'd advise someone to upgrade is to maintain the support for online services that both Microsoft and Intuit withdraw from users of older versions of their products. Intuit is slightly better on this score than Microsoft: It makes you upgrade Quicken only once every three years, while Microsoft ends online services support after just two years for most versions of Money. The exception is Money Essentials--Microsoft limits its online services for that program to a single year.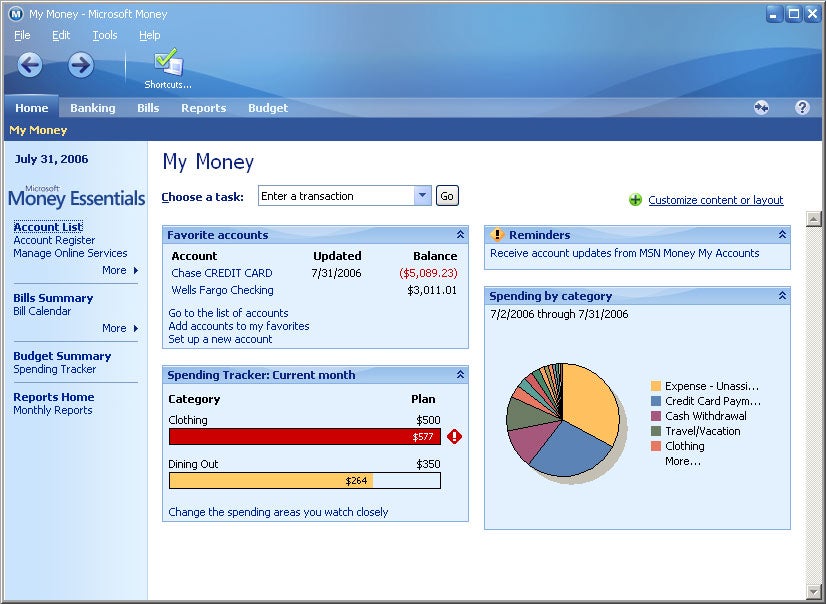 It's the first of several skimpy aspects of Essentials, which the company created in hopes of enticing people who currently use Web-based banking services but who have thus far found desktop financial managers too intimidating or too expensive. (You can't import existing Money data into Essentials, so only new users need apply.) At $20, Essentials is certainly cheap, but it's so lacking in features that some newcomers may wonder what the fuss over desktop software is all about.
Bare-Bones Finance Tracking
As its name suggests, Essentials does provide the basics: You can download transaction data from most banks and assign basic categories in order to track spending and income. You can also enter monthly bills and track which ones you've paid. And you can export data to tax preparation software that supports the .txf file format, including TaxCut and TurboTax. Microsoft's interface is pleasing, too, with its colorful spending pie chart and trackers that let you see whether you're adhering to spending limits that you specify for up to three categories of your choice.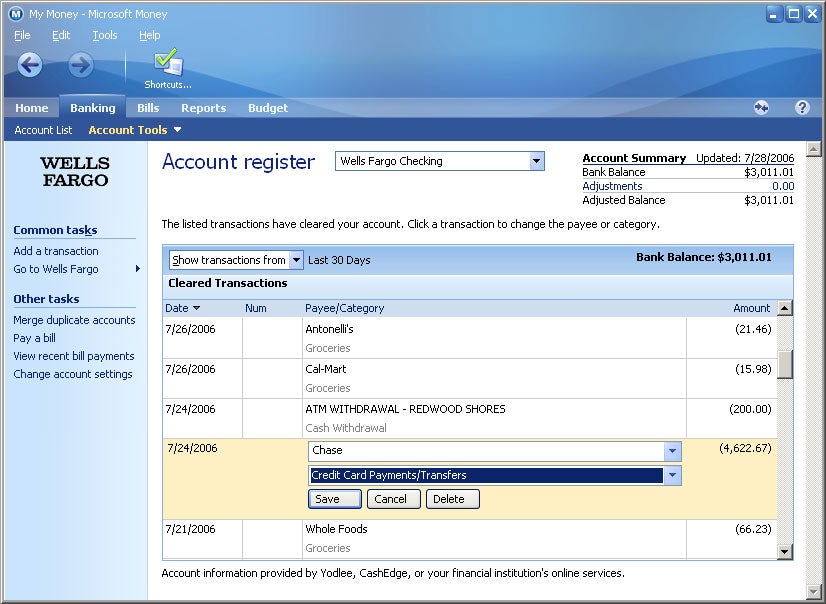 But the account registers provide no field for notes to help you remember details of specific transactions (what concert did that Ticketmaster charge pay for?). And there's no support for transfer transactions: If you record a payment to Visa in your checking account, it won't show up in the register for that Visa account unless you enter it manually or download it from Visa. Furthermore, you can't divide a transaction between multiple categories. If you go shopping at Costco, for example, you can't assign part of the expense to groceries and part to clothing.
Not surprisingly, Essentials doesn't offer any of the investment and planning features that other versions of Money (to varying degrees) provide. For $20, I wouldn't expect it to.
But Microsoft hasn't revealed how much it will charge for online service support beyond the included year. People interested in desktop software might be better off investing in the $50 Deluxe version of Money (Microsoft offers a $20 mail-in rebate) and getting two years of support plus a tool they can grow into.
Both Microsoft and Intuit have done a good job of simplifying the new-user setup in their products to accommodate impatient customers. If you don't want to enter account data right away, simply skip to the home page. As a result of this improvement, there's less reason than ever to get a dumbed-down package.
Full-Featured Options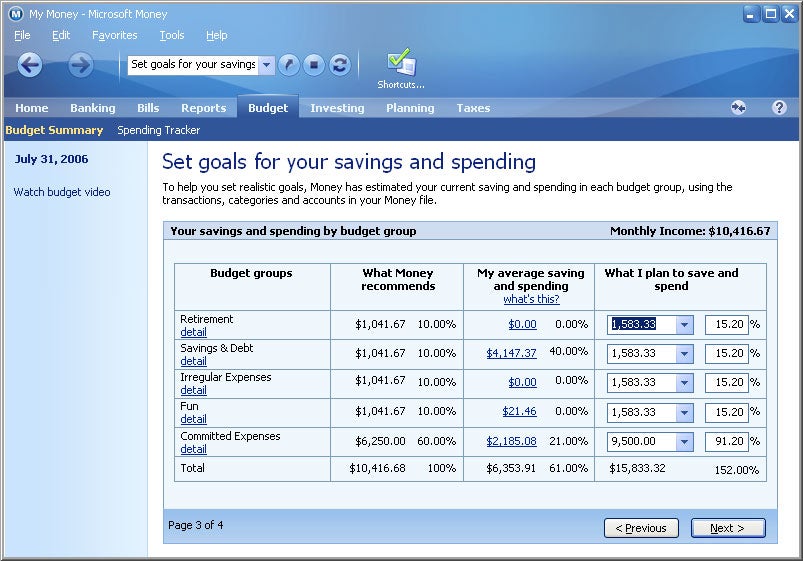 The biggest innovation in Microsoft's full-featured Premium edition this year is a budgeting tool based on a strategy for building savings developed by MSN Money editor-in-chief Richard Jenkins. In an article (available in the software) called "A Simpler Way to Save: The 60% Solution," Jenkins recommends allocating 60 percent of your gross income for what he calls "committed expenses"--food, clothing, household essentials, insurance, charitable contributions, regular bills, and taxes. That leaves 10 percent for retirement savings, 10 percent for long-term savings, 10 percent for irregular expenses (read: emergencies), and 10 percent for "fun money"--basically anything else.
Money's budgeting feature provides a calculator for the plan, though you can adjust the percentages to suit your fancy. If you're going to upgrade, the plan calculator might be worth trying, but I wouldn't recommend upgrading just to get this feature. The same goes for other (and smaller) new features; by and large, they're simply tweaks of existing ones.
Money's modular and customizable user interface covers all the basics. But Money is still missing a great feature that Intuit introduced in Quicken last year: the ability to attach electronic records. And until Microsoft adds that (and matches Quicken's three-year support for online services), Intuit will continue to hold the edge.
Quicken's New Look
Intuit generally seems to be keeping up the pressure on Microsoft in innovation. Quicken 2007's user interface dispenses with lists of alerts and upcoming transactions, opting instead for a look at projected cash flow as expressed through three boxes: In, Out, and What's Left. It's a quick way of checking whether you're on top of your expenses--assuming that you keep on top of data entry (a proviso that applies to all financial tracking and forecasting features in any software). Overall, it's probably more useful than a simple list of account balances and upcoming bills.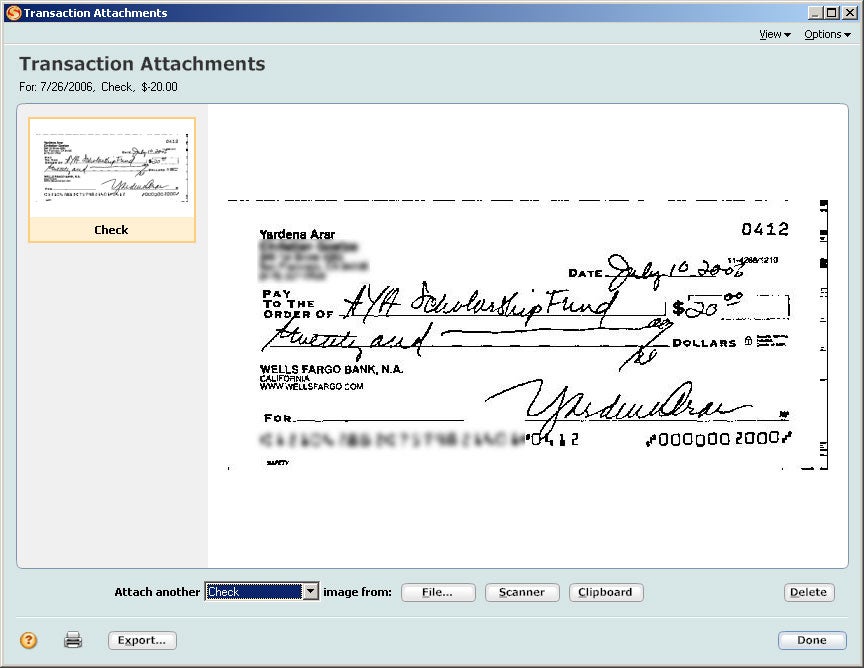 The other major improvement in Quicken 2007 is its support for attaching electronic records (in all but the cheapest edition). Last year's versions let you attach files stored on your hard drive; this year the software supports scanners and permits you to attach a file from the Windows clipboard, saving you a step or two if you're getting files from your bank's Web site (you can right-click within your browser to save a check image or statement to the clipboard, and then pop it into Quicken).
Both Quicken and Money come in several editions to meet different needs; the versions I checked out are loaded with features for investors; Intuit also has a Basic version, which sells for $30 (and which would-be Essentials buyers might want to consider); a Deluxe version for $60 (fewer investor features); and a Home & Business version for $90 that targets people who want to manage their Schedule C sole proprietorship businesses with their other finances. In addition to its Premier and Deluxe versions, Microsoft has a $90 Home & Business version. Both companies offer mail-in rebates for all but their lowest-end products.
For most new users, I'd still recommend Quicken Deluxe or Premier over their Money counterparts, mainly because of the support for electronic attachments. But if you have a product you like and you don't need to upgrade for online support, stick with it.
At a Glance
Microsoft Money Essentials

PCWorld Rating

Microsoft Money Premium 2007

PCWorld Rating

Intuit Quicken Premier 2007

PCWorld Rating
Shop Tech Products at Amazon