Page 3 of 3
Ultimate Boot CD for Windows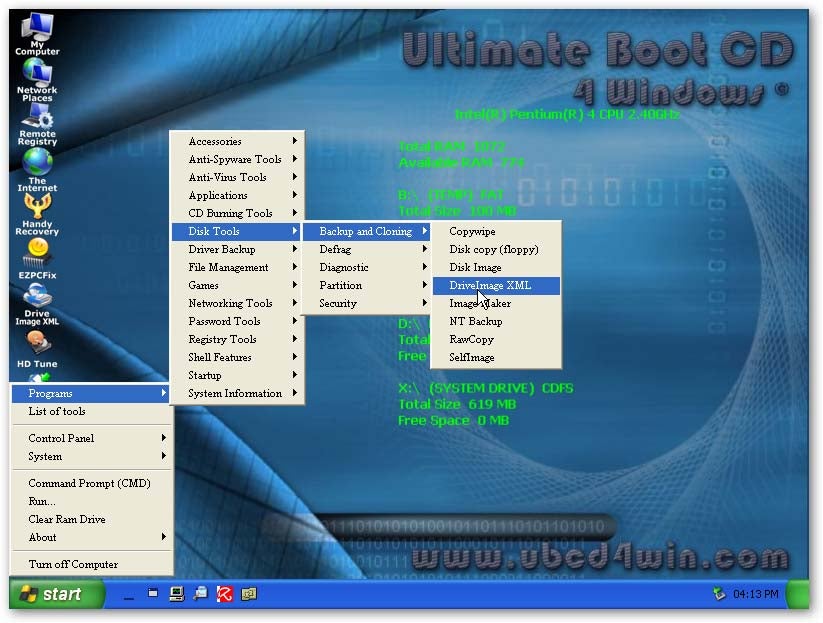 This BartPE-based boot disc comes with a huge selection of tools to access your data and get your PC booting properly again. Some of them are even useful.
UBCD takes a long time to load and asks you some odd questions before it's finally up. But once it's there, you can edit the Windows Registry (yes, the one on the hard drive) in RegEdit, recover deleted files, and even run benchmarks. There are several malware scanners, four defraggers, and eight diagnostic programs (including HD Tune and Windows' own chkdsk).
This boot CD also includes backup utilities to help you salvage your files. There's a driver backup and a system profile backup whose Web-based documentation no longer comes up. And four separate image backup programs. One of those programs, DriveImage XML, I considered recommending in past articles but didn't because restoring from it requires a second Windows installation--something the program gets with UBCD.
The experience of setting up UBCD is identical to creating a BartPE disc--with the same possibility of failure. But when it works, you get a lot more.
Price: Free
Download Ultimate Boot CD for Windows.
Trinity Rescue Kit
This is the only Linux Live CD variant I've ever encountered that is intended specifically for rescuing Windows computers. As such, it's no surprise that it's a powerful and versatile repair environment.
But it's really not designed for Windows users. TRK's command line interface could humble anyone but the most devoted Linux geek.
If you take the time to read the 46-page documentation and learn the program, you'll be rewarded next time disaster strikes. Among the tools that will be at your disposal are a script that runs 4 different malware scanners, a tool for resetting passwords, a Registry editor, a program that clones an NTFS partition to another PC over a network, a mass undeleter that tries to recover every deleted file on the drive, several tools for recovering data off a formatted or dying disk, two tools for fixing master boot record repair programs, and hardware diagnostics.
Price: Free
Download Trinity Rescue Kit.
Active@ Boot Disk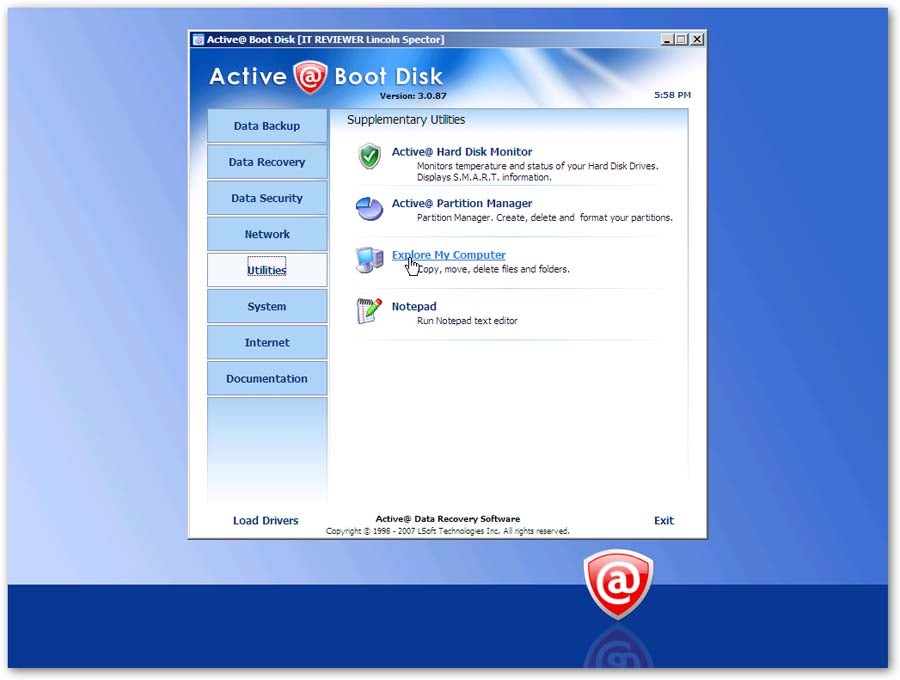 Finally, we come to a boot disc that offers useful tools, is easy to use, and can be created from virtually any XP or Vista computer. The catch? At $80, it costs $80 more than the other five options put together.
Based on Windows PE, LSoft Technologies' Active@ Boot Disk offers a well-chosen collection of utilities, including image backup and recovery, a CD/DVD-based data backup program (Windows PE and Active@ load entirely into RAM, making the disc drive available for other uses), and a tool for recovering deleted partitions and files. You can change Windows passwords, wipe your hard drive, and choose between three partition managers. A Windows Explorer clone lets you copy files off of the hard drive.
You can even bring up Windows' Task Manager, although I'm not sure why you'd want to. And if you're feeling really geeky, there's even a HEX editor.
Price: $80 (ten-day free trial period)
Download Active@ Boot Disk.