Page 5 of 5
Run a River Through It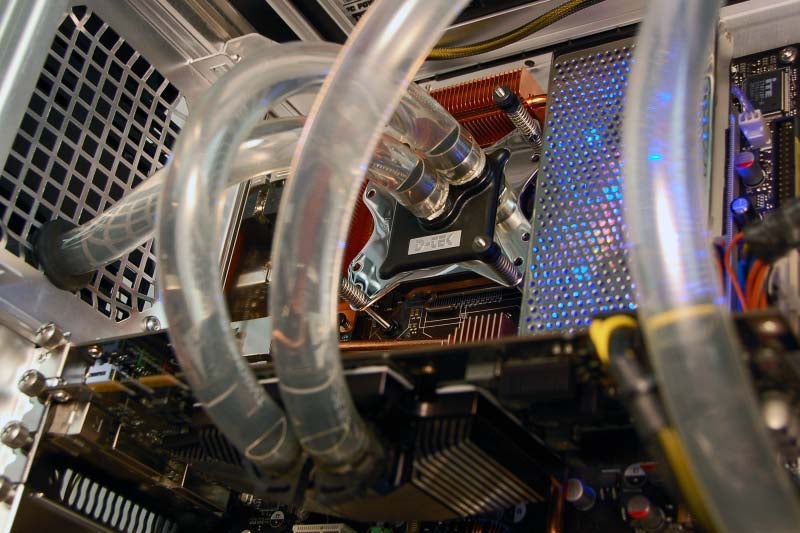 Water cooling has long been an efficient method of cooling PC components, but most users are hesitant to take the plunge for several reasons. Some point to the insanely obvious hazards of introducing water to electronic components. Even more find the total cost of a water-cooling system a little nuts.
Just as in a car, water-cooling your PC is more effective than air-cooling it, since the continuous flow of cooled liquid can absorb and dissipate heat more rapidly than can air alone. PC liquid-cooling setups consist of a pump, a radiator, and some hoses that carry water to various heat-exchanger blocks, which mount atop your hottest system components. Cool water pumps in from the radiator and then flows across the hot blocks, carrying the heat back to the radiator, which releases the heat into the air outside your computer.
Here's how you can choose the best liquid-cooling components and create your very own water-cooled monster.
Pick Your Parts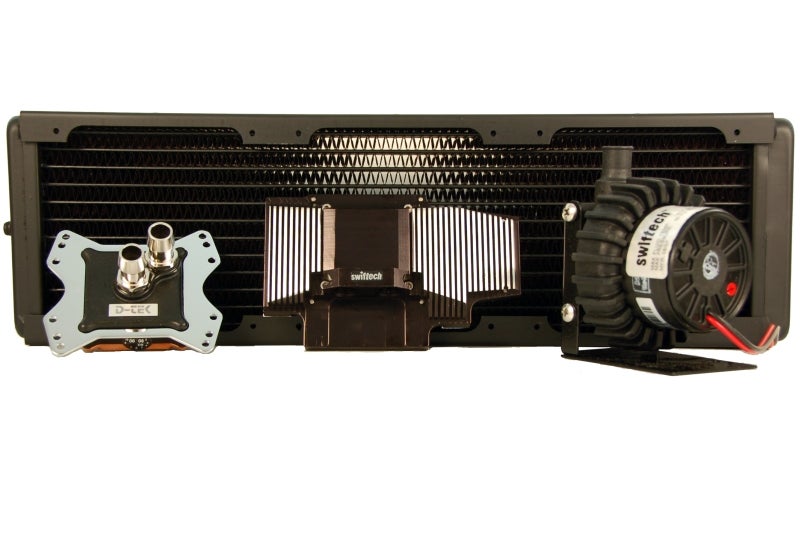 The best liquid-cooling parts are not all made by one company. Stay away from complete kits, since you can piece together a better-performing loop for the same cost. When shopping for water-cooling gear, check out Petra's Tech Shop, Jab-tech, and Performance-PCs.com.
Here is a list of the essential parts you will need to complete your own extreme liquid-cooled PC project:
Water block (CPU/GPU)--The water block is a heat sink that mounts directly on your CPU and/or GPU. Currently the D-tek Fuzion V2, EK Supreme, and Swiftech GTZ are the best CPU water blocks. Since a wide assortment of graphics-board blocks are on the market, check out EK Water Blocks and Danger Den's product line for your specific card.
Pump--When you're looking for a pump for your loop, you'll want it to provide high pressure, reliability, and quiet operation. Both the Liang DDC-3.2 and D5 pumps are excellent choices.
Radiator--In general, the larger the radiator, the better cooling performance you will achieve. We recommend Thermochill's PA120 series radiators.
Fans--The size of your radiator will determine the size and quantity of the fans you will need. For example, the monstrous PA120.3 radiator can hold up to six 120mm fans, with three on each side.
Reservoir/t-line--Tube reservoirs have become the popular choice in the water-cooling scene, and they provide for easier filling and bleeding. EK makes several different models. You can use a t-line instead of a reservoir if you don't have much room.
Tubing--The inner diameter (or ID) of your tubing should match the barb size on all of your parts.
Coolant--Use distilled water for your coolant. Add a couple drops of biocide, such as Petra's PT Nuke, to prevent algae growth.
Barbs/fittings--Use the same fitting size throughout your cooling loop and make sure it matches up with the inner diameter of your tubing. We like Bitspower Compression fittings, as they provide the most watertight seal and look awesome.
Clamps--Use clamps to seal your loop anywhere the tubing meets a fitting. Plastic clamps or worm drive clamps work well, but you can also use zip ties if you desire. You won't need clamps when using compression fittings.
Cleanliness Is Absolute Godliness
The very first thing you should do after receiving your parts is to flush the radiator with distilled water. Chemicals used in the manufacturing process will leave a residue in the radiator, and you need to clean them out thoroughly before you install the radiator. Pour distilled water into the radiator until it's half full, shake it several times, and then pour out the liquid. Repeat this step until you've gone through 2 gallons of distilled water. It's also a good idea to flush the water blocks.
Loop the Loop
When setting up your cooling loop, one rule you absolutely must follow is to install the reservoir or t-line immediately adjacent to the pump so that the water flows directly from the reservoir or t-line into the pump. This arrangement provides a steady supply of coolant to the pump and helps sustain performance. It also reduces the possibility of running the pump while it's dry, which would cause the pump to fail. The order of the rest of the components doesn't matter, so use the shortest amount of tubing possible to maintain a consistent flow of fluid through the loop.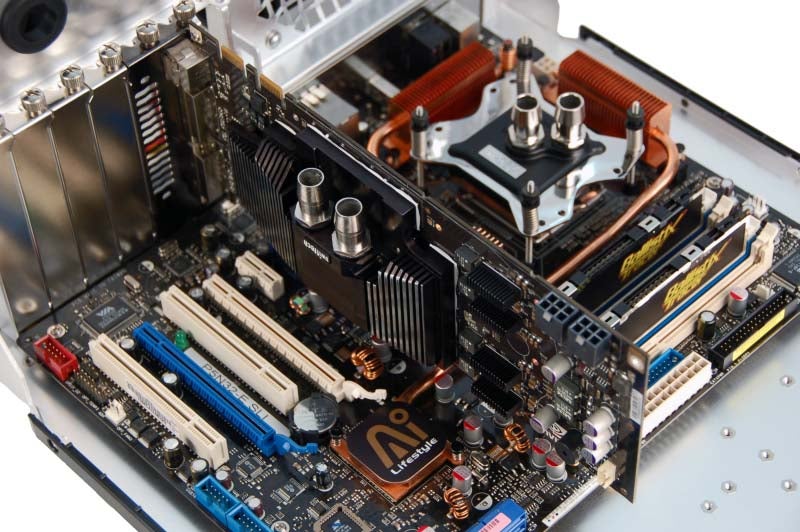 I recommend setting up the loop outside of your case and performing a leak test. This trial will help reduce the chance of having water splash on your PC components right off the bat, and it will give you a better idea of where to tighten fittings and clamps. Place your loop on some paper towels and run the pump for a few hours to see if any problems arise.
Install It All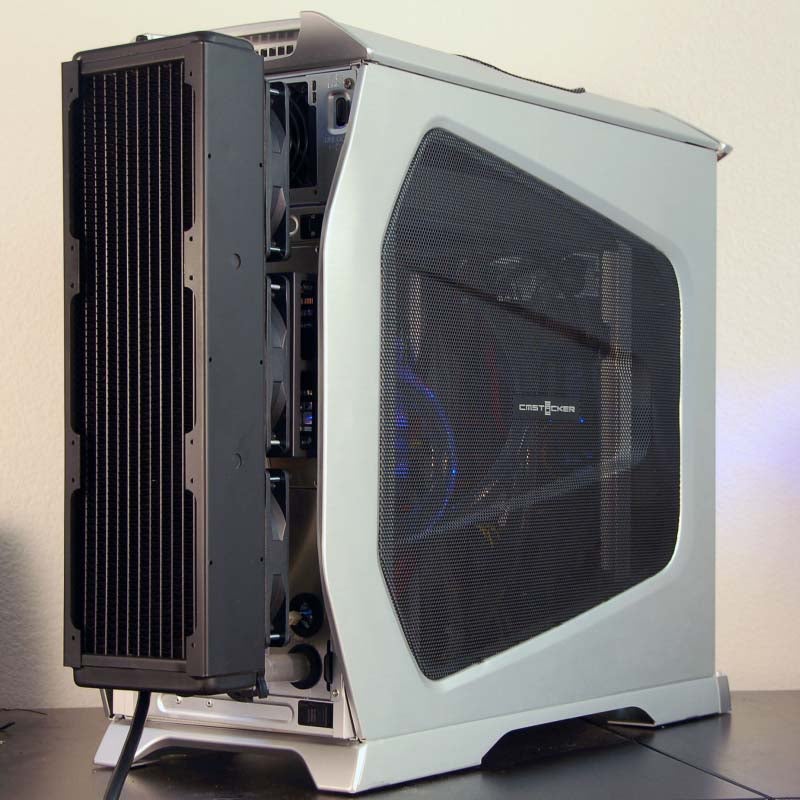 Finally, you can install your loop inside the case and perform another leak test. Make sure no power runs to your motherboard yet. Place some paper towels underneath the blocks and the clamps, as that is where a leak would occur. Let the pump run for a full day and make sure that everything is dry. Once you are in the clear, fire up your PC and enjoy its chilly performance.