Page 4 of 4
Use OpenDNS
Domain Name System (DNS) servers act as a phone book. When you type "pcworld.com" in the address bar, for instance, Internet Explorer sends that common-name request to your Internet service provider's DNS servers to be converted into a series of numbers, or an IP address. Lately, DNS servers have come under attack, with criminals seeking to redirect common DNS preferences to servers that their interests control. One way to stop such abuse is to use OpenDNS.
Go to Start, Control Panel, Network and Internet, and then click Network and Sharing Center. Under the tasks listed on the left, click Manage Network Connections. In the Manage Network Connections window, do the following.
Right-click on the icon representing your network card.
Click Properties.
Click Internet Protocol Version 4.
Click the Properties button.
Select the Use the following DNS server addresses radio button.
Type in a primary address of 208.67.222.222.
Type in a secondary address of 208.67.220.220.
Click OK.
Live With User Account Control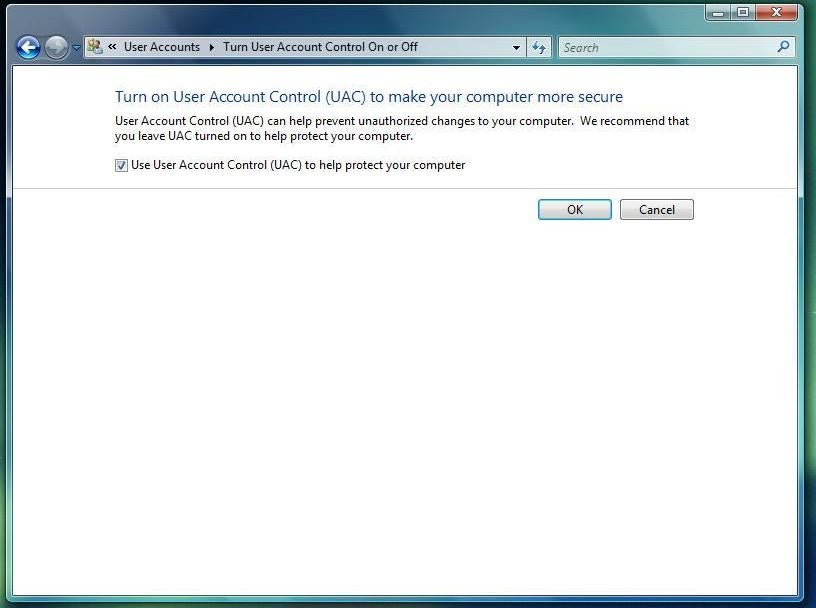 One area where some people might want to see the Windows Security Center turn red is User Account Control (UAC), perhaps the most controversial security feature within Windows Vista. Designed to keep rogue remote software from automatically installing (among other things), UAC has a tendency to thwart legitimate software installations by interrupting the process several times with useless messages. In Windows 7 you'll be able to set UAC to the level you want. Until then, you do have some options.
One is to disable UAC. I would caution against that, since UAC is meant to warn you of potential danger. Instead, install TweakUAC, a free utility that offers the ability to turn UAC on or off as well as an intermediate "quiet" mode that keeps UAC on but suppresses administration elevation prompts. With TweakUAC in quiet mode, UAC will appear to be off to those running as administrator accounts, while people with standard user accounts will still be prompted.
Check Your Work
Now that you've tweaked Windows Vista, you can keep tabs on your system's security with the System Health Report. This diagnostic tool takes input from the Performance and Reliability Monitor and turns it into an information-packed report that can spotlight potential security problems.
Open Control Panel.
Click System.
In the Tasks list, click Performance (near the bottom).
In the resulting Tasks list, click Advanced tools (near the top).
Click the last item on the resulting list: Generate a system health report.
The report will list any missing drivers that might be causing error codes, tell you whether your antivirus protection is installed, and declare whether UAC is turned on. You may want to run this report once a month just to make sure everything's still good.