Page 3 of 4
Picnik
Picnik is meant only for manipulating photos. (Although it has extremely simple drawing tools, they are buried, practically hidden, within its menus.) Like FotoFlexer, you can load photos from your social and photo-sharing sites (including Facebook, Flickr, MySpace and Photobucket) and save your adjusted images back to these sites. And, like FotoFlexer, many of its tools are intended for enhancing snapshots of people with beautifying, correcting or fun effects.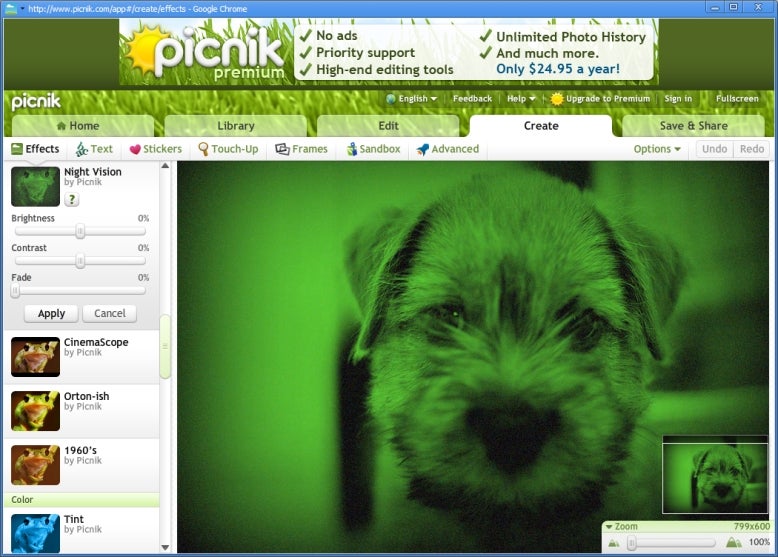 While Picnik is clearly for beginners, it also tries to appeal to advanced users through scalable features. For example, if you want to correct the exposure of a photo, you can simply click an autofix function, then use a slider for finer control, or you can pull up the histogram to dig into the high and low values of a photo.
Picnik sells a premium service for an annual fee. You get additional effects filters, more advanced editing tools, image-layering capability, an ad-free interface and a few other things. But is it worth paying $25 a year so you can change a person's eye color (one of the premium filter tools)? The fee may be worth it for the layering functionality, but FotoFlexer offers this for free.
It should be emphasized that both Picnik and FotoFlexer emphasize applying enhancement filters to photos, and both tools provide the user with lots of them, but they have very little in the way of drawing and image-editing tools. Since both have a similar selection of effects filters and editing tools (except that Picnik charges you for image layering, while FotoFlexer gives you this capability for free), the final choice for users who want simple, cut-and-dried photo enhancement comes down to look and feel.
With this in mind, I would say Picnik wins because of its more attractive interface and its performance -- it reacts faster, almost instantly, as you click through it and apply effects to your photos.
Pixlr
Pixlr was deliberately designed to empower users with rich drawing features, but without the glossy user interface prevalent in several Web-based image editors, which can tax the Web browser's resources and, therefore, bog down performance.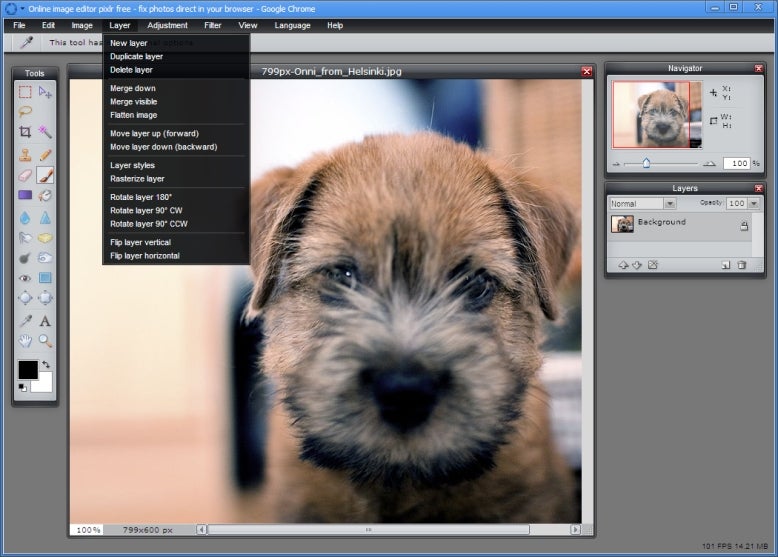 Pixlr was created to emulate the features and, particularly, the performance you expect to get from a stand-alone application. For example, compared with how long it took to get Phoenix going, Pixlr loads really fast, almost instantly, even if you are on a slower broadband connection. I tested it on an Eee PC 2G Surf -- one of the lowest-performance models in the netbook world -- and was surprised by how well Pixlr ran on it. In fact, this Web-based picture editor loads faster than some desktop packages that have similar features, like GIMP.
Pixlr has another selling point to note if privacy is a big concern for you. If you have Flash Version 10 installed, Pixlr loads pictures from your computer without needing to upload them to its server.
The layout of Pixlr's user interface will remind you of a simplified version of Photoshop, with tool windows that you can drag and reposition throughout the work area with ease. In many respects, Pixlr could be easily mistaken for a stand-alone image editor.
Keep in mind that Pixlr lacks any Web community-related features. And, while you can load an online picture from its Web address, Pixlr does not allow you to directly import your pictures from your social networking and photo-sharing accounts.
Another drawback is that, while it supports layers, Pixlr is unable to save layered images. It saves images only in the JPG, BMP and PNG formats.
But on the whole, if you turn the direct link to the Pixlr editor into a desktop application shortcut through the Google Chrome browser, you may not miss using a desktop program at all, assuming you use one mostly for casual editing purposes.