Page 4 of 4
Splashup
Originally named Fauxto, this was a pioneering Web-based image editor when it launched in November 2006. Despite its first-mover status, in today's crowded field, where many online image editors are charging users for extra features or premium services, Splashup remains fully free to use. But it hasn't kept up with the competition, and it could benefit from a refresh and update in its development.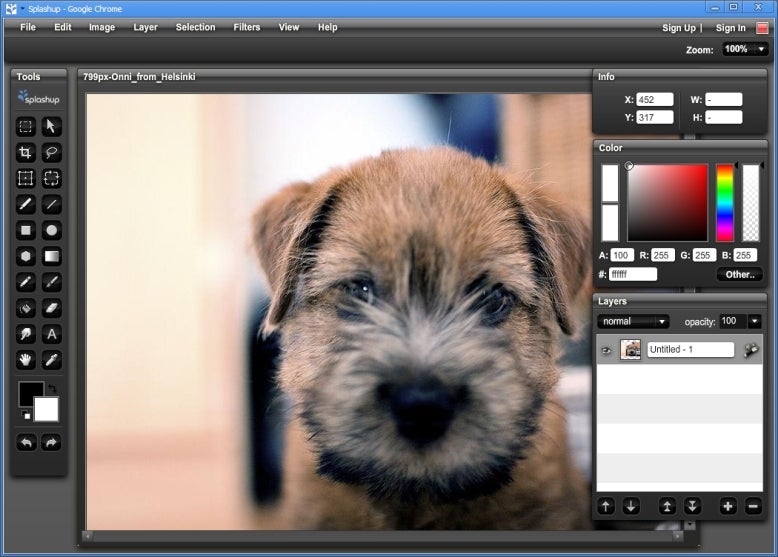 Splashup is comparable to Phoenix in features and drawing tools. It looks similar to Pixlr in the layout of its user interface but takes a little bit longer to load. However, unlike Pixlr, you can load pictures from -- and save to -- your Facebook, Flickr, Photobucket or Picasa accounts.
There are some problems in the user-interface design. For example, Splashup's tool windows take up too much screen real estate, especially when compared with the compact, minimalist look of Pixlr. Thus, precious work area is wasted.
The overall interface also does not feel as robust and snappy as Phoenix's or Pixlr's. And unlike the other two, Splashup lacks keyboard shortcuts to make executing basic functions, like cutting and pasting, easier and quicker to do.
In fact, I found the user experience to be downright buggy at times. Menus would disappear, or functions would simply not work. This seemed to be the case particularly when I used a Web browser other than Internet Explorer to run Splashup. And loading layered images saved under Splashup's proprietary file format did not work when I tested this function, despite repeated attempts using different browsers and computers.
Sumo Paint
I like that Sumo Paint brings together some of the unique elements of Phoenix and Pixlr. Sumo Paint loads up and executes pretty fast -- not as quickly as Pixlr, but noticeably faster than Phoenix. Fortunately, it shares one of Phoenix's better features. Sumo Paint lets you share your art with other users in its own community (but it doesn't allow you to save your images to other services, such as Flickr or Facebook).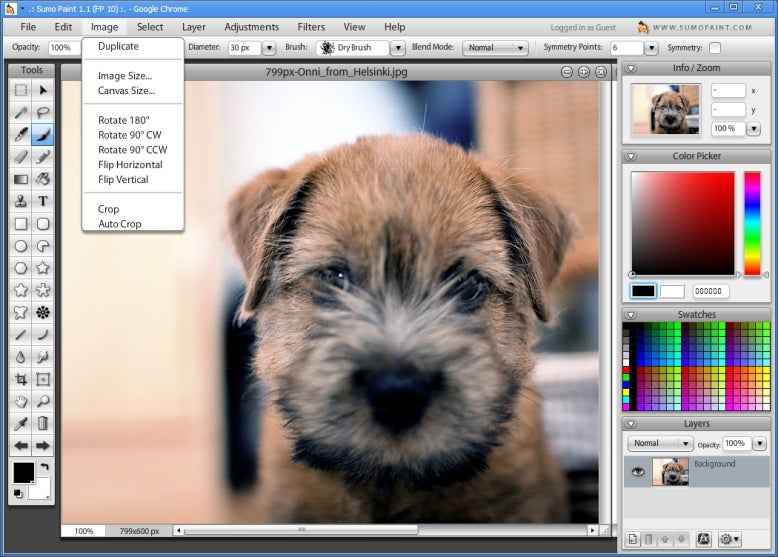 Another good feature of Sumo Paint also found in Phoenix is that it supports layers and can save your layered image files to a free user account that you set up on its Web site.
One drawback is that Sumo Paint does not have many effects filters -- but, for that matter, neither do Phoenix, Pixlr or Splashup.
Though its user-interface skin is not as minimalist as Pixlr's, Sumo Paint's tool windows do not take up as much of the workspace as Splashup's do. Sumo Paint displays five tool windows (four on the right side of the screen that include a color picker and layers list) at once, yet its smart design means that you don't feel crowded as you work on an image.
Though it does not comes across as tight and speedy as Pixlr, Sumo Paint still comes pretty darn close -- it is certainly no slouch in performance in the "feels a lot like a desktop program" category.
Sumo Paint features a number of drawing tools. They are comparable to what you get in Phoenix, such as tools that let you draw stars, polygons, and even pie charts. And the arrangement of Sumo Paint's drawing tools, which are all easily accessible with a single click, encourages -- even entices -- you to click around and play with them. Overall, this makes Sumo Paint the most pleasurable of all of these editors to use for doodling.
Conclusions
While we've included FotoFlexer and Picnik in the category of "image editor," they really are best thought of, and used as, photo-enhancing apps. Both have a lot more effects filters than the other four image editors listed in this article but sport fewer drawing and other tools. So it is conceivable you could "finish up" an image you originally worked on with one of the other editors by applying a desired filter from FotoFlexer or Picnik as the last step.
Between these two, the way Picnik is able to give a near-instant preview of how a filter effect will look makes it stand out. FotoFlexer's questionable terms of service are a mark against using it.
Of the others, if you want optimal speed and performance, Pixlr is the one to consider first, especially for lighter systems like netbooks. Phoenix and Sumo Paint are about on par with respect to the capabilities of their drawing tools. But Sumo Paint has the edge over Phoenix with its faster load-up time, and more easily accessible drawing tools.
Both Phoenix and Sumo Paint exploit the fact that they are online apps by encouraging you to share of your work with their Web site communities. Phoenix's Aviary site enables you and others to collaborate on projects -- although, if you want to use this feature in a professional manner, you will have to pay a fee to keep your images private amongst you and your clients or co-workers.
In the end, take a look at Phoenix if online collaboration is most important to your image-editing needs; Pixlr for quick work, especially if you are using a not-so-powerful system; Picnik to apply effects to your photos as a final step in your picture editing process; and Sumo Paint to use for drawing or creating pictures from scratch.
Howard Wenreports for several technology publications. His Web site can be found atwww.howardwen.com.
This story, "Perfect Your Pictures with Web-based Image Editors" was originally published by Computerworld.