Page 2 of 2
Much of Munster's prediction hinges on Apple's well-known dislike of netbooks. In October 2008, CEO Steve Jobs ridiculed current netbooks as "a piece of junk" and said Apple simply would not compete in the $500 PC market. "Our DNA will not let us ship that," he said at the time.
Last month, Apple's chief operating officer Tim Cook, who in the absence of Jobs is running the company, also scorned netbooks. "When I look at what is being sold in the netbook space today, I see cramped keyboards, terrible software, junky hardware, very small screens, and just not a consumer experience, and not something that we would put the Mac brand on, quite frankly," he said during an earnings call with analysts and reporters.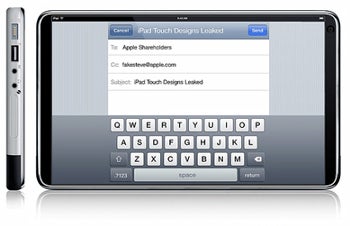 Munster is not concerned about the relatively long time that Apple will be without an entry in the netbook-priced market. Historically, he said, Apple takes a wait-and-see approach, scopes out the competition, then designs something different enough to separate it from the pack.
"A netbook would not differentiate Apple's product from other netbooks entering the market, and as we have seen with the iPod and the iPhone, Apple prefers to enter a market once [it] can offer a significantly differentiated and often premium version of the product," Munster said.
Although Gottheil agrees with Munster on some points, he disagrees on others. Back in March, Gottheil said Apple would likely use what he called an "iPod Touch on steroids" to compete with in the netbook market. Like Munster, he believed then that Apple would do without a physical keyboard and rely on multi-touch.
But he doesn't think Apple will wait until 2010 to put something in customers' hands.
"This is not a life-and-death matter for Apple," said Gottheil, citing the deferred revenues from already-sold iPhones that Apple has yet to post on its books. "But there's no doubt that netbooks are chewing up a substantial piece of what they'd get if they were playing in the market."
Munster, said Gottheil, may be right on the timeline, but he thinks a touch tablet will come sooner. "I don't think Apple is playing with a new processor," Gottheil said, "and although some upgrade [of the Mac OS] is necessary to support this functionality, I don't see it as a year's worth of work."
Rather than rely on another processor family for the tablet, Gottheil believes that Apple, which has made tighter ties to graphics chip maker Nvidia of late, will instead off-load some of the chores to the graphics processor.
"I don't quite see what will take so long," Gottheil said, referring to Munster's 2010 date. "I think that Apple wants to be out there, if they can. This would take a lot of pressure off the declining Mac sales.
"They'll have something this year," Gottheil predicted.
This story, "Analyst: Apple Is Working on a Tablet, Not a Netbook" was originally published by Computerworld.