Page 2 of 3
GigaTribe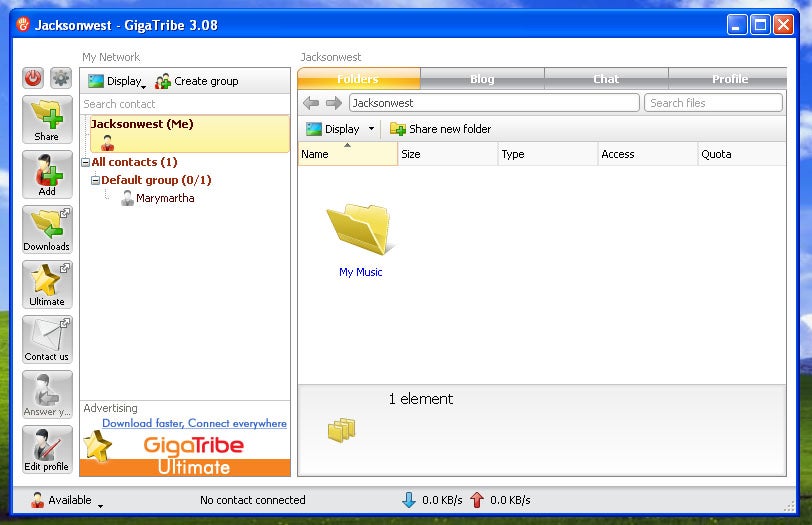 With a familiar and friendly interface, GigaTribe targets casual computer users who want to share media collections with friends. The download, installation, and account creation process is straightforward, with no router or firewall configuration necessary. You can invite friends to download, install, and register for GigaTribe through e-mail or via social networks such as Facebook, LinkedIn, and Flickr.
You can download GigaTribe from PC World's Downloads library. To share files with it, simply start the program, click the Share button, and select a folder on your computer. GigaTribe affords you plenty of control over which of your friends can access your files. All files are encrypted, and the program lets you set access to specific groups, permit contacts to upload or download files, and even password-protect shared folders.
Once you've set up some files to share, you can chat with other users directly through the program. If a user logs off while you're downloading a file, the program will check for another copy of the file among users still online, or it will pause the download and then resume it when the original user comes back online.
The free download includes GigaTribe's EasyConnect feature, which uses GigaTribe's servers as an intermediary to establish your connection, thus eliminating the need for a technical configuration on your side. That feature, however, is free for only the first 30 days; after that, file transfers may slow down unless you spend the time to configure your network manually. The full version, GigaTribe Ultimate, which includes EasyConnect, costs $5 a month or $30 a year; it offers improved download speeds (by sourcing downloads from multiple copies of the same file hosted by different users) and e-mail support.
GigaTribe is available only for Windows PCs, and the latest version is still in beta. Once the Windows version is finalized, the developers have promised to add a version for Mac users.
2Peer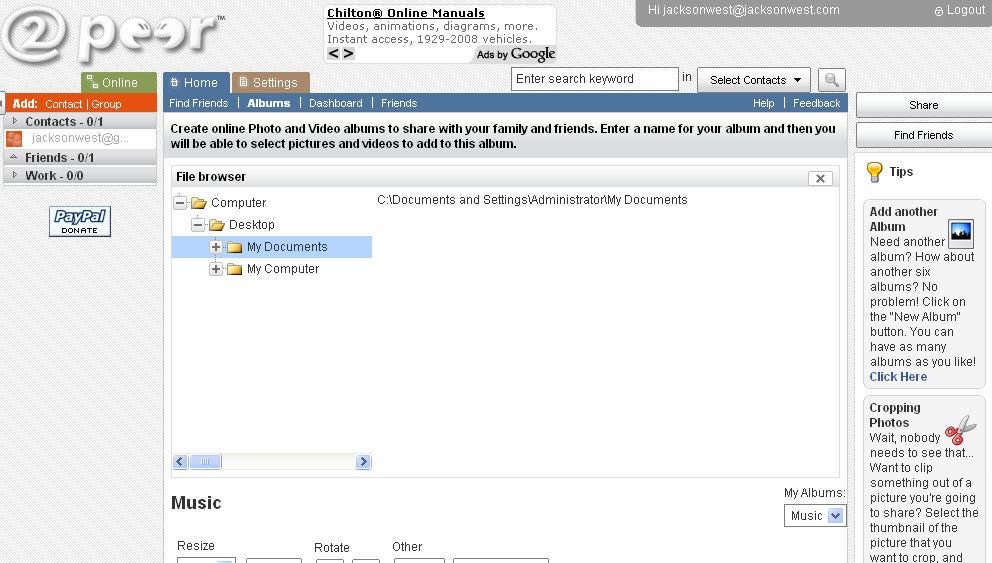 What makes 2Peer unique is that its interface works entirely within your browser--though additional software runs in the background, so an installation is required. Once that's completed and you've created a user account, however, starting up 2Peer will launch your default browser, from which you'll be able to manage your shared files and folders or connect with other users.
Like QNext, 2Peer lets you share files with users who don't necessarily have the program installed--in the case of 2Peer, you can rely instead on e-mailed links or on 2PeerWeb, a fully browser-based version that supports downloads (but not uploads or shared files and folders). Also like QNext and GigaTribe, you'll have to have 2Peer up and running for others to access your data, and vice versa.
You can invite friends to participate, by entering a list of e-mail addresses or by allowing 2Peer to scan your contacts in Yahoo Mail, Gmail, Windows Live Mail, AOL Mail, or Lycos Mail. 2Peer will send an e-mail invitation to those addresses, with instructions on how to download, install, and register.
It's easy to fine-tune the privacy controls for shared folders or individual files, with access levels ranging from public availability (anyone and everyone) to a specific 2Peer user. All data transferred between usersor to 2Peers servers is sent in encrypted form.
The service is completely free, and it works on Windows PCs, Macs, and iPhones (meaning that if you have an iPhone, you can download files from friends on the fly).