Page 3 of 5
Sprint, Verizon Networks Are Best Liked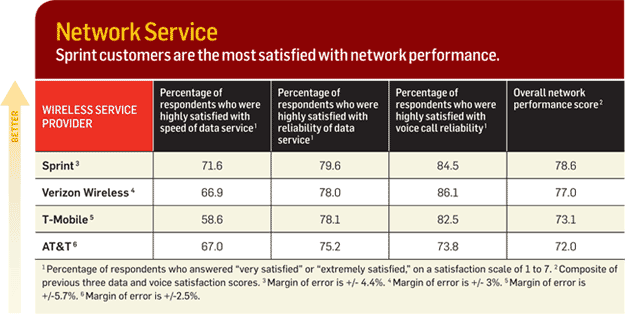 Without the networks that connect handsets to the Internet, smartphones are little better than paperweights. This network connection is where service providers make most of their profit, and customer perceptions of the performance of those networks is hugely important to service providers. (Click on the chart image to see our survey results on users' satisfaction with providers' network service.)
Big wireless companies make grand claims like "America's fastest" and "the nation's most dependable," based largely on their own research, and that provided by paid third parties. Since commissioned studies can lead to biased results, we turned to real-world wireless customers to learn about the value of the major wireless services. Specifically we asked smartphone owners to grade the speed and reliability of their Internet connection, and the quality of their voice calls.
We found that among the big four carriers, Sprint's customers are happiest overall with the performance of their network. In particular, Sprint customers like the speed and reliability with which the Sprint network connects them to the Internet. More than 70 percent of Sprint's customers said that they were "very satisfied" or "extremely satisfied" with the speed of their smartphone's internet connection. Sprint scored even better on the reliability of its network when connecting: Almost 80 percent of Sprint subscribers in the survey said that they were highly satisfied.
Verizon won the day on pure voice-call quality, with almost 85 percent of its subscribers saying they were highly satisfied with the sound and connection quality of calls. Sprint came in a close second, with almost 85 percent of its subscribers saying they were either very or extremely satisfied with the quality of voice service.
The AT&Tand T-Mobile networks didn't fair too badly in our survey either. Both scored well, between the 70th and 80th percentiles (along with Sprint and Verizon) in terms of overall satisfaction with network service.
AT&T and T-Mobile did stumble in a couple of key areas, however. Only 59 percent of T-Mobile subscribers described themselves as highly satisfied with the speed of their wireless Internet connection. T-Mobile's competitors all scored above the 65th percentile in this area.
AT&T fared poorly on voice-call quality. Though 74 percent of the company's subscribers in our survey said they were completely satisfied with call quality, AT&T's competitors each scored well above the 80th percentile on this measurement.
Some anecdotal evidence suggests that AT&T's voice network performance is highly variable from coverage area to coverage area, and even from time to time, as in the example provided by AT&T subscriber and iPhone user Tammy Zink: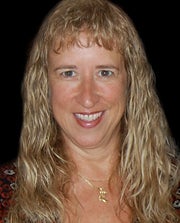 "A year ago, when I first got the phone, I was worried about AT&T's reputation, but AT&T's call service was fabulous--no dropped calls, great reception all the time. However, in past six months, almost every call is dropped, and reception is lousy. I now cringe when the phone rings or I have to make an important call."
Over the past two years, smartphones, and the iPhone in particular, have caused wireless Internet usage to rocket upwards. To better accommodate the demand, AT&T and other providers have been "tuning" their networks. As network resources are shifted to bolster one service, however, another service may suffer--in this case, voice service.
The findings of a new survey by Consumer Reports seem to agree with our results. Consumer Reports asked subscribers of the major wireless providers in 26 cities for their thoughts about their cell phone service, and found that AT&T subscribers were the "least satisfied" of all in 19 of those cities.
AT&T had the same general reaction to Consumer Reports' findings as it did to ours, saying neither study paints a true picture of U.S. wireless users' experience.
AT&T points to its own third-party research showing that its network is not only the fastest in the United States, but is also among the best regarding dropped calls. "In one of the most common measures of reliability--dropped calls--AT&T's national performance is within two-tenths of 1 percent of the highest score among major providers, with only 1.32 percent of calls dropped nationally," says AT&T spokesperson Jenny Bridges in an e-mail to PCWorld. She adds: "That translates to a difference of less than 2 calls out of 1000."
So far, AT&T has suffered most from the network-taxing effects of escalating data service usage, but it may be Verizon's turn in 2010. With the release of its impressive Droid phone (and others), Verizon might find its wireless customers demanding unprecedented amounts of Web connectivity.
Next: Ease of Use