Page 2 of 2
Desktop PCs
Products Shopped For
We asked each store about the availability of four desktop PCs: the 27-inch Apple iMac with an Intel Core i5 processor, the Dell Inspiron Zino HD, the HP Touchsmart 300 All in One PC, and the HP Pavilion HPE-170t.
Question Asked
Q: Which version of Windows 7 is right for me?
A: Windows 7 Home Premium offers media sharing and user account protection suitable for PC buyers who don't need the business-oriented security and encryption features of the high-end Windows OSs.
Hard Drives
Products Shopped For
We asked each store about the availability of four hard drives: The Intel X-25 M SSD (160GB), the Iomega eGo Portable Hard Drive (500GB), the Seagate BlackArmor NAS110 (1TB), and the Western Digital My Passport Elite (640GB).
Question Asked
Q: Will this hard drive work properly with a Mac?
A: Maybe. It will if it's formatted for the Mace HFS+ file system or if it's formatted as FAT32, which works with both Macs and PCs. Most often, a drive comes formatted for Windows' NTFS file system and is PC-compatible only. You can reformat any drive, but the process isn't dead simple.
Printers
Products Shopped For
We asked each store about the availability of four color inkjet multifunction printers: The Canon Pixma MP560, the Canon Pixma MX7600, the HP Photosmart Plus, and the Lexmark Interact S605.
Questions Asked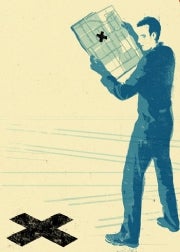 Q: How can I determine this printer's print cost per page?
A: Find the printer's ink or toner cartridge prices, and go online to look up its page yields. Divide price by page yield to calculate the relevant cost per page.
Q: Which of these printers has the lowest cost per page?
A:Again, price the cartridges and check the page yields on the packaging or online; alternatively, if you buy a printer equipped with high-yield cartridges (in this case either the Photosmart Plus or the Lexmark Interact S605), you should at least have a lower cost per page than if you ran the same printer with standard-yield cartridges.
Q: Which printer would be best for photos?
A: First you have to decide whether you want a printer with media-card slots or a PictBridge port. It's important to be aware, too, that photo paper gives the best results; and if you plan to print a lot of photos, you might want to consider buying a dedicated unit--either a snapshot printer or a high-end photo inkjet.
Another Online Exclusive
For highlights and lowlights of the phone calls we made to retail stores while researching this story, see "The Best and Worst of Our More Than 200 Research Calls."