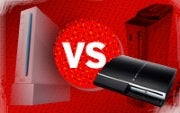 It's been nearly 40 years since Pong was introduced, but ever since there's been a battle among video game console makers to see which system will rule your TV. The latest contenders include Microsoft, Nintendo and Sony, and the video game battle is expected to heat up with the introduction of motion controllers and additional digital content that extends beyond games to music, movies and social networking.
Treasured Toys and Early Technology: Worth More Than Memories? | The 10 Worst Video Game Systems of All Time
Microsoft launched the "seventh generation" of video game console systems in November 2005 with the Xbox 360, the successor to its first foray into the video game market, the Xbox. The Xbox 360 included high-definition support up to 1080p, a 20GB hard drive (on the Pro model), a wireless controller and an Ethernet port for Internet connectivity to its new Xbox Live online service. Xbox Live gave gamers a chance to play with others online, as well as to purchase additional games, movies and music through the use of Microsoft Points.
[See all 20 Tech Battles at Network World.]
One year later, both Sony and Nintendo countered with their next-generation consoles, the Playstation 3 and Nintendo Wii game systems. The Sony Playstation 3 included high-definition 1080p support, Playstation Network online gaming service and a Blu-Ray Disc player. The Nintendo Wii included its new motion controller, which gave gamers the chance to use arm gestures to create motions in their games, such as swinging arms to simulate a bowling approach or tennis swing. This proved popular with casual gamers, as well as people who normally wouldn't be considered video game enthusiasts, such as senior citizens.
The Xbox 360 generally appeals to more hardcore gamers, with games like Halo 3 and other first-person shooters. Xbox Live has been more successful than the Sony Playstation Network, despite the fact that Sony's network is free, where Xbox Live Gold service costs about $50 per year. All three networks have seen the addition of Netflix movie streaming. Microsoft offers social networking features with Facebook and Twitter. Nintendo offers online connectivity for game play and downloads, but it generally offers fewer options than Sony or Xbox.
The Blu-Ray disc player on the PS3 was a contributing factor to Blu-Ray's victory over HD-DVD in the high-definition format war, which led Microsoft to discontinue its HD-DVD drive attachment and move towards online streaming.
Nintendo's focus on casual gamers and its motion controller led it to the top of the sales charts, but Microsoft and Sony haven't given up. Both companies are adding motion control features to their systems; Microsoft's Project Natal (expected to be re- named Microsoft Wave) and Sony's Move Controller will offer gamers additional gesture-and-motion control features to compete with Nintendo's offering.
Meanwhile, Nintendo updated its controller with the Wii Motion Plus attachment, which improves motion accuracy. The Wii Motion Plus attachment now comes standard with the latest Wii game console, along with its Wii Sports Resort game.
The motion control battle is expected to dominate the next phase of the game console war, at least until new gaming systems are announced. With each system now four or five years old, it's only a matter of time until the eighth generation of gaming consoles are announced, with Microsoft, Sony and Nintendo ready to win the hearts and minds of gamers, young and old.
Shaw can be reached at kshaw@nww.com. Follow him on Twitter at http://twitter.com/shawkeith
Read more about software in Network World's Software section.
This story, "Xbox 360 vs. PS3 vs. Wii" was originally published by Network World.