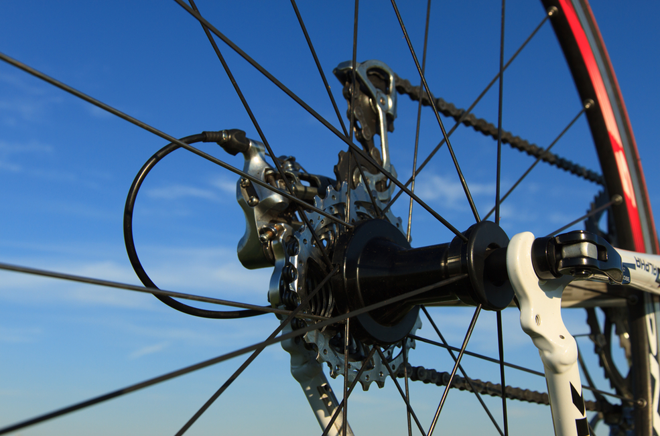 I recently took delivery of a shiny new 2012 Felt Z5 road bike with a sports car red carbon fiber frame, which is a replacement for an eight year old aluminum road bike. Like any new hardware purchase, I immediately started thinking about ways of making it better. And being the tech geek I am, I had to look for new gadgets, rather than carrying over old gear from my old bike. Out with the old, in with the new.
Computing your ride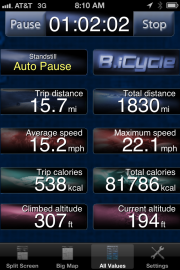 One of the first things I wanted was a bike computer, to track the distances of my rides, my average speeds, and to map my routes. I had been using B.icycle as an iOS app on my iPhone for some time, but B.icycle is actually a fairly complete, GPS-based bike computer. B.icycle is now also available for Android and Windows Phone.
If all I cared about was continuing to track distance and average speed, B.icycle would be fine, and at $9.99, it's not a high cost item. But I wanted improved accuracy over GPS, the ability to track cadence (the number of pedal revolutions per minute) and the option to add a heart rate meter. There are add-ons for the iPhone, but that meant getting a more permanent mount, which wasn't really something I wanted to do.
One alternative is the Garmin Edge 800.
Garmin makes a range of GPS-based cycling computers, including the Edge 200, Edge 500, and Edge 800. Of the three, the Edge 800 is the only one that can show live GPS mapping data. In addition, the Edge devices are ANT+ enabled. ANT+ is a 2.4GHz, low power wireless data transmission protocol, and works with a range of add-ons, including heart rate sensor, wheel sensor (for more accurate distance measurement), and cadence meter.
The Edge 800 mounts using a twist-lock. The mount itself attaches to the handlebars or bike stem using stiff rubber bands that look like small O-rings.
If you want cadence recording and a more accurate speed sensor, you either need to buy the sensor accessories separately or buy the bundled set, which includes everything you need. The bundled price is $649, so it's not an inexpensive solution. If you don't need maps and some of the advanced features, the Edge 500 is $349 for the complete bundle.
All the Garmin cycle computers tie into the Garmin Connect web site, where you can upload your ride info to keep track of your rides.
Light up my life
The majority of my rides tend to be fairly early in the morning. By late autumn, mornings can be pretty gray, barely out of twilight. A good blinking taillight is an essential item, so drivers can see your tiny bike. Reflective tape is all well and good, but has little effect when it's not quite daylight. I had used a blinking taillight on my old bike that required AAA batteries that needed to be replaced every fifty hours or so. (I could have used NiMH rechargeable batteries, but never got around to doing that.)
Enter Blackburn's Flea 2.0. USB. It's just $30 (cheaper at some online outlets), but you never have to buy batteries.
The Flea contains a tiny battery that's recharged by plugging it into a USB port on your PC or laptop, or by plugging it into any USB wall charger. (The tiny Amazon Kindle charger works well.) The charging cradle is smaller than most USB thumb drives, and the light attaches via a magnet. The package includes a Velcro strap so you can mount it anywhere you like using the clip on the back of the light. I just clip it to my bike's seat pouch.
On those rare occasions when I ride at night, I not only want to be seen, but I want to see the road. Even well-lit streets have dark spots, so being able to see where you're riding is a big deal. Hitting some obstruction in the dark might mean a damaged bike and a trip to the ER. So I use the MiNewt Mini 350 USB. The MiNewt includes a separate lithium ion battery pack that's also charged via an included USB wall charger, and costs about $95.
At medium level, which can really light up dim roads, the charge can last up to four hours. If you're riding in total darkness, the high mode puts out a whopping 350 lumens, which is enough to really light up a dark street for some distance ahead. There's also a blinking mode, if you just want to be seen.
The MiNewt Mini includes a lot of mounting hardware, so it's easy to attach to helmets, handlebars, or stems.
Pump Me Up
I've had flat tires on several occasions. It's embarrassing to have to call for help, so it's smart to carry a spare inner tube or patch kit and a pump. There are a host of bicycle pumps and I've used two recently. One, Topeak's Turbo Morph G, I use for longer rides on my steel frame touring bike. It has a self-contained pressure gauge, which is handy, but it's a tad bulky, so goes into my pannier bag rather than mounted on the frame. The Turbo Morph G costs about $40.
I've also used a Blackburn Airstick Longneck Evo. It's compact, light, and cleverly attaches to the frame by sharing the water bottle mount with a bottle cage and mounting alongside.
Mini-pumps are really for emergencies, because it takes a long time to pump tires to high pressure. Both these pumps have two key advantages. First, they have flexible hoses, so the pump body doesn't directly attach to the valve. That minimizes that chance you'll break off a valve stem, as I did once. The second one is a small fold out flap, so you can use these as tiny floor pumps. It doesn't seem like much, but holding your foot on the flap and pumping vertically makes pumping much, much easier.
Before you ask, I know about CO2 cartridge inflators. I don't use them, because I don't want to have to throw away (well, recycle) a metal cartridge. The idea of disposable consumables just to fill up my bike tires seems a little over the top.
Tooling Along
There are a bevy of possible tools for bicycles, and I'm not going to try to cover all of them. It's worth mentioning my two most used tools, however.
Topeak's Alien II portable multi-tool lives in my seat bag. It's got everything: tire levers, hex keys, spoke wrench. It splits apart into two units, so it's easier to manage. At about $35, I've found it indispensable.
Now, I don't do a lot of my own bike maintenance, mostly due to time constraints. A couple of times a year, I lug my bikes to a local shop, and have them change out the cables, true the wheels and all that stuff that takes a lot of time and more expertise than I have.
However, I do lubricate my own chain. And when the chain eventually starts to get gummed up, I clean it. Cleaning a chain sounds like a mucky, dirty job, but using Park Tool's Cyclone makes cleaning a chain pretty simple, and far less dirty than you imagine.
The Cyclone looks like something invented by Rube Goldberg. You fill it with cleaning solvent (usually a citrus-based cleaner that can actually be flushed down a drain.) Then clamp the two halves over the chain, still mounted on the bicycle. That's right, you don't have to take the chain off, which cuts down on half the mess right there. The two halves clamp together. Then you rotate your crank backwards, which moves the chain in freewheel mode, and the internal brush and sponge cleans the chain. It's much simpler than it sounds. (All you fixie hipsters will need to do some extra work and lift the rear wheel off the ground.)
Making Movies
This last item is more aspirational. I've never been one to minutely record my everyday events, but after seeing some of the videos captured with the CountourRoam portable video camera, I'm going to give it a whirl. I've used the Roam for one short ride, taped to my handlebars, just to see if it works. Now I want to wait until I ride somewhere more interesting. Somehow, I don't think anyone would be really interested in videos of my ride up Foothill Boulevard.
The next time I go somewhere really interesting, like up Skyline, or out along the seashore, the Contour is coming along. I'm not exactly action sports guy, but I'm sure I can find something cool. And the Contour is a lot lighter than my DSLR.
Bottom line
Of course, these are the bike gadgets I use regularly. There are a host of other gizmos out there, ranging from rear-view cameras to wheel-mounted phone chargers to handlebar-mounted speakers for your digital music player of choice. Let us know which bike gadgets you use regularly, and why.
This story, "Essential Gadgets for Cyclists" was originally published by TechHive.