Review: Seagate Slim Portable Drive (500GB)
At a Glance
Seagate Slim 500 GB USB 3.0

PCWorld Rating
Seagate's $120, 500GB Slim is easily the sexiest, thinnest portable drive in our roundup and as far as we know, in existence. Indeed, at first sight, several PCWorlders mistook it for a phone. What that says about phones is another matter. The downside to the super-svelte, 9mm-thick Slim is limited capacity: It's available only with 500GB.
Fortunately, there's no need to go in for the old "beauty is only skin deep" truism, as the Slim is also a very good performer. It read our 10GB mix of files and folders at 62.2MBps, which was good for first place in the roundup; but it fell off the pace slightly when writing those files: 39.5MBps—about 9MBps slower than the WD My Passport and My Passport Edge. It read our large 10GB file at 104.1MBps and wrote it almost as fast: 94.6MBps; again, slightly off the pace set by the WD drives, but faster than both its Satellite stable-mate and the Rocstor Lancer LX.
The Seagate Dashboard software provided with the Slim lacks the utilities and security features of WD's SmartWare bundle, but it does offer local and cloud backup support. It can also interface to Facebook, Flickr, and YouTube for uploads. A 4GB, 12-month subscription to Seagate's Cloud Storage service comes with the drive.
The Slim is a USM (Universal Storage Module), so you can use bridge adapters other than the USB 3.0 adapter that comes with the drive, as well as Seagate's GoFlex Net dock. Unfortunately, no other adapters seem to match the drive's styling as closely as the bundled USB 3.0 adapter does.
This drive turned in a good performance, but the reason for buying the Satellite Slim is its undeniably eye-catching looks. Just be careful handling it: That super-thin case likely won't provide a lot of shock absorption if you drop it.
Note: This review is part of a five-product roundup. Click here to return to the introduction, or click on the next review you'd like to read:
Seagate Satellite Mobile Wireless Storage (500GB)
Western Digital My Passport Edge (500GB)
Western Digital My Passport (2TB)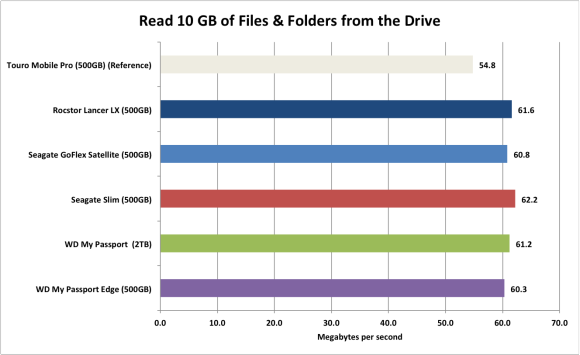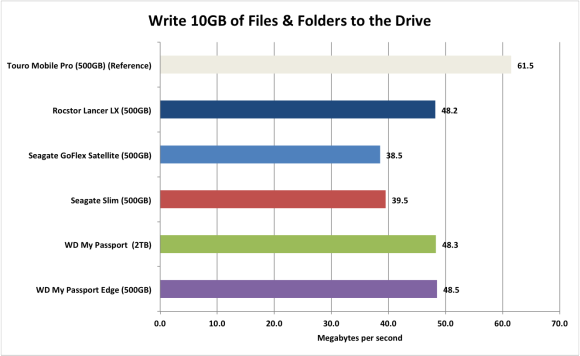 At a Glance
Seagate Slim 500 GB USB 3.0

PCWorld Rating

This portable hard drive has style in spades, plus good performance and software. It also is a universal storage module that will accept interfaces other than its standard USB 3.0 adapter.

Pros

Super svelte
Good performer
GoFlex design allows for different I/O modules

Cons

Super-thin case seems fragile
Not much room for shock protection
Shop Tech Products at Amazon