Rocstor Lancer LX (500GB)
At a Glance
Rocstor Lancer LX

PCWorld Rating
The 500GB, $115 Lancer LX is a ruggedized portable hard drive with both USB 3.0 and Firewire 800 ports for good performance on both PCs and Macs. In our tests, the Lancer LX finished in third place overall, just behind the two WD drives and just ahead of the Seagate Slim.
We didn't test the Lancer LX via FireWire 800 on the Mac, but you should expect performance similar to what we saw with USB 3.0 on a PC. The Lancer LX wrote our 10GB mix of files and folders at 48.2MBps, and it read them at 61.6MBps. With our large single 10GB file, write speed jumped to 92.5MBps and read speed increased to 103.7MBps.
Rocstor doesn't provide any software with the Lancer LX, but you'll have no shortage of free programs, such as TrueCrypt (for security) available for download, and both Windows and the Mac OS have built-in drive management utilities. You can also download the backup program FBackup from Rocstor's website to help with that chore.
The Lancer LX is the best drive in this roundup for anyone working in a cross-platform environment with both PCs and Macs. And if you need more capacity than 500GB, the Lancer LX is also available in 750GB and 1TB configurations.
Note: This review is part of a five-product roundup. Click here to return to the introduction, or click on the next review you'd like to read:
Seagate Satellite Mobile Wireless Storage (500GB)
Western Digital My Passport Edge (500GB)
Western Digital My Passport (2TB)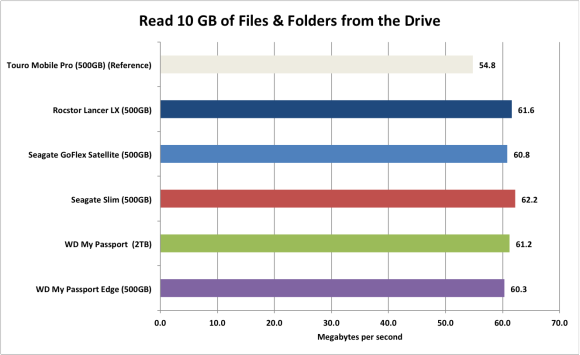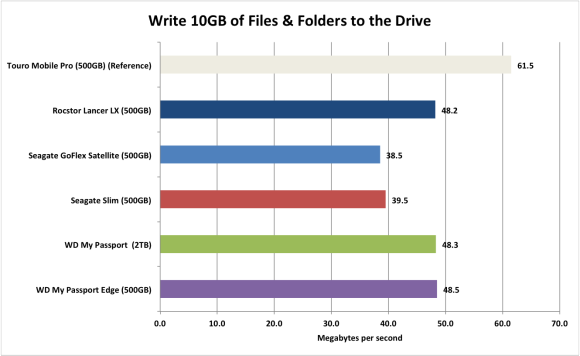 At a Glance
Rocstor Lancer LX

PCWorld Rating

With both USB 3.0 and FireWire interfaces, the Lancer LX works equally well on Windows PCs and Macs. It's large but rugged, and a good, if not great performer.

Pros

Both USB 3.0 and FireWire 800
Mildly ruggedized

Cons

Largish compared to the competition
Shop Tech Products at Amazon