Page 2 of 2
Music, video, and the Xbox equation
Music and video have traditionally been a weak point for Microsoft, but the company is looking to change that as it buries the Zune for good and combines all of its entertainment under the Xbox brand.
Xbox Music combines on-demand subscription streaming (similar to Spotify) and a store for à la carte music downloads. Also in the works, but not yet available, is a scan-and-match service (akin to iTunes Match) that will allow users to stream music they already own.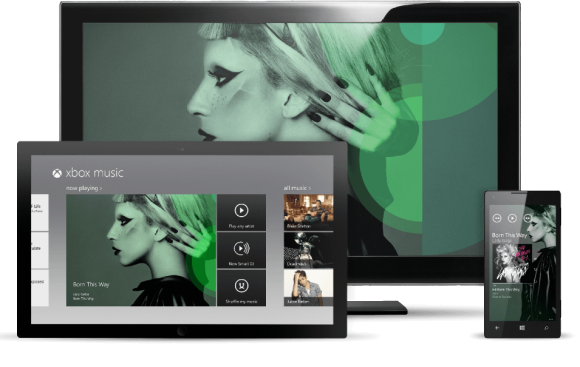 The idea is to create a seamless experience across Windows Phone 8, Windows 8, and the Xbox 360 by automatically syncing music collections and playlists. Although the service won't be exclusive to Microsoft's platforms forever—apps for Android, iOS, and the Web are on the way—Windows 8 users do have one big perk: They can stream unlimited music for six months at no charge. (After that, they'll be limited to 10 hours per month.)
Xbox Video, meanwhile, is Microsoft's answer to Apple's iCloud for movies and TV shows. On PCs and the Xbox 360, users can buy a video once and play it on either device. But the experience won't be so seamless for Windows Phone 8; according to Microsoft's website, users will have to sync videos from a compatible PC to watch them on their phones.
The open question of third-party apps
If there's one area where Microsoft is decidedly behind its top rival Apple, it's in the lack of a unified app marketplace for Windows Phones and tablet PCs. Although Windows 8 and Windows Phone 8 have a "shared core," which means less work for developers who want to target both platforms, their respective app stores are separate.
As a result, users of Windows 8 and Windows Phone 8 will have to purchase and maintain one set of apps for PCs and another set for phones.
In fairness, Apple has separate stores for Mac and iOS; but even then, developers can tie their apps together via iCloud. For instance, the task manager Clear uses iCloud to keep its iOS and Mac apps in sync; even though the stores are separate, the experience carries across platforms.
Microsoft's Dharmesh Mehta says that app developers can use SkyDrive to store content across Windows Phone and Windows Phone 8, but that's more for personal content such as documents, photos, and notes, not data that apps rely on for core functionality.
The company also has mentioned cross-platform Xbox games on occasion, but it has yet to issue a long list of games that run across consoles, phones, and tablets. The idea of a single-app experience across all devices is something that Microsoft hasn't realized in Windows 8 and Windows Phone 8.
"I bet that it's not all the way there yet," says Russ Whitman, chief strategy officer for Ratio Interactive, a contract developer of apps for Windows 8, Windows Phone 8, and other platforms. He thinks that Microsoft will eventually enable some sort of cross-platform syncing for phone and PC apps, but he isn't sure how it would work.
As for having separate app stores for phones and PCs, Whitman believes Microsoft is missing an opportunity. "I would love to see them do a single binary solution," he says.
Ross Rubin of Reticle Research thinks it wouldn't be too difficult for Microsoft to tie its phone and PC app stores together so that users can have one place to find apps for both platforms, but he notes that Microsoft's first priority is to accumulate a large number of apps for each that are optimized for their respective screen sizes.
"Once that's in place, everything else is just business model," Rubin says.
The big picture
We've dissected all the main ways that Microsoft is (and isn't) creating a unified experience across Windows 8 and Windows Phone 8, from the interface to personal documents, media, and apps. But there is a bigger picture to keep in mind.
A Microsoft Account (formerly Live ID) now acts as a master key. It connects to SkyDrive, Xbox entertainment, and Microsoft's app stores, but it also ties in to other online accounts, such as Facebook, Google, LinkedIn, and Twitter.
All of these services then become integrated with Windows 8 and Windows Phone 8. You can view your Facebook photos in the People app (which Microsoft calls a complete, cloud-powered address book for Windows 8) or upload them to other apps. People you follow on LinkedIn and Twitter appear in your contacts list. A connected Google account can sync your contacts, calendars, and Gmail.
No other platform is as well integrated with other online services. Even Apple's iOS, which now has Facebook integration, won't let you grab photos from the social network as if it were just another album in your camera roll.
Once you've connected all those accounts through a Microsoft ID, they'll be tied to any Windows 8 tablet or Windows Phone 8 handset you buy in the future, along with Microsoft's own services. No extra work is required to get everything in sync.
"When you sign in to either of these devices, they both light up with all your services," Microsoft's Dharmesh Mehta says.
Think of it this way: In the past, you could use Windows without ever creating a Microsoft ID, and be perfectly happy.
With Windows 8 and Windows Phone 8, you'd lose a huge chunk of the experience without a login, because that's where the unification of the two platforms becomes more than skin deep.
Of course, that means the newest Windows is different from the desktop-bound version that PC veterans have grown to love. But that's the point: Microsoft's vision for Windows Phones and PCs calls for a different type of user—one with phone and tablet in hand, always in the cloud.
Finally, Windows 8 and Windows Phone 8 provide some reasons for users to go all-in.