Sony Xperia TL review: The Bond phone disappoints
The Sony Xperia TL on AT&T is a mishmash of good ideas that fail to take definite shape. Like the Sony Xperia Ion before it, the Xperia TL ($99 with two-year contract; price as of November 2, 2012) sports some solid specs: The phone carries a high-resolution display, a 1.5GHz dual-core processor, and a 13-megapixel camera that takes impressive looking photos and video. Sony is hyping the fact that Daniel Craig uses the Xperia TL in the next James Bond film, Skyfall. Unfortunately, the handset suffers from an awkward design and from a buggy overlay that makes it feel antiquated in comparison to other recent Android smartphones.
Design
Measuring 5.09 by 2.65 by 0.37 inches, the Xperia TL is smaller than most other high-end Android smartphones, such as the Samsung Galaxy S III and the LG Optimus G. The phone's 4.55-inch, 1280-by-720-pixel display is sharp and easy to read, and it uses the same image processing technology as Sony's Bravia line of TVs.
Unfortunately, Sony made some questionable design choices that render the Xperia TL less enjoyable to use than some of its rivals. Though the Xperia TL is relatively small, its back has a concave curve that makes it uncomfortable to hold with one hand. (The Galaxy Nexus, which has a convex curve, doesn't suffer from the Xperia TL's ungainliness.)
The phone's case is composed largely of a matte plastic, with awkwardly placed buttons that make using the Xperia TL an exercise in frustration. Unlike most other modern smartphones, this model has the power, volume, and camera buttons grouped tightly together in the bottom-right half of the phone. Not only are the buttons hard to press when you hold the phone normally, but they prevent you from gripping the Xperia firmly without changing the volume or putting the device to sleep—accidents that happened to me more times than I'd care to admit.
Performance
Powering the Xperia TL is a 1.5GHz dual-core Qualcomm S4 processor and 1GB of RAM. The phone's processor isn't as beefy as the quad-core chipsets inside the Optimus G or Galaxy Note II, but the Xperia TL had no trouble running any of the apps or games I threw at it. That's not to say that its performance was flawless: The phone occasionally froze on me for a second or two before becoming responsive again. Though this didn't happen often, it did occur at some highly inconvenient moments, such as when I wanted to respond to a text message quickly or to snap a picture.
The Xperia TL's call quality was disappointing: The phone randomly cut out and dropped words; and voices often came through warped, muddled, and inaudible. Data speeds over AT&T's LTE network were also disappointing. Using the FCC-approved Ookla Speed Test app, I clocked average download speeds of 3.52 megabits per second and average upload speeds of 1.03 mbps. By comparison, most other LTE phone on AT&T we've tested recently have had download speeds of between 16 mbps and 24 mbps. Web pages should load faster on LTE than they would over 3G, but if you plan to stream video or download big apps, you had best do it over Wi-Fi.
Sony's new phone comes with a nonremovable 1850mAh battery that lasted for only about 5.5 hours of moderate use—activities such as checking email messages, making calls, and downloading apps—before I needed to plug it in. From this experience, I recommend carrying around a spare charger to avoid having the phone run dry in the middle of the day.
The Xperia TL ships with 16GB of internal storage, but you can add more via the MicroUSB card slot on the right side of the device.
Software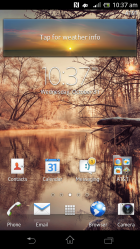 The Xperia TL comes with Sony's custom Timescape interface overlay, which sits on top of Android 4.0.4 Ice Cream Sandwich. I wasn't a big fan of the Timescape overlay when I saw it on the Xperia Ion, and I'm definitely not a fan of it now: The overlay makes the Xperia TL look and feel as though it were running an older version of Android, and aesthetically it rates as a downgrade from the Holo interface found on unadulterated Android Ice Cream Sandwich. Some icons are difficult to interpret; and though the animations look pretty, many do nothing to improve the user experience.
The overlay does have a few bright spots—it lets you apply different themes to the phone's menus, for instance, and its improved status bar lets you toggle various settings—but overall it's a bit of an eyesore.
Though the Xperia TL ships with Android Ice Cream Sandwich, Sony has a strong track record for releasing phone updates, and this phone will probably eventually get Android 4.1 (or 4.2) Jelly Bean.
The phone is largely bloatware-free, except for a handful of AT&T-branded apps that you can't uninstall. Capitalizing on being the official James Bond phone, the Xperia TL comes preloaded with such James Bond-themed extras as video clips from the movie, wallpapers, and audio clips. They're neat to look at for a few minutes, but if you aren't a huge James Bond fan, you'll probably want to delete them fairly soon—which you can easily do.
Camera
I was quite impressed with the Xperia TL's 13-megapixel camera: The photos I took with the phone looked sharp, though a little washed out, and the camera performed well in low-light environments. One of my favorite features is the Xperia TL's ability to launch the camera app and take a picture while the phone is still sleeping: Just hold the camera shutter button for a few seconds. It's much faster and more convenient than having to wake the phone first, and helps ensure that you won't miss a once-in-a-lifetime shot—if you can reach the camera button in time.
But while the Xperia TL takes great photos, its video recording capabilities were much less satisfactory. Videos shot in 1080p exhibited a strange jelly-like effect and were surprisingly fuzzy—much as they were on the Xperia Ion. The Xperia TL's onboard microphone did an adequte job of picking up audio, but overall the phone's camera is far better suited for still photography than for video.
Bottom line
In some ways, the Xperia TL reprises Sony's last big phone, the Xperia Ion: Both models have excellent cameras but suffer from clunky hardware and software. Admittedly, the Xperia TL has a better screen and a faster processor than its older brother, but those improvements don't mean much when the phone's design renders it uncomfortable to hold and use. The Timescape overlay worked on the Ion (which shipped running Android 2.3), but encountering the same overlay on the Xperia TL only exacerbates the feeling that this phone is a step backward, not a step forward. Couple that impression with my test unit's random lockups and bugs, and you have a subpar smartphone. James Bond may use the Xperia TL, but I wouldn't advise you to follow his lead.
This story, "Sony Xperia TL review: The Bond phone disappoints" was originally published by TechHive.
Shop Tech Products at Amazon