It's a cliché at this point to talk about how business has been transformed by technology. Much of today's workforce has never known a time without PCs, email or the Web. As ingrained as technology is, though, it continues to adapt and evolve, and the businesses that leverage new developments most effectively have a strategic advantage over their competitors.
Today, businesses are faced with an explosion of data, an evolving trend toward mobile productivity and exponential growth of malware and other threats. You're faced with the challenge of equipping users with the right tools to get the job done as effectively and efficiently as possible, while also safeguarding company data and preventing PCs and other devices from compromise or exploit.
It's a complex balancing act. You have to implement and maintain servers that are both powerful and reliable, while also keeping an eye on energy consumption and the bottom line of your IT budget. You have to empower users to be productive no matter where they go, yet still be able to enforce policies and protect the sensitive data stored on their mobile PCs.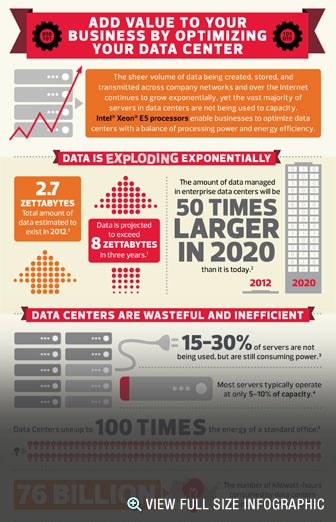 It all starts in your data center. Your servers are the backbone of your business. Whether they're managing and delivering email, storing and retrieving data or processing customer transactions, it's not good enough for them to just be adequate. You need hardware that helps you get more done in less time and gives your business an edge. You need servers powered by Intel® Xeon® E5 processors.
More cores, a larger cache, and greater memory bandwidth, combined with Intel® Turbo Boost Technology 2.0 enable Intel® Xeon® E5 processors to deliver 80 percent* greater performance than previous Xeon® processors. Server performance is particularly crucial if you want to run multiple virtual servers on a single physical server. An 80 percent increase in performance means you can get more done with the servers you've got or handle your current workload with fewer servers.
The performance boost from Intel® Xeon® E5 processors doesn't end there, though. By integrating the I/O controller into the processor itself rather than as a separate chip, the Xeon E5 also improves data throughput. The Intel® Xeon® E5 reduces network latency by up to 30 percent so your data gets where it needs to go faster.**
Typically, there is a tradeoff of power and efficiency. The more powerful a processor is, the more electricity it requires to get the job done, and the more heat it puts off—which requires greater cooling capacity for the data center. The Xeon E5 processor breaks the mold, though, by providing 70 percent more performance per watt.
You can have greater server performance and greater energy efficiency at the same time. Take a closer look at what the Intel® Xeon® E5 can do for you, and find the right server for your business.
Servers are half of the equation, but you also need to ensure your users have the right tools to get the job done. Today's workforce is more mobile than ever before, and it needs mobile PCs that empower it to be productive, while also enabling you to monitor and protect remote systems.
Finally technology has caught up with your users' expectations for style without compromising on your need for security and performance. Introducing the ultra secure, ultra sleek Ultrabook™, a new business-class device that is less than an inch thick, wakes up in a flash and runs for hours, perfect for your most seasoned travelers. Ultrabooks equipped with Intel® vPro™ Technology are designed to meet these needs. Intel® vPro™ Technology provides better security and additional protection for PCs and the data they contain. It also gives you the tools to remotely monitor, troubleshoot, and repair issues no matter where the PC might be.
It's hard enough protecting the PCs connected safely inside your network from attacks and exploits. Roaming users connecting to public Wi-Fi hotspots and surfing the Web from coffee shops are exposed to countless new threats every day. With Intel® vPro™ Technology built into the processor itself, Ultrabooks are protected from rootkits and other malware before the operating system even boots up. Intel® vPro™ Technology also provides stronger authentication and identity protection and accelerates data encryption by up to four times.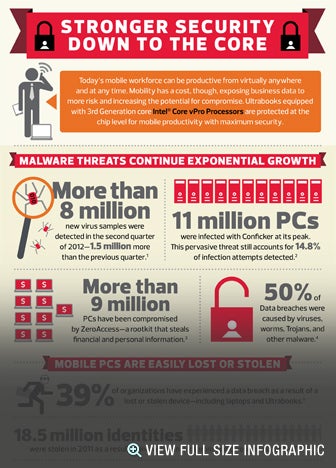 Ultrabooks outfitted with Intel® vPro™ Technology also make it easier to administer and monitor remote PCs. IT admins can manage remote systems even if the PC is turned off, as long as it's connected to a power line or network connection. Choose Ultrabooks with Intel ® vPro™ Technology to empower your mobile users and your IT team.
It can seem overwhelming to make sense of the available options and find the hardware and software solutions you need. Thankfully, the CDW solution architects are experts in server hardware and design and in helping you choose the right mobile PC technology to meet your needs. Let CDW provide you with expert insight, setup, configuration, and ongoing support.
With Intel technology and CDW expertise and support, you can streamline your business and be the hero that helps people work more effectively and efficiently.
* E5 New Generation Performance) Source: Performance comparison using SPECfp*_rate_base2006 benchmark results. Baseline score of 271 on prior generation 2S Intel® Xeon® processor X5690 based platform and new score of 495 on 2S Intel® Xeon® processor E5-2690 based platform are based on the best published results as of 6 March 2012
** Software and workloads used in performance tests may have been optimized for performance only on Intel® microprocessors. Performance tests, such as SYSmark* and MobileMark*, are measured using specific computer systems, components, software, operations, and functions. Any change to any of those factors may cause the results to vary. You should consult other information and performance tests to assist you in fully evaluating your contemplated purchases, including the performance of that product when combined with other products.
Intel measurements of average time for an I/O device read to local system memory under idle conditions. Improvement compares Intel® Xeon® processor E5-2600 product family (230 ns) vs. Intel® Xeon® processor 5500 series (340 ns). Baseline Configuration: Green City system with two Intel® Xeon processor E5520 (2.26GHz, 4C), 12GB memory @ 1333, C-States Disabled, Turbo Disabled, SMT Disabled, Rubicon* PCIe* 2.0 x8. New Configuration: Meridian system with two Intel® Xeon processor E5-2665 (C0 stepping, 2.4GHz, 8C), 32GB memory @1600 MHz, C-States Enabled, Turbo Enabled. The measurements were taken with a LeCroy* PCIe* protocol analyzer using Intel internal Rubicon (PCIe* 2.0) and Florin (PCIe* 3.0) test cards running under Windows* 2008 R2 w/SP1.
This story, "Leverage Today's Technology to Optimize Your Business" was originally published by BrandPost.