Page 2 of 3
Kid's Corner
The Kid's Corner setting lets you set up and turn on the new child-oriented Windows Phone 8 feature. The first time you turn on Kid's Corner (using the toggle button), you will see a prompt to set it up by selecting which apps and games your kids may access, as well as choosing a lock screen password so that they can't access your full phone menu.
Once you've set it up, you can add games, music, videos, and apps to Kid's Corner in this settings screen—just tap one of the categories to see a list of the items that are available for Kid's Corner. If you leave Kid's Corner turned on, you can access the Kid's Corner screen by swiping left from the lock screen.
Battery Saver
The Battery Saver setting, when you turn it on (using the toggle button), lets your phone automatically adjust various settings to conserve battery life when the battery is low. If you turn Battery Saver on, your phone will turn off some services (such as background data and automatic email syncing) when the phone is in standby.
You can adjust the Battery Saver settings by tapping the Advanced button. In this screen, you can choose to conserve juice when the battery is low, from 'Now until next charge', or at all times.
The Battery Saver screen also lets you see information about your phone's battery, such as how much battery life is remaining and how long it has been since you last charged your phone.
Phone Storage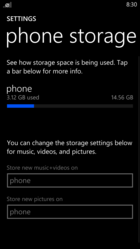 This screen shows how your handset is using its storage. At the top is a status bar that illustrates how much of your phone's built-in storage is being used and how much is available. If you double-tap this bar, you can see more details about the items on your phone, broken down into music and videos, photos, apps, the operating system, and 'other'. This information is useful if you're trying to free up space and you're not sure what to delete.
You can also change the storage settings on this screen. If your phone has a MicroSD card installed, you can choose to keep music, videos, and photos on either your phone's internal storage or the MicroSD card.
Backup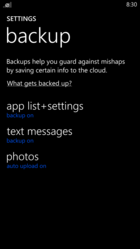 The Backup settings screen lets you back up important parts of your phone—namely, your app list and settings, your text messages, and your photos—to the cloud. If you tap any of these categories in the Backup settings screen, you go to the corresponding main settings screen (for example, tapping Messages in the Backup screen takes you to Apps > Settings > Applications > Messages) so that you can configure each backup separately.
Date+Time
The Date+Time setting screen lets you change your phone's clock. Here, you can toggle the 24-hour time format on or off, and you can choose whether to set the clock automatically or manually. If you want to set the clock automatically, your phone will use its data connection to sync the time with the server. If you decide to set the clock manually, you will be able to change the time zone, date, and time individually.
Brightness
Windows Phone 8's brightness options are somewhat thin. In the Brightness setting screen you can use a toggle to have the phone adjust brightness automatically, or you can set the brightness manually. However, unlike on other devices you get no brightness slider here—instead, if you choose to set the brightness manually, you are limited to 'low', 'medium', and 'high' settings.
Keyboard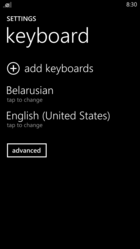 This screen covers the keyboard type and language, as well as the user-defined dictionary. The main Keyboard screen lets you choose (and add, if necessary) keyboards. To add a keyboard, tap Add keyboards and choose one or more from the list. Tap the checkmark or Done button, and those keyboards will be on your phone (some keyboards may require an additional download).
Once you have added keyboards to your phone, you can switch between them by tapping one of them on the main Keyboard settings screen. When you tap a keyboard, you can adjust its settings and determine whether it suggests text, highlights misspelled words, corrects misspelled words, inserts a space after you select a suggestion, inserts a period after you double-tap the spacebar, or capitalizes the first letter of a sentence.
The Keyboard settings screen also has an Advanced button. If you tap this button, you'll be able to reset the user-defined dictionary—that is, you can force the phone to forget any words that you have manually added to the suggestion list.
Language+Region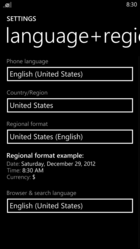 In the Language+Region screen, the 'Phone language' setting affects your entire phone—if you choose another language, your phone's basic settings will be in that language. For this reason, the available languages may be limited to popular ones such as English and Spanish (the exact assortment will depend on your handset—some models may have a more extensive collection that could include French, Arabic, or Chinese).
'Regional format', on the other hand, affects how your phone displays dates and currencies. For example, if you choose Spain as your region, the phone will show euros rather than dollars.
You can also choose your browser and search language here. Since this setting affects only the browser and search functions instead of the entire phone, many more language options are available.
Ease of Access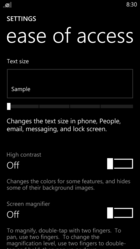 Windows Phone 8 offers several features in the Ease of Access setting panel. You can turn all of them on and off with toggle buttons.
Larger text: You can make the default text up to four times larger. This setting affects the Contacts, Email, Messaging, and Lock screens.
High contrast: This setting increases the overall contrast of the phone's screen and changes the colors of some features for better recognition.
Screen magnifier: This feature lets you double-tap the screen with two fingers to magnify it. The magnification works on all screens, not just the browser.
Speech for phone accessibility: This feature speaks various settings, including speed dial and caller ID, aloud.
Speech
The Speech screen lets you adjust settings related to your phone's voice-command features. You can talk to your phone to perform tasks such as searching, making phone calls, or sending text messages. To access the speech feature on your phone, tap and hold the Start button.
At the top of the Speech settings screen, you can choose to use the speech feature when the phone is locked. This is a helpful feature if you want to be able to make a call quickly without unlocking your phone.
You can also turn on audio confirmation. If you do so, your phone will confirm your speech commands by saying them back to you. At the bottom of the Speech settings screen, you can choose whether audio confirmation has a male or female voice, and you can choose whether your speech settings are in English or another language. If you choose a different language, you will have to say speech commands in that language.
You can also set up your phone to read incoming text messages aloud. Tap the box under 'Read aloud incoming text messages' and choose when you want this to happen: never, at all times, or just when you're using a Bluetooth or wired headset.
Find My Phone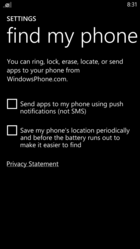 A feature automatically included with Windows Phone 8, Find My Phone lets you locate your handset remotely via WindowsPhone.com. You can also turn on your phone's ringer, erase the phone, lock the phone, locate the phone, or send apps to the phone—all remotely, using another computer or device with Internet service.
Because Find My Phone is included on every handset, this settings screen allows you to turn on a couple of additional features. Specifically, you can choose to have the Windows Phone Store send apps to your phone through push notifications (rather than text messages). You can also choose to have your phone periodically save and record your phone's location—this way, if you lose your phone and the battery runs out (or if it is stolen and the thief turns it off), you will be able to see the last recorded location. If you're worried about Microsoft or your carrier spying on you, however, you may want to leave this feature turned off.
Phone Update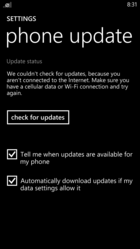 Check for updates to your software and operating system on the Phone Update screen. To do so, make sure your phone is connected to the Internet and tap Check for updates. You can also choose to have your phone download updates automatically.
Company Apps
Some companies have business-specific apps that you can download on your Windows Phone 8 device once you have added a company account. Be aware that if you add a company account, your employer will be able to disable the SD Card, encrypt the phone's internal storage, and remotely delete your content and settings.
To add a company account, simply tap Add account and sign in with your employer's Windows Phone account information.
About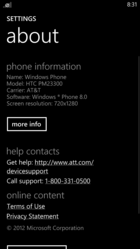 You can see important information about your phone, such as your model number, carrier, screen resolution, and software, on the About screen. If you tap More info, you will also be able to see the operating system version, firmware revision number, and SIM ID.
In addition, you can reset your phone from this screen. You will be warned that tapping the 'Reset your phone' button will erase all of your personal content and restore factory settings. Tap Yes to proceed, and your phone will be wiped clean and restored to its original state.
Feedback
The Feedback screen lets you toggle feedback reporting to Microsoft. If it is turned on, your phone will automatically send information to Microsoft when you have a Wi-Fi connection. If this feature is turned off, your phone will not report any feedback to Microsoft.
Next page: Application settings