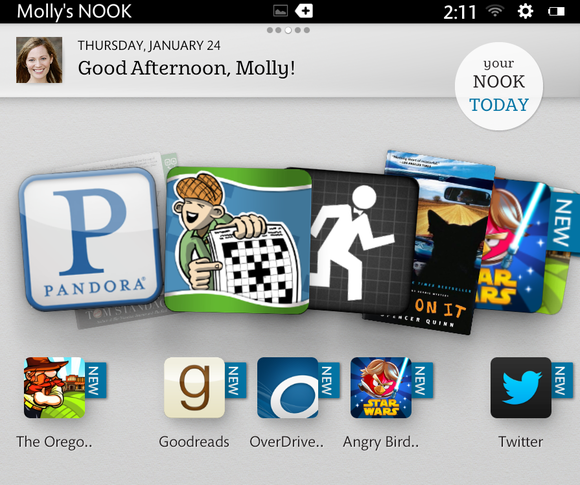 The Barnes & Noble Nook HD is more than just an excellent color e-reader: It's based on Android, which makes it possible to add many great apps and extend the functionality of these tablets far beyond simple reading.
Barnes & Noble provides a curated app store full of apps. You'll have to look closely though, since most, but not all of the apps in the Nook App Store are compatible with the HD and HD+, which runs the same software but has a larger display.

Some apps only work on the Nook Color and Nook Tablet. Before buying, be sure to check the device list to make sure the HD and HD+ are included.
Some developers also offer free trials of their paid apps, a convenience that competing app platforms generally don't provide. While shopping, look for a "Get Free Trial" link next to the buy button, or peruse the Nook App Store's consolidated listings of free trials.

I scoured the Nook App Store in search of great apps to use on your Nook HD; I was looking for apps that fit in usability as well as optimization for the latest Nooks' high-resolution display. I found the store not as easy to browse as I'd have liked; nor did I find everything that I sought. But I found enough familiar gems to put together my must-have kit. And conveniently, some of the must-haves are already preinstalled by Barnes & Noble.
Reading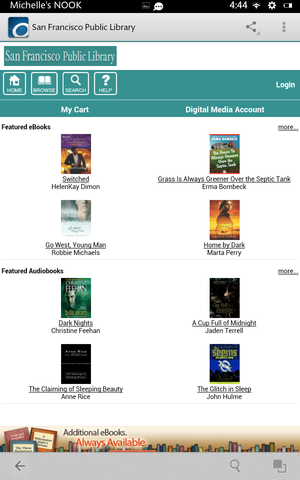 Make a great e-reader even better and beef up your reading collection with these great apps. The OverDrive Media Console (free) connects to many libraries across the country to provide ebook and audiobook rentals directly to your Nook.
To share what you've been reading with all your friends, grab the Goodreads app (free). It scales well to the high-resolution screen, and it's a great way to keep track of what you're reading and what you'd like to read next.
If you need to look up the definition of a word, you can always just type it into Google or tap and hold on a word in a Nook book and choose "Look Up" to find it in the integrated Merriam-Webster's Collegiate Dictionary. But The Free Dictionary by Farlex (listed simply by the name "Dictionary") is much more fun. The home screen is full of factoids and trivia that make reading the dictionary a legitimate pastime on the Nook HD. The English dictionary is available offline. When you're connected, you'll also get a dictionary in 12 other languages, in addition to medical, legal, and other specialized dictionaries.
Browsing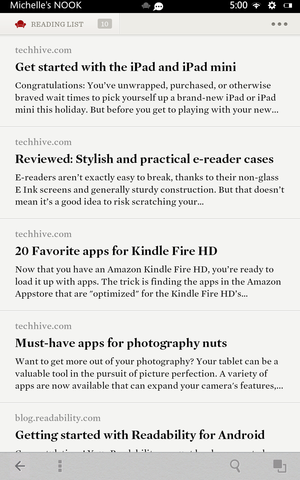 The standard Nook Web browser offers tabbed browsing and an address bar that also searches Google. If you'd like something a little different, though, turn to Dolphin Browser (free). Tabs are smaller but still render clearly, so you can organize more open pages. You'll also have the left side slide out a bookmarks bar and the right side slide out an add-ons bar. I was not able to find any add-ons in the store, however.
If you want to take the Web with you, download Readability (free). You'll also want the companion desktop browser extension, which you can download for Chrome, Firefox, or Internet Explorer. You can use the browser extension to send the text and images of articles or other Web pages to the app for later offline reading on your Nook HD. Readability works well with the Nook HD screen, rendering text and images very clearly.
Music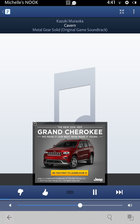 A little background music can enhance whatever you're reading. Putting on a video game soundtrack can turn any book (even the dictionary) into an epic adventure. Luckily, Barnes and Noble has you covered in this department. Pandora, Spotify, and Rhapsody all come preinstalled on the Nook HD.
Both Pandora and Rhapsody look great on the HD screen. Pandora gets a Nook-specific layout that looks and functions better than the standard Android version of the app. Spotify connects with Facebook to share music and playlists with your friends.
Video
Barnes and Noble also has you covered when it comes to watching video: Hulu+ comes preinstalled. Shows look fantastic on the high-resolution screen.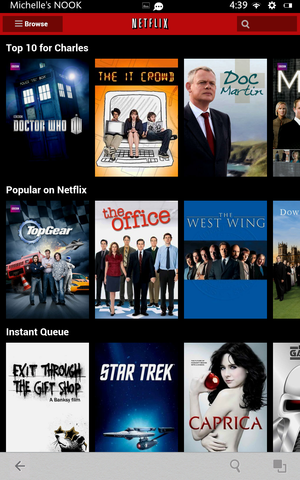 It's convenient to have Hulu+ preloaded, but if you have a Netflix subscription instead (or in addition), you'll want to install the free Netflix app. The Netflix app on Nook generally works well on the high-resolution screen, however the Nook's bottom menu bar conflicts with the onscreen controls. It's possible to get the controls to show and stay on the screen, but the timing can be tricky: I found myself tapping over and over just to get to the pause button.
Games
Games make up a large portion of the app store, but I noticed many favorites missing. Minecraft, Grand Theft Auto, Need for Speed, and Draw Something all turn up a big fat nothing in a search on the Nook App Store.
A fun game to check out if you were into Oregon Trail back in the day is Oregon Trail: American Settler (free). It's a bit like Farmville with an Old West theme. Sadly, the original Oregon Trail app only works with the Nook Color and Nook Tablet, but not the HD or HD+. Never fear, though: A plenty of other top games did make it over to the Nook platform. Angry Birds fans will be pleased to see the original as well as many variants, including Angry Birds Star Wars. Temple Run: Brave, Cut the Rope, Bejeweled 2, Doodle Jump, and Fruit Ninja are all there, as well.
If you're into card games, Uno HD and Cribbage Pro look great on the HD screen.
Productivity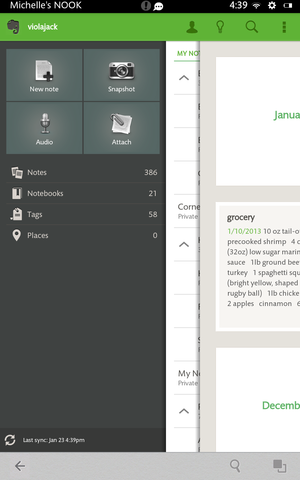 Barnes and Noble has you covered here too. Evernote comes preinstalled, and looks terrific. However, the Nook version of Evernote is not the latest, so the app will prompt you to download the update when you run it. The catch: The Nook does not allow the installation of software that didn't come from the Nook App Store, so the update can't be installed. There is no way to change this setting, so you'll be stuck with the older version until the new version is  available in the Nook App Store. It's a little annoying, but not enough to deter me from enjoying all of my Evernote notes on my Nook HD.
The email app that comes with the Nook HD is good, but if you're looking for an alternative, try the open-source K9 for Nook app (free). (Doctor Who geeks will appreciate the icon for this app.) Some of the text is a little smaller due to the higher-resolution screen and the interface isn't as pretty as the Nook email app, but you'll see more on the screen. And you'll get features such as multifolder sync, flagging, signatures, bcc-self, PGP encryption, and mail storage on your SD card.
OfficeSuite is included in the Nook HD for viewing office documents, but if you want to edit them, you'd have to upgrade to OfficeSuite Professional 6 for $14.99. The upgrade will also help you get to your files more easily as it includes a file browser that integrates with Google Drive, DropBox, SugarSyng, and SkyDrive.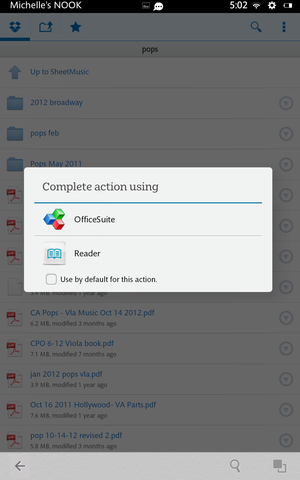 For your cloud storage needs, look for the perennial favorite Dropbox (free). Documents you download from your Dropbox will open in any app that supports that file type. Box is only available for the Nook Color and Tablet but not the HD or HD+, but you can always use the Web interface to access documents stored with Box.
My usual go-to task manager, Astrid Tasks, is available for free. Unfortunately, due to the way Nook handles your Google accounts, Astrid is not able to connect to Google and sync with Google tasks. It still works as a good standalone task manager and includes the option to connect through Facebook or email.
If you need something with Web-based syncing, try Get It Done Tasks (free). The app is based on David Allen's method espoused in his book, "Getting Things Done," which focuses on what's important on any given day. For $39 per year, you can sync wirelessly to the Web interface at www.getitdoneapp.com, which allows you to delegate and share tasks along with a host of other features.
Social media 
The Nook platform lacks an official Facebook app. Sure, you can bookmark the Facebook homepage in the browser, and add that bookmark to your homescreen for quick access, but this approach can be slow and tedious.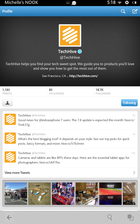 Instead, for $2.99, you can have FriendCaster bring Facebook to your Nook HD. It looks great, runs smoothly, and provides a better interface and experience than the website. For managing your messages, the FriendCaster Chat app is free.
An official Twitter app is available for free. It looks good and works well on its own, but if you'd like to combine your Twitter stream with your Facebook News Feed, along with Google Buzz and Salesforce Chatter, and be able to update them all in one app, check out the free app Seesmic.
This story, "Top apps for the Nook HD" was originally published by TechHive.
Shop Tech Products at Amazon