Page 2 of 2
Launching Your New App
To launch the GIMP, just go back to the top-left panel and click Applications, Graphics, GIMP.
Search for Apps in the Ubuntu Software Center
You can also use the search box to find apps in the Ubuntu Software Center. For example, perhaps you want a desktop client for the Flickr photo-hosting service. I picked Flickr Uploader.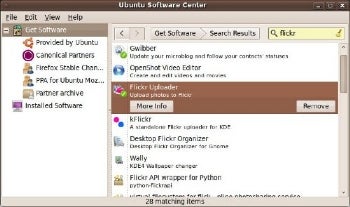 Software Sources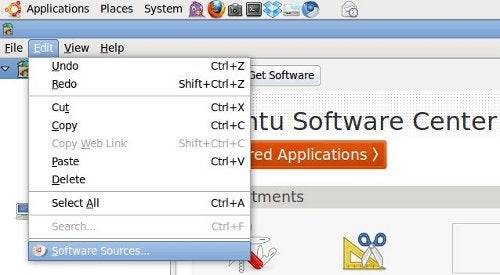 The Ubuntu Software Center downloads software packages from servers, or Software Sources via the Internet. There are six basic categories of Software Sources.
Canonical-Supported Open Source software (main)
Community-maintained Open Source software (universe)
Proprietary drivers for devices (restricted)s
Software restricted by copyright or legal issues (multiverse)
Source Code
Other Software
The differences between these categories may be somewhat esoteric for many users. For a detailed discussion see the Ubuntu Community Documentation Repositories article. In plain terms, if you would like to have access to be able to install common proprietary software such as Adobe Acrobat or Flash, or support for DVD playback, then you will need to enable the multiverse by checking the box next to it.
Source Code is the human-readable version of software, for example the programming language C++, before it is compiled into the machine-readable binary form. For the purposes of this article, we are not interested in Source Code.
Other Software is a catch-all for third-party software repositories, which you may add manually. We'll get into that in another article.
Choosing a Download Server
Did you know that there are over 300 servers worldwide that host Ubuntu software? It's one of the advantages of the collaborative, community-driven open source model that Ubuntu is founded upon. Chances are very good that a server located physically close to you will give you the best download speeds--something that can really make a difference with large software downloads or updates.
You can change your Download Server from within Software Sources by clicking the Download from: drop-down menu. You can browse and select a specific server from the list, or just click Select Best Server to have Ubuntu ping every server and automatically determine the fastest connection. I recommend Select Best Server as the best option; just be aware that it will take a couple minutes for Ubuntu to go through the entire list of download servers.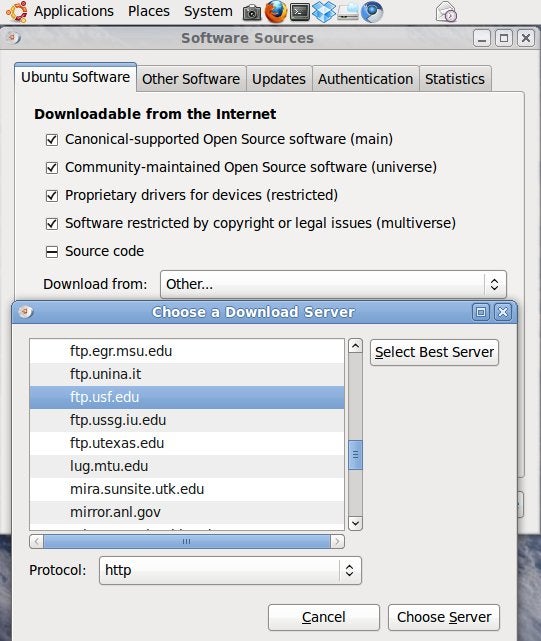 Have Fun Exploring
Now that you know how to use the Ubuntu Software Center, have fun exploring its thousands of awesome, free software titles! You can now easily find open source apps to perform just about any task just as well as or better than the equivalent Windows or Mac versions.
You might also like:
How to Easily Install Ubuntu Linux on Any PC
Why Ubuntu Linux Is a Good Business Choice
How to Install the Latest Firefox 3.6.6 in Ubuntu Linux