Belkin N900 Wi-Fi router review: Feature-light for the price
At a Glance
Belkin Advance N900 DB

PCWorld Rating
Most consumer router manufacturers go to great lengths to make their products easy to install, but Belkin truly goes the extra mile. Instead of putting a sheet of paper in the box with drawings showing you which cable goes where, Belkin ships the N900 with its Ethernet cable and power adapter already plugged in. The coiled cables are then placed inside small cardboard shells bearing illustrations instructing you where the other ends of the cables go. It arrived from the factory with WPA2 Personal wireless security enabled on both networks and the network's SSID and password printed on a small card. WPS is also supported.
If you use the provided installation disc to set up the router, the wizard will install Belkin's USB Print and Storage Center plug-in onto your PC. This software includes a backup utility for copying your computer's data files to a hard drive attached one of the router's two USB 2.0 ports (you can use the other port to share a printer on the network).
Initial setup was a breeze, but applying after-the-fact configuration changes took an inordinate amount of time, as the router insisted on rebooting after the most insignificant changes. Simply turning off the guest network, for instance, required an elapsed time of two minutes and 10 seconds before the router came back to life.
Like most consumer routers, the N900's antennas are hidden inside the enclosure. The gloss-black finish and vertical form factor—the device comes permanently mounted to its stand—calls to mind a shark's fin. A single LED on the front of the router informs you when the router is properly set up and connected to the Internet (blue), or if it's encountering a problem of one kind or another (red). The back of the case harbors a WAN port, a four-port gigabit switch, and two USB ports (to support both network-attached storage and a printer).
Belkin provides a number of software utilities that you can install on client PCs, including Belkin's USB Print and Storage Center plug-in. These are reasonably handy, but the backup utility is virtually worthless: You can't schedule when a backup will start, for example; and if you cancel one that's started, it will just automatically restart an hour later.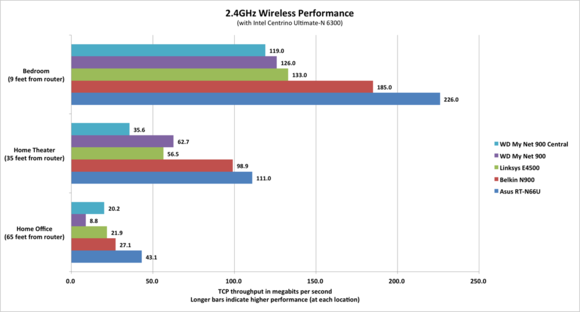 Belkin describes the N900 as "the most powerful router we have ever created," and the router's wireless performance largely backs up that claim. The N900 took strong second-place finishes at each location on its 2.4GHz network, and it outperformed the other four routers—by a wide margin—on its 5GHz network at close range, when it was separated from the client by nine feet. You'd have difficulty streaming high-definition video on that network at any distance, however; actually, we could say the same for all the routers we tested with the exception of the Asus RT-N66U.
I wasn't nearly as impressed with the N900's performance copying files across the network to a hard drive attached to its USB port. Belkin's router delivered a middling performance while reading files—be it a single large file or a large collection of small files and folders—but it was excruciatingly slow when it came to writing those files back to the drive: I could have gotten a shave, haircut, and a pedicure in the time it took to write the single 4.29GB file is used for testing (yes, I'm exaggerating here, but the N900 is ridiculously slow at this task).
The N900 comes with a very limited feature set: Belkin touts a Video Mover server for streaming media from an attached hard drive, but there's no iTunes server and Belkin doesn't indicate that the router is DLNA certified. There's also no FTP or VPN server for business users (although to be fair, Belkin is clearly not marketing these device to business owners). Quality of Service settings, meanwhile, are limited to enabling a feature Belkin calls Intellistream. The router analyzes traffic traveling over the network and automatically assigns higher priority to data packets that are sensitive to lag—such as VoIP or gaming traffic—and lower priority to data packets that are not sensitive to lag, such as a BitTorrent download.
Bottom line
The N900 is a strong wireless performer, but it's hard to recommend at its current price point because it has such a limited feature set. The Asus RT-N66U is much more powerful, has many more features, and it costs less.
Note: This review is part of a roundup. Click here to read reviews of the other four routers I tested at the same time.
At a Glance
Belkin Advance N900 DB

PCWorld Rating

The N900 is a strong wireless performer, but it's hard to recommend at its current price point because it has such a limited feature set. The Asus RT-N66U is much more powerful, has many more features, and it costs less.

Pros

Supremely easy to set up
Fast 2.4GHz network performance
Good 5GHz network performance
Limited feature set

Cons

Very slow USB write performance
Limited feature set
Poorly designed utilities
Shop Tech Products at Amazon