Linksys EA4500 Wi-Fi router review: The safe choice
At a Glance
Cisco Linksys EA4500 802.11n Router

PCWorld Rating
As you've probably heard by now, Cisco plans to exit the consumer-electronics market by selling its Linksys division to Belkin. Belkin says it intends to carry the Linksys brand forward, and with products like the Linksys EA4500 router in the mix, I'd say that's a smart idea.
The EA4500 is housed in a low-slung enclosure with a decorative gray plastic band across its middle. Unlike previous models in this same line, there is no provision for mounting the router to a wall. A single LED—in the form of Cisco's logo—on the top of the router informs you of its status: steady white to indicate A-OK or slowly flashing light to signal a problem. You'll find the router's WAN port, a four-port gigabit switch, and a WPS button on the rear panel. There's also a single USB port there, so you can share a printer or storage, but not both at the same time.
Cisco created quite a stir in 2012 when it rolled out its Cisco Cloud Connect firmware (since renamed Smart Wi-Fi). The firmware forced customers to log into Cisco's servers in order to manage and configure their routers. The company soon reversed course and released new firmware that enabled users to manage their routers manually without the live Internet connection, and that's how configure the one I tested.
The router's 2.4GHz radio is configured by default to use only 20MHz of bandwidth, but you have the option to set an "auto" mode that should engage in channel bonding if doing so won't interfere with any nearby networks.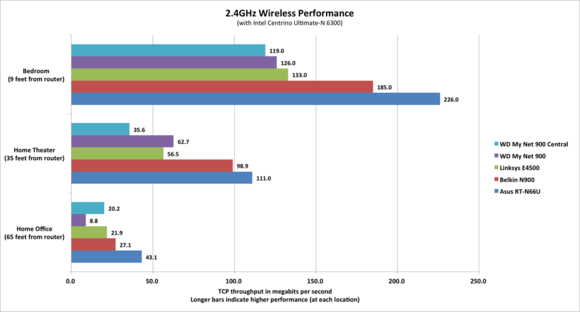 I did just that, but when I audited the airwaves to see what was really happening (I use MetaGeek's Wi-Spy DBx Pro spectrum analyzer kit to monitor RF activity while I'm running wireless benchmarks), I discovered that the EA4500 was still using just one channel. The router's 5GHz radio is configured to engage channel bonding by default, and Wi-Spy confirmed that for me.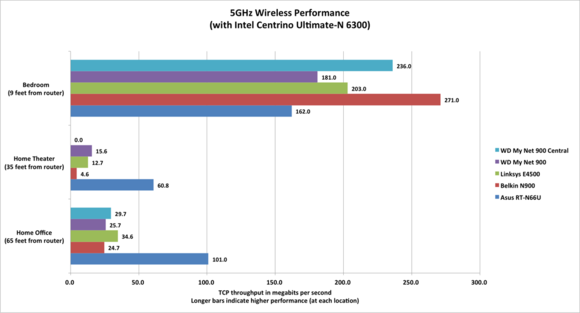 Since the EA4500 wouldn't engage in channel bonding on the 2.4GHz band, it delivered a rather middle-of-the-road performance there. Its performance on the 5GHz band was only slightly better. Where this router really shined was in terms of USB performance: It was faster than any other router when sending files back and forth across the network to an attached USB hard drive.
Bottom line
Aside from the single USB port and the fact that it can operate a guest network only on its 2.4GHz radio, the EA4500 has an above-average feature set, including an FTP server, a DLNA-certified media server, VPN pass-through, and easy-to-configure Quality of Service settings. The EA4500 is a strong contender for consumers. Small-business owners, on the other hand, will find this router lacking in features. That doesn't come as a surprise, because Cisco wants to sell Cisco-branded routers to that crowd. As it stands, the EA4500 is one of the best 802.11n routers on the market, but it's not better than the Asus RT-N66U.
Note: This review is part of a roundup. Click here to read reviews of the other four routers I tested at the same time.
At a Glance
Cisco Linksys EA4500 802.11n Router

PCWorld Rating

The EA4500 is one of the best 802.11n routers on the market, but it's not better than the Asus RT-N66U.

Pros

Extremely fast performance with USB drives
Strong consumer feature set
Attractive industrial design

Cons

Middling wireless performance
Only one USB port
Weak small-business feature set
Shop Tech Products at Amazon