Western Digital My Net Central Wi-Fi router review: Hiding the hard drive
At a Glance
Western Digital My Net N900 Central (1TB)

PCWorld Rating
Western Digital's My Net N900 Central is basically the My Net N900 with a 2.5-inch hard drive tucked inside (I reviewed the 1TB model; the company also offers a model with a 2TB drive). Rather than repeat everything I said about the N900, I'll focus on the differences between it and the N900 Central. (You can read my review of the N900 here.)
The biggest difference, of course, is the presence of that 1TB hard drive inside its enclosure. I assumed that this drive would outperform the rest of the field, but I was mistaken: The router communicates with the drive over a SATA-to-USB bridge, and it wound up being slower than the My Net N900 on three of my four tests. As you can see in the chart, the N900 Central did manage a second-place finish when writing a single large file to its hard drive, trailing the Linksys EA4500.
In addition to the physical security of housing the hard drive inside the case, there are two other upsides of choosing the N900 Central over the drive-less N900. First, you gain Western Digital's Smart Ware software, for backing up your client PCs to the router's storage. You'll also be able to access your router's storage via the cloud, using the company's WD2Go service. On the downside, you'll get one less USB port, three fewer Ethernet ports, and you'll have to put up with the slight whine from the cooling fan on the bottom of the router.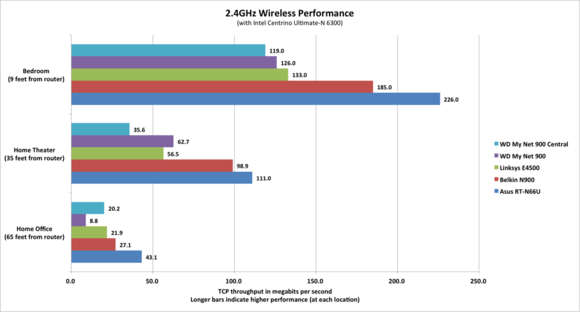 I described the N900's wireless performance as humdrum, so I'd have to classify the N900 Central's wireless performance as humdrummer: Its 2.4GHz network was slightly slower than that of the N900, while its 5GHz was slightly faster. But the N900 Central couldn't maintain a connection to my client PC for any length of time when the client was in my home theater. Of the five routers I tested, this was the only one to have that problem.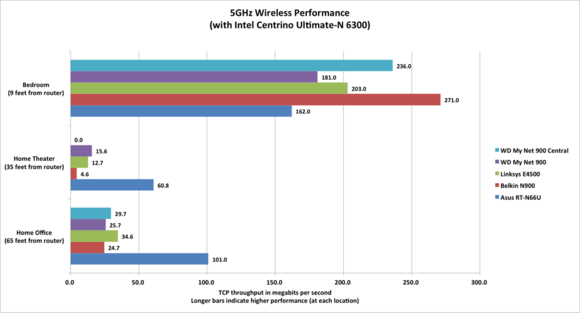 The N900 Central is every bit as easy to set up as its drive-less cousin, and it comes with the same three PC utilities: WD Print Share, for managing shared printers, WD Quick View for monitoring the router's status, and WD My Net View, for a high-level evaluation of your network's performance. It also comes with WD's FasTrack Plus Quality of Service, which automatically prioritizes audio and video streams over more lag-sensitive traffic, but you can also write up to 32 custom QoS rules.
The performance of the My Net N900 Central's 2.4GHz network leaves much to be desired, its 5GHz network didn't fare much better—except when the client was at close range. Having an internal drive that can be accessed from the cloud is convenient, but I wouldn't call this one fast.
Note: This review is part of a roundup. Click here to read reviews of the other four routers I tested at the same time.
At a Glance
Western Digital My Net N900 Central (1TB)

PCWorld Rating

Having a hard drive inside the router is convenient, but it's no faster than plugging an external drive into a USB port.

Pros

Integrated hard drive
Access to storage from the cloud
PC back-up utility included

Cons

Slow wireless performance
Slow hard drive performance
Slight fan noise
Shop Tech Products at Amazon