Page 2 of 2
Hands-on: A mix of intuitive and puzzling
We've already reviewed the Office 2013 desktop apps, and we are generally pleased with the changes. But our first impressions of the new Web services (using evaluation accounts set up by Microsoft) are less favorable. While some things worked well, other features were slow or downright confusing.
What worked well: If you're a small-business manager, setting up Office 365 Small Business Premium for your team of up to ten people is a cinch. The dashboard for adding people and managing their permissions is straightforward, whether you're getting started or making tweaks later.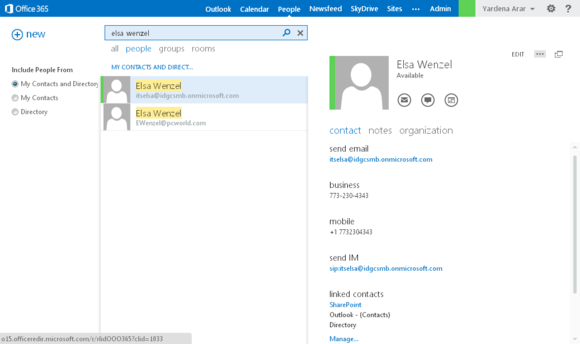 I had no trouble importing my Gmail contacts to my Outlook account following instructions in Microsoft's help screens. The presence feature, which showed me whether a colleague was online, also worked, although sometimes it took a few seconds to reflect a status change.
Microsoft provides a couple of dozen templates for creating public and private-facing websites. Users also get a Newsfeed page, where they can track contacts on social media. It's a nice alternative to trying to cram this information into a corner of Outlook, which is what the desktop app does.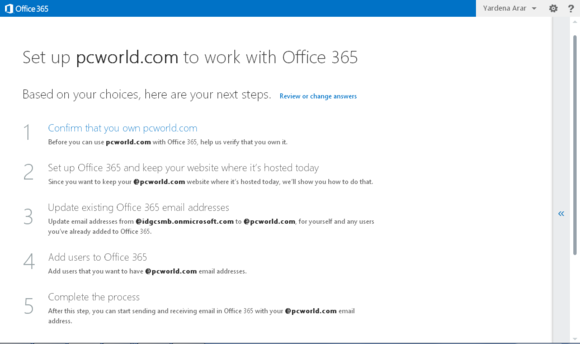 The Office Web Apps offer pared-down online editions of Word, Excel, and PowerPoint. Opening and editing documents there is elegant enough. But collaboration was less effortless than, say, with Google's productivity apps, which instantly show you a coauthor's changes as you both type. Microsoft transmits changes only after you press Enter—and two people can't work on the same paragraph at the same time. In addition, in my tests the services often felt poky, even in Internet Explorer.
I also ran into trouble trying to share a document without working on it at the same time as a coauthor. I created a document and stored it on my account's SkyDrive after granting my editor, Elsa Wenzel, permission to edit the document. She made changes, but when I subsequently opened the document, I saw only notes saying that changes were available—and, in the backstage view, two contradictory options were highlighted, one authorizing changes and one preventing them. I'm not sure why that happened—or why Elsa no longer could see the document on SkyDrive. We later learned that to see the document, Elsa would have had to click the link I'd sent her originally, but the experience was not intuitive, and left us confused.
Bottom line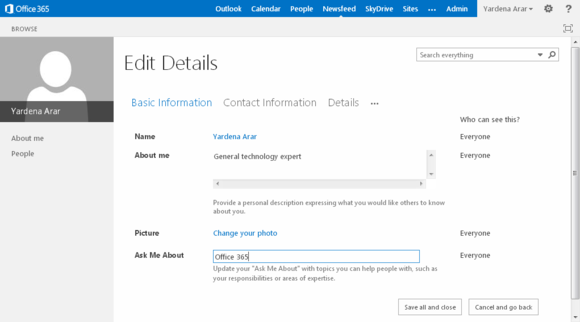 The bottom line on Microsoft's new small-business offerings: They promise a lot of features, but some of the functions might be less intuitive to use than the marketing materials suggest. Moreover, some features may either duplicate infrastructure you already have, or offer something you don't really want or need; many businesses, for example, already have a hosted website, or favor other conferencing services.
Office 2013's productivity apps are still the best reasons to consider Office 365. The full-featured desktop programs offer the best feature set and performance—plus, they are available even when the Internet isn't, so they're preferable to plans that rely on Web apps alone. If you keep in mind that the full suite costs several hundred dollars, Microsoft's subscription fees are reasonable.
But if your productivity needs don't require the power and sophistication of Office desktop apps, and if the infrastructure services don't interest you, competitors such as Google Docs beat Microsoft on price (Google Docs runs $5 to $10 per user per month) and ease of use for collaboration. That's a calculation every business manager will have to make.