All-in-One PCs for Everyone
Page 2 of 6
For the Living Room: A Media Maven's High-Def Hub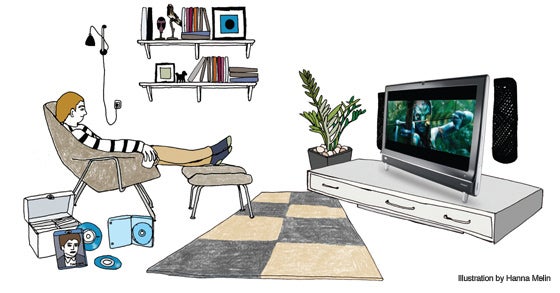 The Internet is a treasure trove, with music, movies, and television shows available on demand, so you aren't be­­holden to your cable provider's schedule or programming lineup. You could wait for a Web-connected TV to hit all the right notes. But if you want a taste of what the Web has to offer, without having to replace your television set, HP's TouchSmart 600 Quad offers you a lush display, great speakers, and an intuitive, touch-optimized interface.
A 1.6GHz Core i7-720QM processor and 6GB of RAM power this 23-inch all-in-one. The i7-720QM (a CPU more commonly used in notebooks) supports Intel's hyperthreading and Turbo Boost technologies, delivering power and performance while keeping energy consumption and heat levels lower than a full-fledged desktop processor would. The TouchSmart 600 Quad earned a score of 104 on our WorldBench 6 test suite--not bad, but a bit low for an all-in-one of this size. The PC comes with a 1TB hard drive, providing lots of room for your music and movie collections.
The 23-inch display has a native resolution of 1920 by 1080 pixels--perfect for viewing 1080p high-def video--and the machine includes a slot-loading Blu-ray drive and customizable ambient lighting for setting the movie-watching mood.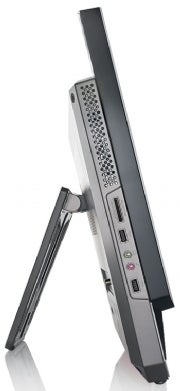 HP's TouchSmart software features touch-friendly desktop versions of Hulu, Netflix, and Twitter, and other popular Web destinations. These full-screen widgets are snappy and responsive, thanks to the PC's quad-core processor, and they make sifting through your music, movies, or favorite Websites simple.
Keep Your Head Ringin'
But HP's TouchSmart 600 Quad has another trick up its sleeve: Beats Audio, the high-def audio processing technology that powers Dr. Dre's signature headphone line. The system's stereo speakers deliver impressive audio fidelity, filling a room with sound without sacrificing quality. As you'd expect from equipment endorsed by a hip-hop legend, the bass is strong, but it doesn't overwhelm the experience. Audio is crisp and lively, and the Beats audio processing lets you fine-tune the sound to suit your preferences.
Of course media aficionados won't rely on HP's bundled speakers. Audio output ports let you connect a proper stereo system, so Beats' audio processing technology can really shine.
The all-in-one's five USB ports leave room for external devices, in case your media collection exceeds the available hard-drive space (1TB); and a multiformat card reader makes loading pictures onto the PC easy. From there, you can use TouchSmart widgets to browse image files and create sharable collages. The system's Blue­tooth connectivity, wireless keyboard and mouse, and in­­cluded remote control optimize your on-the-couch experience. The Touch­Smart 600 Quad also provides a range of display input ports, so you can plug in your video game console of choice and use the TouchSmart as a display.
Plenty of connectivity options, stellar audio and video quality, the flexibility to serve up whatever media you're in the mood for, along with room for a spot of gaming: HP's TouchSmart 600 Quad is a solid buy for the multimedia enthusiast who wants it all.
Shop Tech Products at Amazon