All-in-One PCs for Everyone
Page 3 of 6
For the Kitchen: A Master Chef's Digital Cookbook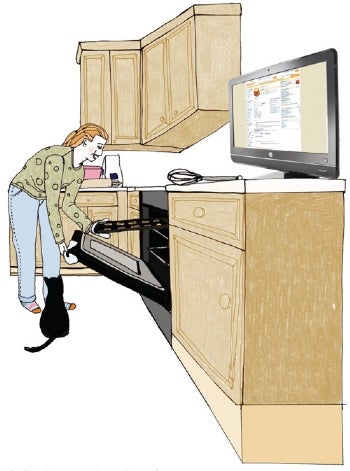 Touchscreens are showing up in many all-in-one desktops these days, but your kitchen is one place where planting and dragging your fingers all over a screen probably isn't the best idea. The chef de cuisine needs a compact, Internet-connected hub that's strictly a hands-off experience--and HP's All-in-One 200-5020 fits the bill.
This 21.5-inch all-in-one PC is armed with a 2.7GHz Pentium Dual Core processor, 4GB of DDR3 RAM, and a 500GB hard drive. The processor falls toward the lower end of the performance scale, but it's no slouch, earning a strong score of 104 on our WorldBench 6 test suite. The All-in-One 200-5020 forgoes multitouch, too, leaving you to rely on a keyboard and mouse.
With a native resolution of 1920 by 1080 pixels, the All-in-One 200-5020 is just right for high-definition (1080p) video, so you can easily catch up on an episode of Iron Chef while waiting for your bread dough to rise. The LED-backlit screen does an excellent job of color reproduction, preserving minute details without fuzziness or distortion.
The View From the Range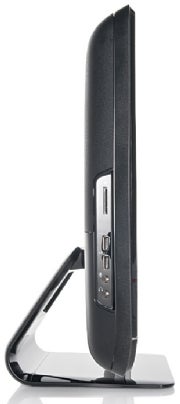 A wide range of viewing angles keeps the screen's content visible at all but the most extreme angles. You'll appreciate the display's clarity as you steal occasional glances at your culinary Webcast of choice while working at a stove located several feet away.
Size is the key factor here: 21.5 inches of screen real estate is a fairly generous amount, yet the slender chassis prevents the all-in-one from gobbling up too much counter space. Wi-Fi connectivity is crucial when you want a system with as few wires running out of it as possible, and the 802.11n connection keeps the unit tied to the Web without introducing any new cables into the mix. The bundled keyboard and mouse are wireless, too, complementing the clutter-free package.
A multiformat card reader makes loading pictures onto the machine and sharing them with friends a snap. For an even more interactive approach, you can record your gastronomical exploits via the included Webcam, so your YouTube fan base can marvel as you prep peerless grilled cheese sandwiches. And with the included DVD burner, you can document your expertise, and mail the resulting DVDs to friends who missed out on your live Webcasts.
Kitchen space is precious, of course. But in case you have some extra room for expanding your hardware options, the all-in-one's seven USB ports give you ample opportunities for connecting various external devices. The audio quality of the built-in speaker bar is passable on its own, but you also get audio outputs for a proper 7.1-channel surround-sound system.
Though it lacks some of the niceties that you'd find in a larger, touchscreen-equipped model, HP's All-in-One 200-5020 will be right at home wherever desk or counter space is scarce.
Shop Tech Products at Amazon