All-in-One PCs for Everyone
Page 4 of 6
For the Dorm Room: A Cash-Strapped Student's Bargain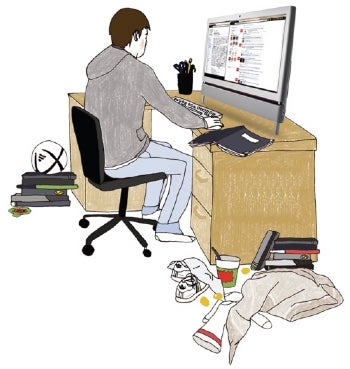 Faced with the daunting prospect of paying for books, food, lodging, and tuition, a cash-strapped college student is bound to scrimp wherever possible. But you should resist the temptation to save money by purchasing a bottom-of-the-line laptop.
Notebook PCs do have portability on their side, but finding one that delivers competent performance and adequate storage without breaking the bank is a dicey proposition. An all-in-one PC is too large to tote to class, but the money you'll save on it over a similarly equipped laptop will buy a lot of peanut butter.
The Acer AZ5700-U2112 serves up a plenty of speed and media features for a cool $1000--and if a mobile PC is a must, you'll have saved enough cash over a comparable laptop to pick up a decently equipped netbook, too.
The 23-inch AZ5700 runs on a 3.2GHz Core i5-650 processor and carries 4GB of RAM. It earned a mark of 119 on WorldBench 6, easily outpacing similarly priced laptops and finishing near the top of the all-in-one PC food chain.
Beyond its very solid performance, the AZ5700 provides 1TB of storage space; that's plenty of room for archiv­ing every last assignment and--who are we kidding?--holding music, movies, and whatever else students need to pass the time between deadlines.
The Screen's the Thing

The all-in-one's main draw is its 23-inch screen. Its multitouch screen supports Windows 7's gestures, as well as Acer's Touch Portal software--a collection of widgets that offer quick access to popular Web destinations and to music and videos stored on the PC. Large, bright buttons located on the touch-optimized browser simplify fingertip browsing. The Asus has a program for automating software and hardware driver updates, which should help keep your machine in prime shape while minimizing the need for manual intervention in the process.
The AZ5700's HD-oriented display has a native resolution of 1920 by 1080 pixels. Video playback is smooth and crisp, despite the system's integrated graphics. Image quality is impressive, too, with excellent color reproduction, so the pictures you load onto the ma­­chine via the multiformat card reader will look great. The system also offers a DVD burner--for the price, a Blu-ray player just isn't feasible.
A built-in TV tuner completes the media-friendly package. Thanks to Windows 7's built-in DVR functionality, you can record all of your favorite shows, and the bundled remote control invites you to re-create the living-room experience in your cramped dorm room. The included keyboard and mouse are wireless, so you can switch back to the paper you're supposed to be writing, should friends swing by to check in.
The built-in Webcam offers a convenient way to keep in touch with your folks back home, and included software lets you spice up your video chats with silly animations and the like. A video surveillance mode gives you the technology to catch your roommate red-handed and demand compensation for pilfered beverages and snacks.
There's a lot to like in this all-in-one, but the AZ5700's strongest asset is its price tag. The PC is a great machine for work and play, and its price won't re­­duce you to subsisting on ramen for the next se­­mester. You get good value in a fairly attractive frame, and the system is versatile enough to power you quickly through your work assignments, while shining as an after-hours media hub.
Shop Tech Products at Amazon