Page 2 of 6
Setting up Exchange access on both devices was also simple. However, Windows Phone 7's lack of support for on-device encryption meant that InfoWorld's Exchange server wouldn't let it connect, as one of our three Exchange ActiveSync (EAS) policies requires on-device encryption; thus, I can't tell you how Windows Phone 7 works with Exchange email, calendars, or contacts, as I can't access them. Given how basic a requirement on-device encryption is for enterprise security, Windows Phone 7 simply can't be relied on in a business context. (And using Webmail is no fix; the Webmail screen is simply torturous to navigate in Windows Phone 7's IE7 browser.
Basic email functions. Working with emails is easy on both devices. You can reply, forward, mark as unread, delete, and move messages while reading them. In Windows Phone 7, you need to tap the more (...) button to see some options; on the iPhone, some options are in the message body itself. On both systems, you can easily delete individual messages from the email list: Swipe to the left and tap Delete on the iPhone, or tap and hold the message header, then tap Delete in Windows Phone 7.
[ Who wins InfoWorld's other mobile deathmatches: Apple's iOS 4 or Google's Android 2.2? | The iPhone 4 or the BlackBerry Torch? ]
Both the iPhone and Windows Phone 7 let you search emails, but Windows Phone 7 isn't as good at it. It searches only the current folder, whereas the iPhone searches all your email. The iPhone lets you refine your search or your email list's display by From, To, and Subject fields (as well as All); Window Phone 7 does not.
Getting to the top of your email list isn't so obvious in either. In the iPhone, tap the top of the screen. In Windows Phone 7, slide over to unread or urgent messages, then back to all. Neither has a quick-jump shortcut to go to the bottom of your list.
Email management
Windows Phone 7 displays emails in a simple list for each account you have; they appear as separate panels -- app icons, essentially -- on the home screen. But you can't see all emails from multiple accounts in one view, as you can on an iPhone.
Navigating emails is easy on both Windows Phone 7 and the iPhone, and Windows Phone 7 has copied the iPhone's approach to moving and deleting messages in the list: Tap Edit, select the messages, then tap Delete or Move. Windows Phone 7 has a neat capability unmatched in the iPhone in which you slide your email list to the side to see just unread messages; slide it again to see urgent messages; and one more time to return to all messages.
Windows Phone 7 adds an unnecessary step when you want to view your email folders. When you tap the Folders button, you get a screen with two options: Inbox and Show All Folders. (If you're in a folder, you also get the current folder name in the list.) You have to click twice to see your folders. The iPhone lets you tap an email account to go straight to its folder list, though you have to use the second accounts list in its Mail app; the first list brings you to just their inboxes. Both operating systems could do better in terms of folder access.
Windows Phone 7 does not automatically sync mail folders with the server when you open them, as the Phone does. And the iPhone lets you set in its preferences which folders you want autosynced; Windows Phone 7 can't do that.
The iPhone 4 has a message threading capability, which organizes your emails based on subject; you click an icon to the left of a message header to see the related messages. That adds more clicking to go through messages, but it also removes the effort of finding the messages in the first place. (iOS 4 lets you disable threading if you don't like it.) Windows Phone 7 has no equivalent.
I was annoyed that Windows Phone 7 doesn't support PDF files out of the box; you have to download the Adobe Reader app from the Windows Phone Marketplace. It does open images and Office files, though, after a two-step process of downloading the attachment, then opening it (tap and hold each time). The iPhone's built-in QuickLook viewer handles a nice range of formats, and it opens attachments with one tap, downloading them if needed at the same time. But the iPhone doesn't open zip files, whereas Windows Phone 7 does.
Both the iPhone and Windows Phone 7 remember the email addresses of senders you reply to, adding them to a database of contacts that it looks up automatically as you tap characters into the To and Cc fields. Both devices let you add email addresses to your contacts list, either by tapping them (on the iPhone) or tapping and holding them (in Windows Phone 7).
Contacts and calendars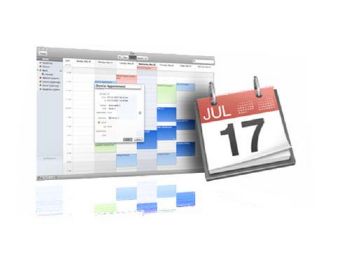 The iPhone 4's more stylish UI for email applies to its Contacts and Calendar apps as well. Both the iPhone and Windows Phone 7 offer the same views: list, day, and month. The iPhone's calendar is easier to navigate, with better indicators of days that have appointments in the month view; Windows Phone 7's list view is too spare, so you lose differentiation among objects, and its month view makes it hard to see which days have appointments.
You can easily switch calendar views in the iPhone 4 in the main calendar screen; Windows Phone 7 also makes switching easy, both through swipes and through its button row at the bottom of the screen. Both can display multiple calendars simultaneously.
On the iPhone, your invitations for Exchange accounts show up in your calendar so that you can accept them with the full context of your other appointments. For other email accounts, you're stuck; it doesn't let you open the .ics invitation files in Mail, nor does Calendar detect them. As Windows Phone 7 won't work with my corporate Exchange server, I can't say how it handles Exchange calendar invites. For other accounts, Windows Phone 7 lets you accept invitations by tapping a menu in your message. You can even send a proposed alternative time and date.
Windows Phone 7 lets you issue invitations from its calendar; the iPhone does not. Note that Windows Phone 7 doesn't send the invites immediately, so it's not so good for planning an urgent meeting. But Windows Phone 7 has a nice feature: You can tap a button that composes an "I'm running late" email addressed to the meeting's attendees.