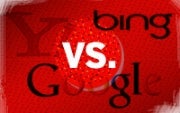 Here's a line of defense Microsoft could use against accusations that Bing steals Google's search results: Bing doesn't rip off Google because Bing is more accurate than Google. Ouch!
According to research by Experian Hitwise, Bing (and Yahoo Search powered by Bing) achieved a success rate of 81 percent for January 2011; Google, meanwhile, managed only a 65 percent success rate. Both of those figures are unchanged from December 2010.
Experian defines "success rate" as inducing a user to click on one of the search results, which does leave Google with some possible excuses. For example, perhaps users are finding the information they're looking for right there on Google's results page and don't need to click on any of the links. After all, lots of people like to use Google as a spelling checker these days.
On the bright side for Google, it is still the heavyweight champion when it comes to overall usage, pulling 68 percent of all U.S. searches. However, it can't rest on those laurels. That 68 percent figure for January is down from 70 percent in December 2010, while Bing jumped from 10.6 percent to nearly 13 percent, an increase of 21 percent month over month.
There's still a big gap between Google and Bing when it comes to usage, but if Bing proves itself to be more accurate and more useful, Google could be looking at the first serious challenge to its search dominance.
This story, "Surprise! Bing tops Google in search accuracy," was originally published at InfoWorld.com. Get the first word on what the important tech news really means with the InfoWorld Tech Watch blog. For the latest business technology news, follow InfoWorld.com on Twitter.
This story, "Bing Tops Google in Search Accuracy" was originally published by InfoWorld.