Page 2 of 2
A better address bar
With IE9, the address bar now does double-duty as an address bar and a search box. (To highlight this, Microsoft refers to it as One Box.) As you type your search, the browser looks at your History, Favorites and Feeds, and displays matches. In that way, you can more quickly find a site or do a search by selecting a choice and pressing Enter. You can, of course, also type in your entire search term and press Enter to search the Web using your default search engine.
(On my Vista test machines, the address bar didn't launch searches when I typed in text. To fix the problem, I clicked the tools icon in the upper-right part of the screen and selected Internet Options --> General, clicked Settings in the Search section, checked the box next to "Search in the address bar," then clicked OK. On my other test machine, I didn't need to do this; however, this may have been an anomaly.)
You can also have your keystrokes sent to your search provider (such as Bing or Google), so that the provider can see what you're typing and suggest possible matches. IE9 turns that behavior off by default for privacy reasons, but you can turn it back on if you want.
IE9 lets you easily route your searches to other search providers rather than your default one. As you type in a search term, icons of other search providers appear underneath the list of matches. Simply click any icon to launch the search using that provider. That's all well and good. But when you do this, you're actually changing your default search provider to the alternate provider. So even if you only want to search Wikipedia once for a particular search, choosing its icon means that all subsequent searches will be done through Wikipedia as well, until you change it back -- a feature that can be very troublesome.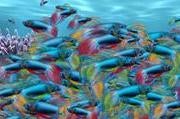 Making friends with Windows 7
Microsoft has tweaked IE9 for Windows 7, giving the browser some capabilities not available when it runs in Windows Vista. The most noticeable is that you can pin a Web site to the taskbar by dragging its URL to the taskbar. The site's icon then appears in the taskbar; to visit the site, click the icon. When you get to the site this way, the site will essentially "brand" IE9 -- the forward and back buttons will use the colors of the pinned site, and the Web site's icon will appear in the upper left of the browser. IE9 does this on its own; no development on the part of the site owner is required.
Web developers can use the Windows 7 Jump List) to add site navigation and additional features (such as music controls) to the pinned icon.
These features, while potentially very useful, may not turn out to be as helpful in actual practice. Adding features to the Jump List requires programming on the part of the site owner. In the past, Microsoft has added special features such as Web Slices that required site owners to do development work in order to take advantage of them -- and they rarely did so. Given that even Microsoft.com hasn't done any programming to take advantage of Jump Lists, it's not clear that this will become widely used.
Pinning a site can also prove to be somewhat annoying, because when you launch a site in this way, it launches in its own browser, and not as a tab in an already open browser. That means each pinned site will run in its own browser instance, making it confusing to switch among them.
IE9 also uses another Windows 7 feature, Windows Snap. Tear away a tab away from IE9, and drag it to the side of the screen, and it resizes the tab, and places it in its own window, to fill half the screen.
Performance Advisor and Notification Bar
Browser add-ons can slow a browser's performance, and IE9 includes a nifty tool called the Performance Advisor to help you track down ones that might be particularly problematic. When you launch IE9, the Performance Advisor looks to see whether any add-ons might slow down the browser, and then opens the Notification Bar at the bottom of the screen.
If you click "Disable add-ons" you'll see a screen that shows name of the add-ons, their manufacturers and an estimate of how much extra time they each take when you're launching your browser, opening a new tab or navigating to a Web site. Even Microsoft's own add-ons are included. You then have the option of disabling any to speed up browsing. This is a great tool for letting you decide whether the capabilities of an add-on are worth the browsing delay it extracts.
The Notification Bar offers other info as well. It tells you, for example, if you're visiting a Web page that includes both secure and non-secure content, such as an online store that uses an HTTPS/SSL secure connection, but also displays ads, images or scripts from a non-HTTPS server. At that point, the Notification Bar warns you that IE9 is displaying only secure content, and gives you the option of displaying both types of content by clicking the "Show all content" button. This is useful but potentially annoying, because this notification appears every time you visit the Web site; you have to click the button each time.
Improved security and a download manager
IE9 also includes a variety of security improvements. One of the most important is to the SmartScreen Filter, which is designed to protect you from visiting phishing sites, and whose capabilities have been expanded to protect against malicious downloads.
When you download a file in IE9, the SmartScreen Filter uses a new "download reputation" feature to examine the file's reputation -- how many other people have downloaded the file, and if they have found it to be safe or malicious. If the SmartScreen Filter determines it's safe, you simply download the file. But if the file has a malicious reputation, or if very few people have downloaded it so that it has no reputation to check, you're warned. You can then decide whether to download.
This feature won't replace your existing anti-malware program. It's designed for protection against malicious files so new that anti-malware software may not have had a chance to flag them as malicious. Some anti-malware software has begun to use similar technology to this, but still, it's nice to have this built into IE9 -- multiple means of protection are always a good idea.
IE9 includes a well-designed Download Manager that tracks all of your downloaded files and lets you search through them. In addition to the download reputation feature, the manager will warn you when it detects that you're downloading a file from a malicious Web site.
What's missing
Internet Explorer still trails Firefox and Chrome in one area: add-ins. Both those browsers have thriving ecosystems of third-party developers writing add-ins; Internet Explorer doesn't.
Through the years, Microsoft has tried to get around this by creating technologies that Web sites and others can easily plug in to, such as the aforementioned Web Slices and Accelerators, a way to send information from another Web site directly to your current browser page.
Despite Microsoft prodding and promotion, neither of those technologies ever took off. At this point, there doesn't seem to be a way for Microsoft to build that same ecosystem. If you're a fan of plug-ins and add-ons, you likely won't be a fan of Internet Explorer.
Another issue is that Microsoft has no plans to develop IE versions for mobile platforms other than Windows Phone 7. This may put it at a disadvantage in a mobile future when people want to sync browser information among their computers and mobile devices.
The bottom line
If you've stopped using Internet Explorer because of speed problems or a tired-looking interface, you should give IE9 a try. You'll be surprised by its dramatic speed improvements and slicker interface. Improved adherence to Web standards is a plus as well, as are new features such as a double-duty address bar and the Performance Advisor. Existing IE users will want to upgrade right away -- it's hard to argue against a faster, cleaner-looking browser with a host of other nice extras.
Preston Gralla is a contributing editor for Computerworld.com and the author of more than 35 books, including How the Internet Works (Que, 2006).
This story, "Internet Explorer 9 Speeds Past Competition" was originally published by Computerworld.