Page 4 of 4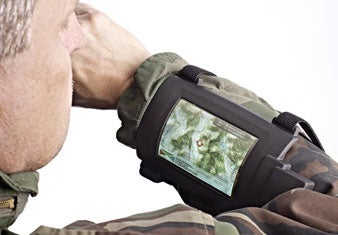 The military prototypes are slightly thinner than normal OLEDs and slightly curved, but still mounted within a rigid case, UDC's Mahon says. "But as the technology gets more robust we'll conform it to a smaller radius, and then to something that you can roll in and out of a pen 100,000 times."
But volume manufacturing of products with truly flexible or more dramatically curved displays is still a few years off. "It will take three to four years to be commercialized," says DisplaySearch's Colegrove. The first products won't hit the market before 2013, and as with UDC's prototypes, those displays will likely be housed in a rigid frame, integrated for the valued attributes of durability, thinness and light weight, rather than flexibility, she says.
In the short term, the ability to create curved displays will foster sleek new designs in OLED smartphones. For instance, Google's recently released Nexus S features a subtly curved glass screen.
Technology hurdles aside, manufacturers need to see a sizable market demand before they begin mass-producing any new type of display. For flat OLED displays, that market is mobile phones and televisions. For flexible OLEDs, the jury is still out.
And even if there were a compelling market today, OLED manufacturers aren't quite ready for production. Through 2011, Samsung and other OLED makers will have their hands full ramping up the new "Gen 5.5" fabrication facilities coming online that use glass substrates, says Insight Media's Werner. "I don't think we'll see flexible active-matrix OLEDs in any volume before the second half of 2012, and maybe not then."
A bright outlook
If flexible displays are still a year or two off, OLEDs are here to stay. Up until now the market has been supply-constrained, limiting the number of phones sporting the technology. "Samsung can't supply enough OLEDs to its customers yet," says Insight Media's Sechrist.
But with Samsung and LG Display committed to bringing online new fabrication plants that can support small-tablet-sized displays later this year, not to mention investments by Taiwanese companies such as AUO, the technology is likely to start proliferating in cameras and smartphones later this year. And DisplaySearch predicts that the first OLED tablet devices will enter the market before year's end.
"Even Apple might move in this direction," Sechrist says. "OLED is the future of these smaller displays, and we've seen prototypes in laptops already."
Next: Display Tech To Watch This Year: E-paper Stretches Its Wings
Robert L. Mitchell is a national correspondent for Computerworld. Follow him on Twitter at
twitter.com/rmitch, or e-mail him at rmitchell@computerworld.com.
This story, "Display Tech To Watch This Year: OLED's Future Looks Bright " was originally published by Computerworld.