Page 3 of 3
Tour the Admin Console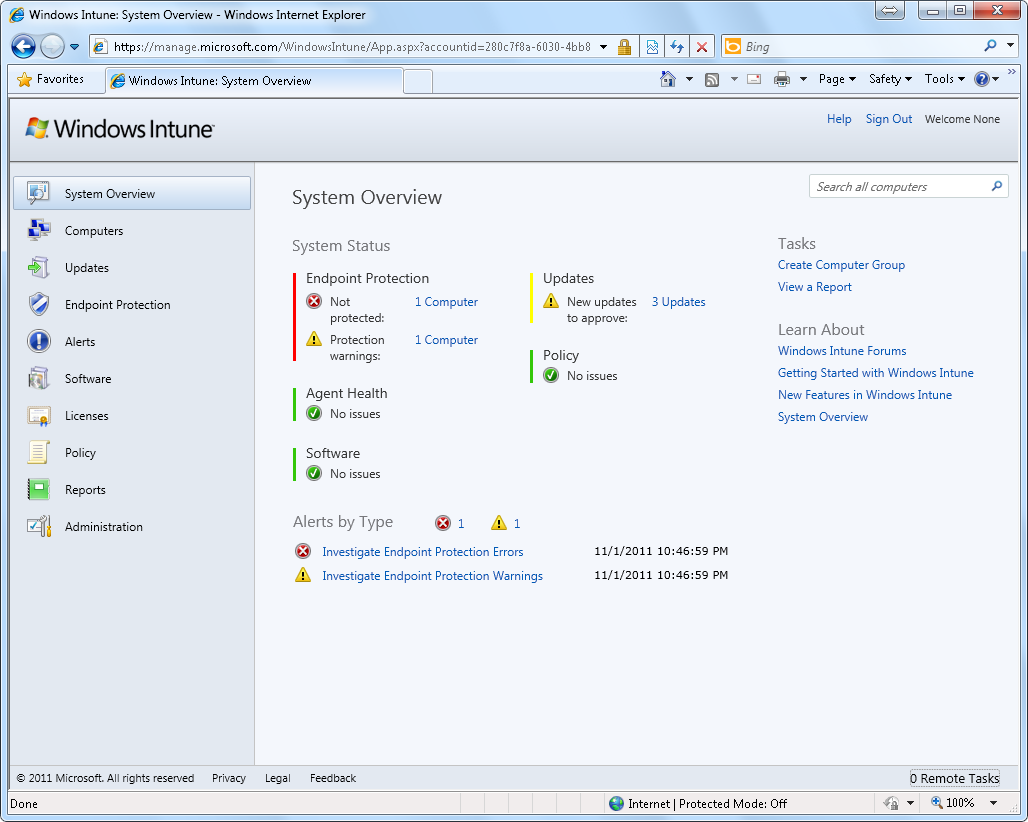 When you first log in to the admin console of Windows Intune, you'll see the System Overview workspace, which shows the health and status of client PCs. This may notify you of recent malware infections or of Windows Updates that you need to approve.
Intunes' Computers workspace first shows you similar health and status info. But here you can drill down to see a specific client PC's status, installed software, and updates, as well as to view detected malware and to see hardware details. You can also right-click a listed PC to perform remote tasks, such as to run a virus scan, update virus definitions, or restart the PC.
The Updates workspace lets you peruse available Windows updates, view their descriptions and details, and approve or decline each for client installation.
You'll see alerts related to malware protection in the Endpoint Protection workspace. In the Alerts workspace, you can browse alerts by category, view their details, and close them after you've attended to them.
The Software workspace lets you view all of the programs installed on client PCs. You can also upload and manage programs that you want to install remotely and silently. In the Licenses workspace, you can upload license information for your Microsoft and third-party titles. It will also offer statistics, such as the number of installations and the license counts for titles you've purchased.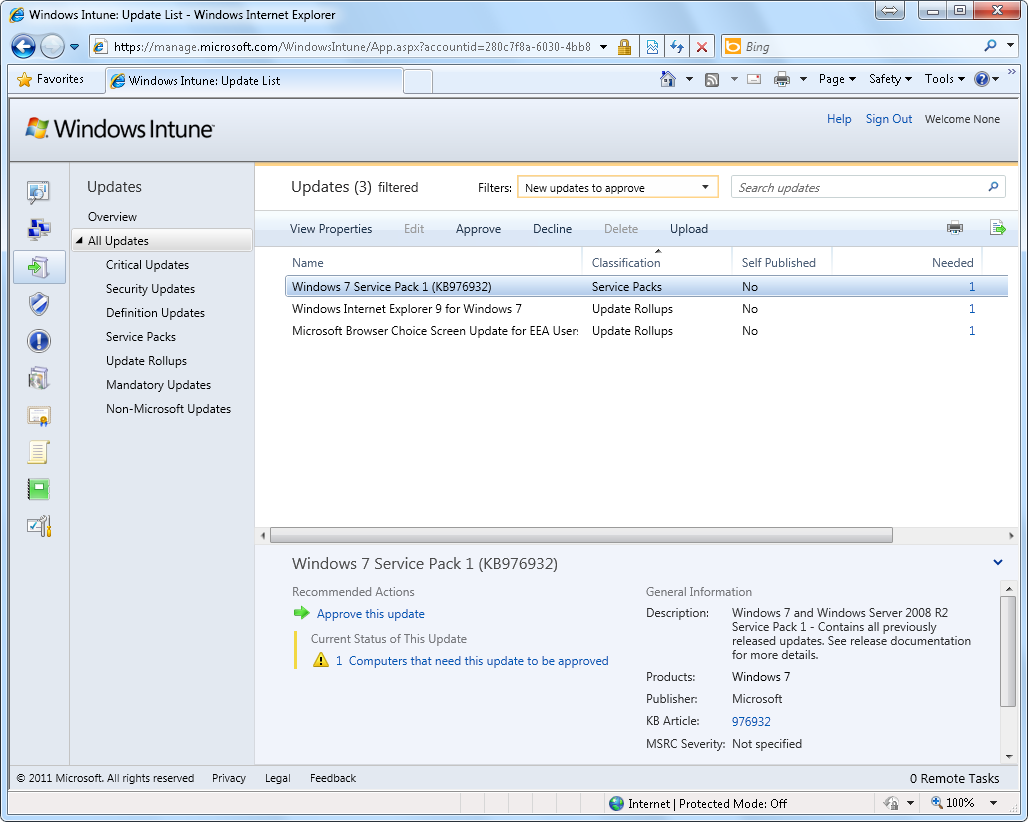 The Policy workspace is a powerful component of Intune that lets you create policies to manage antivirus, firewall, and other settings on client PCs. You can specify values for the antivirus and firewall settings, let the end users choose the settings, or have them set by other means.
From the Reports workspace you can generate reports on updates, software, hardware, and license information based on criteria you select.
In the Administration workspace you can view the number of PCs you've activated with Windows Intune and your remaining available seats. You can also configure the Update and Alert and Notification settings--as well as manage additional Windows Intune admins.
Perform Ongoing Maintenance
Once you've configured Windows Intune and added clients, you should regularly log in to the admin console to check the status of each client and deal with any alerts. Some alerts vanish automatically when you resolve the underlying issue--by approving or installing updates, for example--but you must manually remove others. You can remove most alerts by opening them and clicking Close this Alert. Alternatively, in the Alerts workspace you can select the alert and then click Close Alert.
When you want to remove clients from the Windows Intune service, navigate to the client in the Computers workspace, and on the left Tasks list, click Retire. This action removes the client from the admin console and frees a spot for another client on your account. But it doesn't remove the client software, which basically remains in place. Retired clients still receive active endpoint protection and Windows updates according to their particular Windows Update settings. End users can manually remove the client software, or you can use scripts provided in the Windows Intune documentation to automate the process.
Eric Geier is a freelance tech writer. Become a Twitter follower to keep up with his writings. He's also the founder of NoWiresSecurity, which helps businesses protect their Wi-Fi network with Enterprise (802.1X) security.