Wondering which cloud storage provider to go with for your business? The data services company Nasuni has run tests, and it shows Amazon on top, just nosing out Microsoft.
Nasuni tested 16 cloud storage providers, using a process that it claims has been developed over two years. It tested providers based on how well they would perform for mid-sized organizations that want cloud-based storage for primary storage, data protection, and disaster recovery.
Nasuni found that of 16 providers, only six were able to pass its tests --- Amazon S3, AT&T Synaptic Storage as a Service (powered by EMC ATMOS), Microsoft Azure, Nirvanix, Peer1 Hosting (powered by EMC ATMOS), and Rackspace Cloud.
The company wouldn't say which providers didn't pass its test, but notably missing from the list of finalists was Google. Again, that doesn't mean that Google wasn't tested, but if it was, it didn't pass the tests.
Nasuni performed five sets of rigorous tests, including performance testing, API integration testing, stability testing, scalability testing, and what it calls unit testing, which helps determine whether providers can handle a variety of basic functions such as reading and writing different file sizes.
Here's the summary of the testing results:
Two CSPs (cloud service providers) emerged as top performers in the Nasuni study: Amazon S3 and Microsoft Windows Azure, with Amazon S3 being the standout across all evaluation areas.

...

Though Nirvanix was 17 percent faster than Amazon S3 for reading large files, and Microsoft Azure was 12 percent faster when it comes to writing files, no other vendor posted the kind of consistently fast service across all file types as did Amazon S3.

Amazon S3 had the fewest outages and best uptime, and was the only CSP to post a 0.0 percent error rate in both writing and reading objects during scalability testing. And though Microsoft Azure had a slightly faster average ping time than Amazon S3 (likely because Amazon S3 is much more heavily used than Microsoft Azure), Amazon nevertheless had the lowest variability.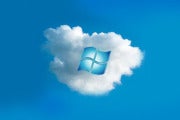 Although Microsoft would clearly have liked to take home the winner's trophy, coming in a close second is nearly just as good, particularly because its likely main competitor in the cloud, Google, wasn't even rated.
This bodes well for Microsoft's future. In some other growth areas, notably mobile, the company is struggling. But the cloud is a high-growth area in Microsoft's sweet spot and Google's soft spot, the enterprise. This latest report can only help Microsoft in its attempt to dominate the cloud.
Click here for a summary of the testing results. You can get the full report here.
This story, "Who's the Best Cloud Provider? Amazon beats Microsoft by a Hair" was originally published by Computerworld.