Page 4 of 4
Apple iBooks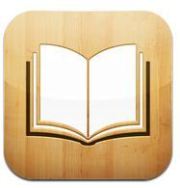 The 70 percent commissions from Apple iBooks are dandy, but before you get too excited about your book being available for the iPad, be aware that publishing directly through Apple requires you to have a Mac. Die-hard PC owners can use an aggregator to make an end-run around this issue (see below), but the commissions are lower if you do.
To get started, sign up for a Paid Books Account (you can offer your book for free via a different mechanism), using your Apple ID. Fill out the personal information requested, and wait for an email reply: Apple has to approve your application. Once you get the okay (my approval took a few days), you have more paperwork to do, including a bevy of additional forms to fill out.
With that complete, you must navigate additional hoops. Apple requires both an ISBN for your book and your manuscript in ePub format. While other providers will translate a .doc file for you, Apple won't. You can use any of a variety of tools to convert your book to ePub format, or just use a tool that one of the other sellers made for you (which is what I did). Then, using the iTunes Producer software (here's where the Mac comes in), you can finally publish your book. But you're not done yet: Apple has another "quality review" at this point. A week later I was still waiting for my book to be live on the iBookstore.
Suprisingly, compared with Amazon and Barnes & Noble, Apple's publishing system is by a wide margin the most confusing, slow, and difficult process you'll encounter, even if you already have a Mac. Admittedly, the iTunes Connect Mobile app (which lets you check on your book sales via your iPhone) is a nifty addition to the package. On the whole, however, if you're considering using an aggregator at all, the complexity of Apple's process is the best reason to pay for that kind of help.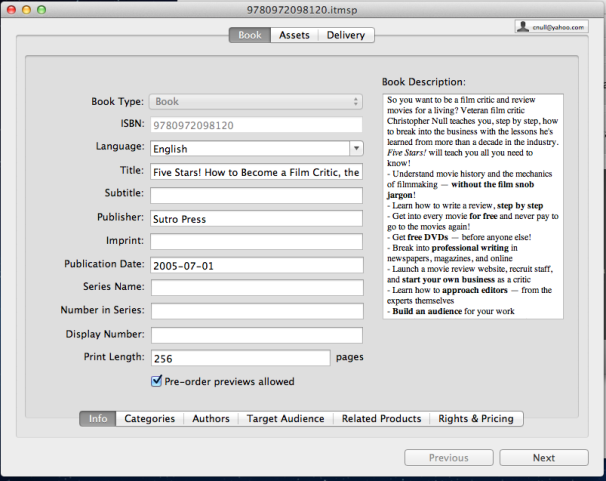 Aggregators
One option with ebook selling is to let someone else do some of the work. You still have to write and format your book properly, but after that's done, the aggregator works with the reseller on your behalf, freeing you from dealing with accounting, ISBNs, and signing up multiple times on each service. In fact, Apple openly encourages the use of an "approved" aggregator in its service FAQ, likely due to the headaches outlined above.
You can find many aggregator services. I checked out two for this piece, Smashwords and Lulu. In general, the process is about the same as working with retailers: You upload your manuscript, a cover, descriptive terms, and payment information, and then the aggregator takes over. Aggregators coordinate with the retail sites, and they sell the books directly themselves, as well.

Smashwords is a somewhat scrappy startup, and next to the polish of Amazon and Apple, it looks a little quaint (the site is a bit buggy too). Smashwords will prepare your ebook for just about every platform known to mankind, including Kindle, Nook, and iOS, plus Kobo, Sony Reader, Stanza, Borders, and more. Commissions range from 80 percent for books sold directly through Smashwords to 60 percent or less for books sold via other merchants, as Smashwords takes a cut of each sale alongside Amazon or Apple's cut. After all is said and done, you could be earning about 50 percent commissions in the worst possible scenario.
To sell with additional merchants, your book must meet Smashwords' rather strict guidelines for "Premium Catalog" inclusion. Unfortunately, two weeks after I submitted my book, I was still waiting for the approval process to complete, with no ETA received. That is vastly longer than working with the merchants themselves, but given the likelihood of someone actually buying a book directly from Smashwords and manually syncing it to their ereader device (instead of having it automatically downloaded for them from a retail ebookstore), it's certainly worth the hassle if you're planning to go this route instead of selling to a retailer directly.

Lulu is another solid option, but it has fewer sales partners: It sells only via its own site, iBooks, and Barnes & Noble. Commissions are 81 percent for direct sales, and 63 percent for other merchants. Lulu began its life as a print-on-demand provider (particularly for people creating photo books), and its roots show: It offers to print a hard-copy book for you and even design a professional cover (for a fee).
The site is a bit buggy and slow, and the service requires you to pay significant attention to automated email messages to get your book online, but ultimately the finished project looks just fine, requiring virtually no manual intervention if you've done your formatting right.