Page 4 of 7
Working with Office Files
Like most business travelers, when I hit the road I still have to do everything that I did back at the office, including writing and editing, working with spreadsheets and preparing presentations. There is no Microsoft Office suite for Android, but OfficeSuite Pro 5 (OSP) from Mobile Systems is the next best thing.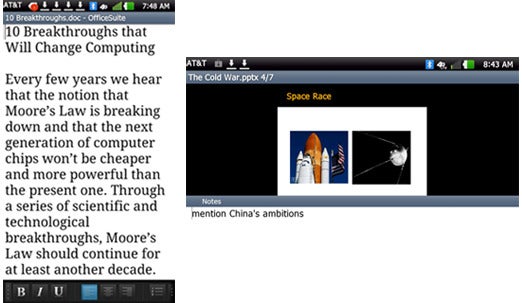 With OSP, I can create, view and edit Word, Excel and PowerPoint files in the latest file formats. It costs $10 and there's a 30-day free trial, so you can try it out before committing to the app.
Working with OSP goes surprisingly smoothly but can get tedious at times because my phone's 4.4-in. screen is tiny compared to my laptop's 12.5-in. display. The key is to use it in landscape mode as often as possible. It shows roughly eight lines of text from a Word document at a time.
A thin bar along the bottom of the screen contains basic formatting options, including font, color, justification and bullets, although it lacks the intricate formatting options that Office provides. Actually, I hardly miss them, preferring to keep documents simple.
While waiting out an ice storm at a departure gate on a recent trip, I used OSP to put the finishing touches on a presentation. The plane eventually did get off the ground, and in the air (with the phone in airplane mode, of course) I added my speaking notes. Later, I called up a spreadsheet with my company's income and expenses for the year to get it ready for tax time.
There are several alternative apps for Android phones, such as Polaris Office and Documents to Go, that provide similar capabilities, while the Pages, Numbers and Keynote trio do roughly the same for the iPhone. And Windows Phone device owners can use Microsoft's Office Mobile suite.
Another option is Google Docs, which stores the files online and requires that you have a Google account. Google Docs is available as a native Android app that you can install on your phone; for other platforms, you need to use your phone's browser to access and work with your files. Working online is a seductive idea, but I've found that the response is often too slow to satisfy my need for instant gratification when I travel.