Page 2 of 2
Setting Up Shares
You've created a basic storage volume on your FreeNAS-powered machine. Now you need to set up your sharing arrangement so that other users can find and access your drive's contents.
CIFS shares are the way to go if your office uses a blend of Mac, Linux, and Windows systems. If you have a Mac-only setup, you might be better served (no pun intended) by configuring the drive for AFP shares. In the spirit of inclusivity, we'll walk through a CIFS setup.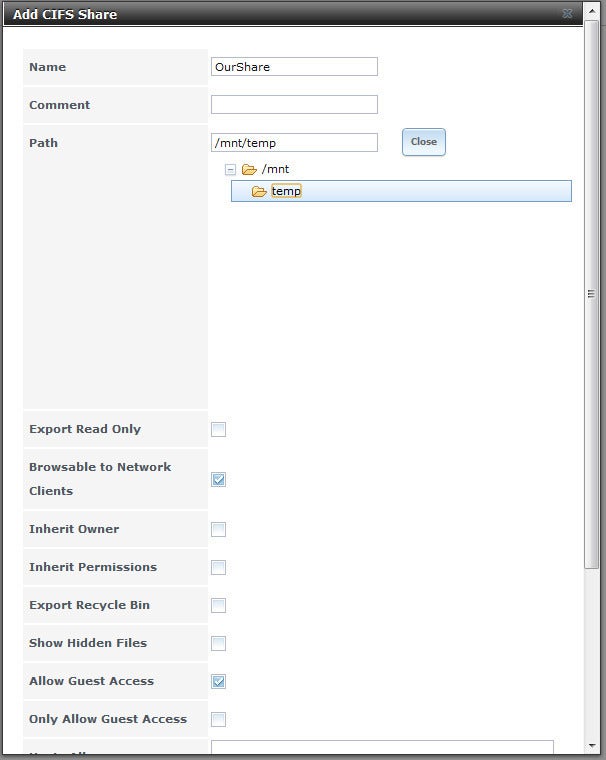 Click the Sharing button in the Web configuration screen's left-hand sidebar, and select Add CIFS Share. Give your share drive a name and select your volume by clicking the Browse button on the 'Path' line. Hint: The name you previously assigned to your volume should appear within the /mnt/ folder. Click it and click the Close button. Make sure that the box next to Allow Guest Access is checked, and then click OK.
Finally, click the Services button on the left sidebar and select the Control Services option. Flip the switch on the main panel's CIFS setting to on. Voilà! Type two bakslashes and then the FreeNAS IP address (for example, \\192.168.0.1), into a Windows Explorer window and press Enter; your shared drive should appear. Use Windows to map this network drive, and you'll never need to hunt it down with an IP address again.
In covering this series of steps, we've glossed over some configuration options that could play a big role in allowing you to see your shared network drive--such as making sure that the CIFS settings (Services, CIFS) are using the correct workgroup for your network configuration. If you find that this basic setup guide isn't working for you, a network configuration issue is probably holding you back. To resolve the issue, make sure that your FreeNAS network settings basically match those of the other computers on your network.
Our simple share drive is but the tip of the FreeNAS iceberg with regard to features. Options include locking drive access to users and groups, creating recurring snapshots for restoring older copies of files or deleted files entirely, and using the power combination of Dynamic DNS and FTP access to give your offsite workers easy access to the files they need. Now that you've mastered the basics, a world of advanced configurations and scenarios is yours to explore!
Backing Up
If you'd like to use your FreeNAS server as a host for automatic client PC backups, you can choose from any number of commercial and freeware applications to run on those clients. If you're running Windows 7 Professional or higher, you can use the built-in Windows Backup and Restore tool (lower versions won't allow you to back up over a network).
Pull up the app within Windows 7 and click the Set Up Backup link. Select Save on a Network, and use the Browse button to pull up the shared FreeNAS folder you created. If you've already assigned yourself a user account on the FreeNAS server, type in your user name and password; if you haven't, use the default admin user name and password you set up earlier.
You can let Windows choose the files it thinks are the most important and should be backed up, or you can identify specific files and folders yourself. After that, you should be done with picking options. Your backup will start its first run. When it has finished, click the Change Settings link, and create an automated backup schedule.
PCWorld Contributing Editor David Murphy loves finding new ways to use old systems, but his electric bill isn't quite as thrilled about the practice.