Page 2 of 3
7. Glow in the Dark Android Keychain
Don't let darkness cloak your Android adoration. The Glow in the Dark Android Keychain keeps your favorite green robot in sight day and night. A warning, though: It does require a little exposure to light each day in order for its glow-in-the-dark abilities to activate. Consider it extra motivation to emerge from your dimly lit computer cave.
Available from ThinkFunToys.com for $6.99.
8. Android Light Switch Cover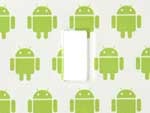 While we're on the subject on darkness, have you seen the official Android Light Switch Cover? Just take off your old switch plate, screw this one on, and get a nice bit of Bugdroid every time you flick the lights on or off. (Hint: Consult your significant other before installing in the bedroom. Trust me.)
Available from GoogleStore.com for $5.10.
9. Android Mini Collectibles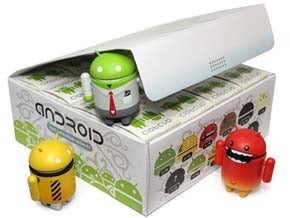 You can't talk about Android swag without mentioning Andrew Bell's awesome Android Mini Collectibles. The figurines are produced in partnership with Google (and are adored by many a Googler -- go figure). The collectibles have taken on tons of different designs over the years, and with new ones coming out every few months, you'll never run out of fresh little friends to acquire.
Available from DeadZebra.com and other retailers; prices vary.
10. USB Robot microSD Card Reader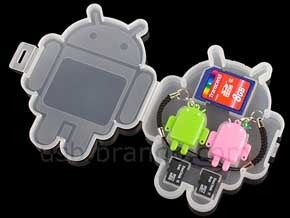 It may not have the word "Android" in its name, but it's abundantly clear that the USB Robot microSD Card Reader is made with Google in mind. Each reader comes in an Bugdroid-shaped case with two Bugdroid-shaped keychains inside. Pop off the keychains' heads, and you'll find standard USB connectors. On the other side sits a slot for any microSD card; slide one in, and you've got a fully functioning card-reading-and-writing accessory in your hand.
Available from Brando.com for $9 (pack of two).
11. Exploded Andy T-Shirt
A true Android classic, the Exploded Andy T-Shirt dissects Mr. Droid to show off the gears -- and, yes, the heart -- inside. The eye-catching design comes from artist Garry Booth and is a favorite of Android fans worldwide.
Available from ExplodedAndy.com for $15.
12. Android Family Decals
Screw the generic stick figures. If you're gonna put family stickers on your car, why not let a robot represent your loved ones? Your kids will thank you later.
Available from AndroidStickers.com for $9.95.