You've selected:

PCWorld Replica Edition for iPhone or iPod Touch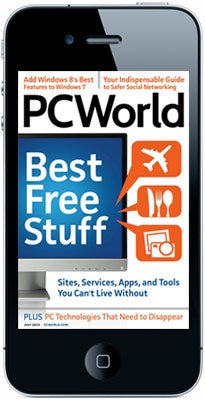 Available for iPhone or iPod Touch running iOS 9 or later
For instructions on how to upgrade your iPhone or iPod Touch to the newest iOS,
view steps

.
---
Please enter the email address you used to activate your PCWorld digital subscription:
---
How to access the PCWorld Replica Edition on your iPhone or iPod Touch:
Please activate your account using the form above.

At Zinio, fill out the form to register for your Zinio account. Be sure to use the same email address that you used to activate your PCWorld Digital Magazine account, and remember both the email address and the password you use; you'll need them in Step 6. Once you've filled out the form, click or tap 'Register'.

Once you've successfully registered, you'll need to download the app. If you're using Safari on your iPhone or iPod Touch, you should see a bar above the form that will allow you to view the Zinio app in the App Store. Tap on "View" to go to the Zinio app page. Once there, tap on the 'Install' button to begin installation.

---

If you did not register from your iPhone or iPod Touch, on your iPhone or iPod Touch, navigate to the "App Store" typically found on the home screen.

Once you are in the "App Store", locate and tap on the "Search" icon located in bottom section of your screen. Type "Zinio " into the search bar and select the "Zinio " app from the search results.

Once that page opens, tap the "Free" button and then select the green "Install App " icon. In order to download the app, you may need to verify your identify by entering your Apple ID Password.

Once it is installed, or if you already have Zinio installed, launch the app by tapping 'Open' . In side the app, on the home screen tap the 'More' button. Next, tap on 'Sign In' from the 'More' menu. Enter the email address and password you created in Step 2, when you registered for Zinio.

Once you have successfully signed in, you will be go your library. To read any issue, tap the arrow button to the right of the issue, and it will begin downloading.

---

As soon as the issue beings to download, you can start reading!