You've selected:

PCWorld Replica Edition for the BlackBerry PlayBook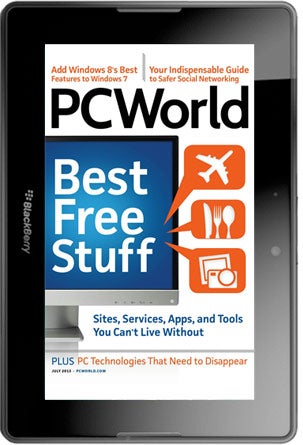 Available for BlackBerry PlayBooks running OS 2.0.0 or higher
For instructions on how to upgrade your BlackBerry PlayBook OS,
view steps

.
---
Please enter the email address you used to activate your PCWorld digital subscription:
---
How to access the PCWorld Digital Magazine Replica Edition on your BlackBerry PlayBook:
Please activate your account using the form above.

At Zinio, fill out the form to register for your Zinio account. Be sure to use the same email address that you used to activate your PCWorld Digital Magazine account, and remember both the email address and the password you use; you'll need them in Step 5. Once you've filled out the form, click or tap 'Register'.

Once you've successfully registered, you'll need to download the app. On your BlackBerry PlayBook, navigate to 'BlackBerry World' , which you can find by pressing the expand button and scrolling through your installed apps. Tap on 'BlackBerry World' to open the application. In the search bar (found on the upper right) type in 'Zinio.' When the search results appear, tap on 'Zinio' . Once it opens, tap 'Download' , to install the app on your BlackBerry PlayBook. Accept or modify the 'App Permissions', and installation will begin. You will go to the 'My World' section of BlackBerry World, which shows your currently installed apps. Zinio will be displayed at the top, and a progress bar to the right of the Zinio app will show you the installation status.

Once installation is complete, or if you already have Zinio installed, navigate out of BlackBerry World by swiping from the bottom of the screen to the top of the screen. Locate the Zinio app in your installed applications, by expanding the bottom menu bar. Tap on the Zinio app to open it.

You will be prompted to log in. Enter the email and password you chose when you registered for Zinio (during Step 2).

After successfully signing in, you will be redirected to your library in the Zinio app, which you can navigate to on your own by tapping the 'Read' icon. Your issues will automatically be displayed in your library.

Click the arrow over an issue to download it. A status bar will let you know how fast the issue is downloading. Once this process is complete, you can start reading!