You've selected:

PCWorld Replica Edition for Windows 8 Tablets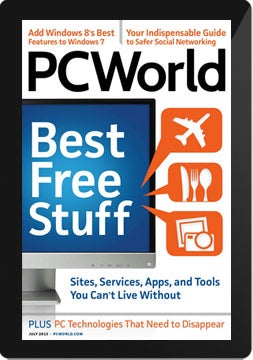 Available for Windows 8 or Windows RT
---
Please enter the email address you used to activate your PCWorld digital subscription:
---
How to access the PCWorld Replica Edition on your Windows tablet:
Please activate your account using the form above.

At Zinio, fill out the form to register for your Zinio account. Be sure to use the same email address that you used to activate your PCWorld Digital Magazine account; you will also need this login information for Step 9. Once you've filled out the form, click or tap 'Register'.

Once you've successfully registered, you'll need to download the app. On your Windows tablet, navigate to "Store" which you typically find on the home screen. If you are unable to locate the Store, swipe up from the bottom of the tablet to the top, and a menu bar containing the icon "All apps" will appear in the bottom-right corner. Tapping on "All apps" will display your entire app list, and you can locate the Store app. From either the home screen or your Apps list, tap on the Store icon to open the Windows 8 App Store.

Once you are in the "Store," swipe your finger from the right edge of the screen inward toward the middle of the device. This will bring the toolbar into view.

Tap on "Search". Make sure "Store" is highlighted, and type "Zinio" into the search bar.

When the search results appear, tap on the result labeled "Zinio, News & Weather Free"

On that page, tap on "Install," and installation will begin on your Windows tablet.

Once the app is installed, a notification will appear in the top-right corner of the app. Navigate to the Zinio icon on your home screen, and tap on it to open the Zinio app. If the Zinio icon does not appear on your home screen, swipe up from the bottom of the tablet screen to the top, to bring up a menu bar that contains "All apps." From here you can locate the Zinio icon. When the app opens, it will prompt you to decide whether or not to let the Zinio Reader run in the background. Click on 'Allow' or 'Don't Allow' according to your preference.

Next, you will enter your account information. Swipe from the right side of the screen to the left, to bring up the right-side vertical menu bar. Tap on the "Settings" icon to open your Zinio Reader settings. Tap on "Account" to bring up options to enter your account information. Enter the email address and password you selected when you registered for Zinio, and tap on "Sign in".

Once you have signed in, you will be redirected to your library in the Zinio Reader, and your magazine subscriptions will appear. Tap on an issue to begin the download. It will open automatically so that you can begin reading it.